Hate attacks towards Jewish people in Britain hit a record high in 2018, a rise which has been blamed in part on direct responses to allegations of anti-Semitism in the Labour Party, a report has found.
Last year was the third in a row to see anti-Semitic incidents on the rise, with the highest spikes recorded in April, May, August and September amid concerns that people exercising hostility or prejudice against Jewish people feel "more confident" to express their views.
For the first time, more than 100 incidents each month – including online and physical abuse and verbal attacks towards school children – were recorded by Community Security Trust, a charity which monitors anti-Semitism.
Overall, last year saw 1,652 incidents inflicted on the Jewish community – a 16% increase on 2017. Nearly a quarter involved social media and the use of "targeted campaigns" which bombarded individuals with hundreds or thousands of anti-semitic posts.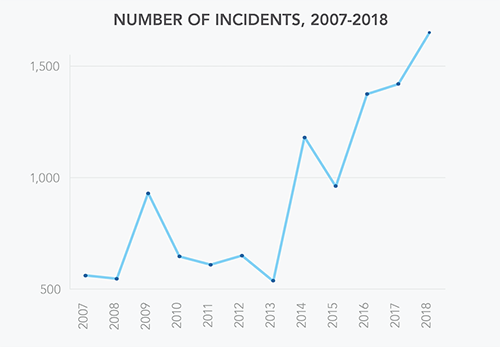 The charity found 148 anti-semitic incidents over April, August and September last year that were "examples of, or took place in the immediate context of, arguments over alleged anti-Semitism in the Labour Party".
May saw 182 incidents recorded – the highest monthly total since August 2014.
"These were all months in which allegations of anti-Semitism in the Labour Party attracted significant media and political attention," it said.
Commenting on the news, Karen Pollock MBE of the Holocaust Educational Trust, said: "These concerning figures make the mission of the Holocaust Educational Trust more important than ever before, as we educate people from every background about the Holocaust and its contemporary relevance. We must recommit to ensuring that antisemitism has no place in modern society."
In May, Labour lost control of Barnet, one of the most one of the most strongly Jewish boroughs in the country, during the local elections.
Worldwide events including violence on the border of Israel and Gaza in April and May, during which several Palestinians were killed, also coincided with a rise in hate incidents, according to CST, which today published its Anti-Semitic Incidents Report.
Verbal abuse was the most commonly recorded type of attack, with visibly Jewish people targeted because of their religious or traditional clothing, school uniform or jewellery bearing Jewish symbols.
Nearly half of all incidents involved extremist language and imagery, with more than 450 instances involving language or imagery relating to Nazism or the far right.
Some 254 incidents involved references to Israel and the Palestinians, alongside anti-semitism, while 84 incidents showed "far right motivation", and 13 were motivated by Islamist beliefs.
CST said victims may also feel more motivated to report hate incidents.
The charity said: "This pattern of consistently high incident totals suggests an enduring situation in which people with antisemitic attitudes appear to be more confident to express their views; while incident victims and reporters may be more motivated to report the anti-Semitism they experience or encounter."
Labour MP Andrew Gwynne, who last year said his own party had not acted quickly enough to root out anti-Semitism, said the statistics make for "hard reading".
The shadow secretary for communities and local government said: "Much more needs to be done to heal the deepening divides within our society and to challenge the growing confidence of those who preach hate, holocaust denial and inversion, and antisemitism.
"There is no place in British society, and in British politics, left or right, for anti-Semitic views."
"This pattern of consistently high incident totals suggests an enduring situation in which people with anti-Semitic attitudes appear to be more confident to express their views"
Almost three in four incidents, which also included anti-Semitic graffiti, hate mail, direct threats and mass-mailed anti-Semitic leaflets or emails, were concentrated in and around London and Manchester.
Violent anti-Semitic assaults were down 17%, the CST said, although it recorded one incident of "extreme violence", potentially amounting to grievous bodily harm.
Communities Secretary James Brokenshire said: "It is completely unacceptable to see the number of anti-Semitic incidents continue to rise again, particularly at such an alarming rate.
"Anti-Semitism may be felt most acutely by the Jewish community, but it is a disgrace that concerns us all. It is as important as ever to eradicate anti-Semitic discourse from our society and ensure that it is challenged and rooted out from wherever it is found."
Home Secretary Sajid Javid added: "As part of our Hate Crime Action Plan we work closely with the Jewish community and soon I will be co-chairing an anti-Semitism roundtable to discuss how we further tackle these issues."