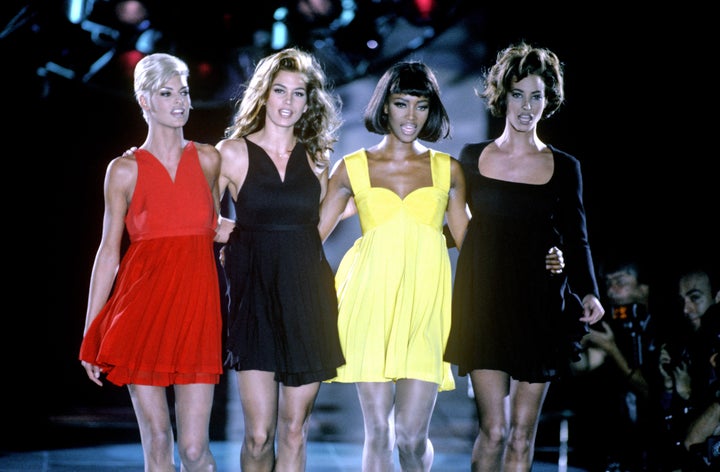 One of 2023's most hotly-tipped celebrity documentaries is almost upon us.
After a number of setbacks, Apple TV+'s four-part series The Super Models arrives on the streaming platform on Wednesday 20 September, and has already got everyone feeling nostalgic.
In a press release announcing the project, Apple said: "As the fashion industry continues to redefine itself — and women's roles within it — this is the ultimate story of power and how four women came together to claim it, paving the way for those to follow."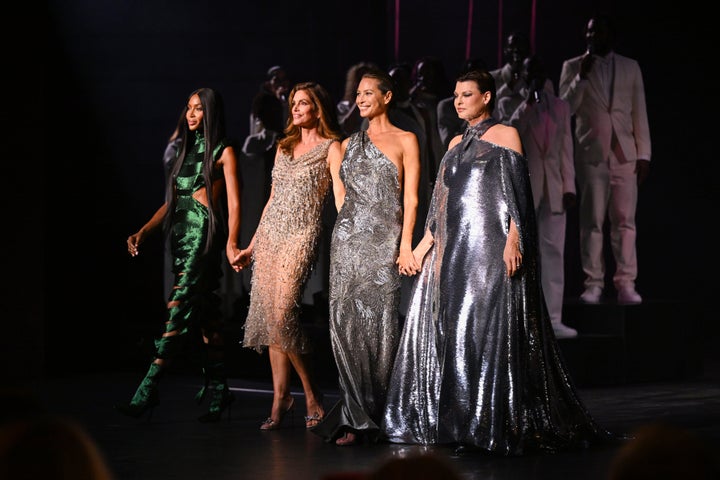 Early reviews have been now been published, and while some critics have praised the doc for giving a voice and unprecedented platform to its subjects, who were among the most prolific and powerful stars of the 90s, others have suggested filmmakers could have been a bit more probing with their line of questioning for the models (and one of them in particular Naomi Campbell).
Here's a selection of what critics of The Super Models have said so far…
"The Apple TV+ documentary The Super Models is, to a large slice of generation X, what Peter Jackson's Get Back was to Boomers. A strangely addictive encounter with four characters who have wallpapered our lives, seen in the one way in which we have never seen them before – as regular human beings.
"Warts-and-all film-making this is not. (Not that there are any warts, just Cindy Crawford's famed beauty spot.) The stars are beautifully made up, carefully lit and in control of what we see – but where last month's Vogue cover was criticised for extensive airbrushing, this documentary has more candour."
My fear was that this would be a lot of glossy waffle. Thankfully, not so. Cut together with Kardashian-style editing panning New York, London and Parisian skylines — which makes for sometimes naff but just-as-compelling viewing — the four stars sit down for one-on-one interviews and do not hold much back.
"By this series' conclusion [...] you cannot help but feel invigorated. Tales of fame and fortune will do that. We see — and have seen — thousands of images of these women. But four hours of sit down chat? Quality time, compelling beauty and a much needed boost of unapologetic glamour."
"This four-part series charts their rise, from teenage dreamers in small towns and suburbs — in the case of Cindy Crawford, a chemical engineer in the making — to not getting out of bed for less than $10,000.
"New interviews allow them to discuss their experiences in the modelling world — the haircuts enforced on shoots without their permission, the frantic castings and "go-sees" in New York City, the complete lack of any duty of care towards these very young models — while putting them into the context of a pre-internet and un-photoshopped world."
"Each of the four women brings an exhilarating spirit to the documentary. They have enough vivacity to make even the more drab (but customary) moments at the series' start, where each woman briefly explains her background before getting into the industry, completely captivating. While none of them seem too wary of explaining how they got into a looks-based business at the ages of 14 or 15, they don't deny its strangeness either.
"The Super Models performs this interesting trick more than once, where it lets its subjects explain how they personally felt about behaviour from power players and model scouts that we might now see as potentially predatory, dangerous, or harmful in the long run. The series never indicts any of these women, nor do they admonish themselves. These were, as it's often put, very different times.
"That's not to say that the doc necessarily lets anyone off the hook, either—at least anyone besides its four stars, who are allowed leeway that some more socially conscious viewers might take umbrage with."
"This is not a fly-on-the-wall show, but an authorised biography of Campbell and her fellow supers Cindy Crawford, Christy Turlington and Linda Evangelista. They are executive producers on the project, and no dirt is dished. It is an elegant, polished product.
"Evangelista, as ever, is the most striking. But she is the sad story – after getting through treatment for breast cancer (she is seen here having chemotherapy), she had fat reduction surgery which went horribly wrong and left her disfigured. She is shaky and tearful. And Campbell? She still reigns over the fashion world and has undoubtedly faced down racism in her career. But she is allowed to gloss over her notoriously bad behaviour.
"A more probing documentary would have asked more questions about this and about the darker side of the industry, and supplied more gossipy fun. This is the official, glossy history."