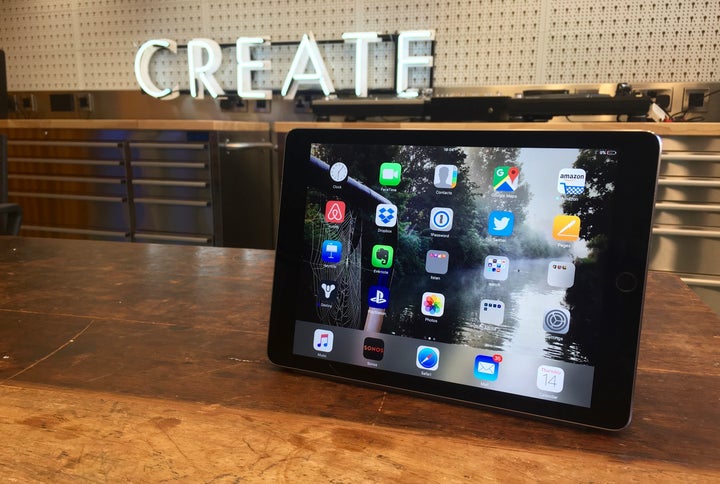 When Apple first unveiled the iPad Pro with a 12.9-inch screen we rejoiced. It was stunning, well made and absurdly powerful for a tablet that was thinner than an iPhone.
Was it the replacement for our MacBooks we had all been waiting for? Yes, but it wasn't for everyone. Instead it was a media-focused product designed for creatives who wanted power and a stylus that served their needs. It was also really expensive.
It's also quite big, despite the thin footprint its surface area is as large as a normal 11-inch laptop so don't think you can just pull it out on the bus and start watching iPlayer.
Coming to the rescue then is the smaller sibling, offering the same power as a laptop but with the true portability of a smaller tablet.
Pick up the 9.7-inch Pro for the first time and two things will strike you. The first is how light it feels despite the all-metal body. The second is how thin it is, this a tablet which despite having computer-level specs, is as thin as the iPad Air 2.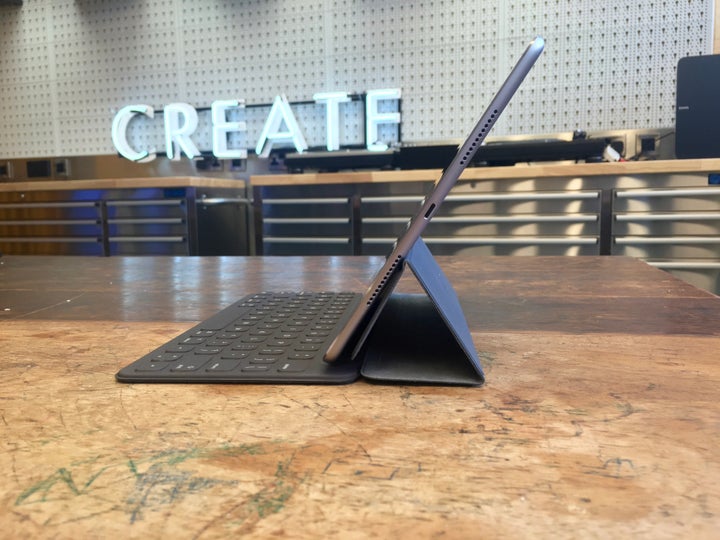 This then is Apple at its absolute best, combining its technical expertise with common sense to strike the perfect balance.
Inside the extremely thin frame are effectively the same specs as the larger model which means you get the A9X processor along with the choice of 32, 128 or 256GB of storage.
So how does this translate into day to day usage? Well put simply, there's nothing in the App Store the iPad Pro can't whizz through.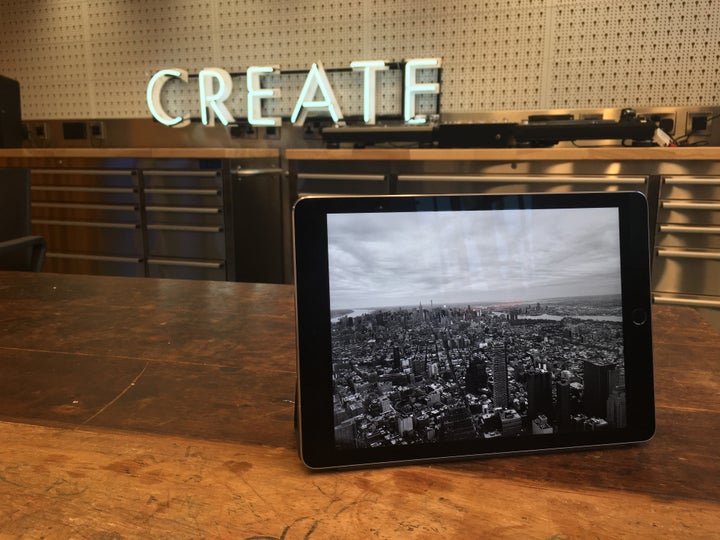 Despite its smaller size the Pro is blisteringly quick, both for photo-editing and 4K video editing through iMovie. This is a performance machine that will work both as a high-end gaming device and as serious work assistant.
To accompany that performance the Pro comes with two specially designed accessories in the form of the Apple Pencil and the Smart Keyboard case.
As we mentioned in our Pad Pro 12.9-inch review the Pencil is an expensive, but genuinely useful addition and invaluable if you're in the creative industry.
The Smart Keyboard case is useful but came with a few caveats being that it had only one screen position and lacked a vital backlight for typing in dark environments.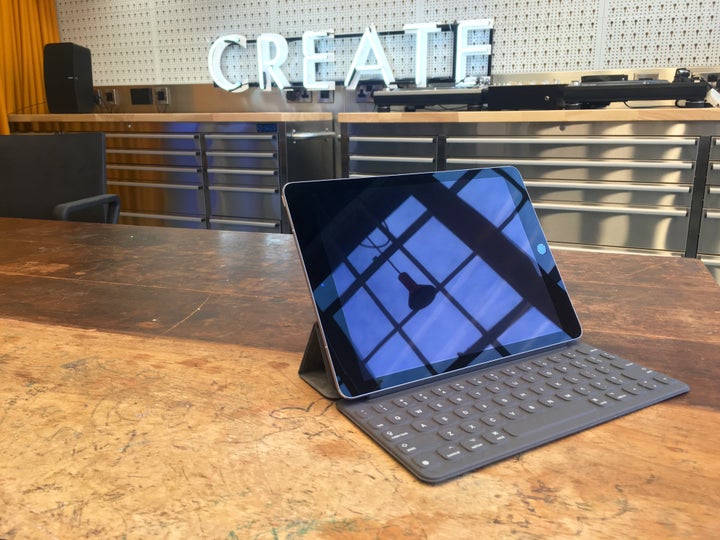 These same caveats apply for the 9.7-inch version along with the addition that because the screen is smaller the keyboard is naturally smaller. It takes some getting used to but we'll be honest it was only a minor period of adjustment.
That said, if typing is going to be a big part of owning the iPad then our advice is to get one of Logitech's keyboard cases - yes they're equally as expensive (£109.99) but in return you get that much-needed backlight.
One thing we've loved about the iPad Pro is its display. It's utterly glorious.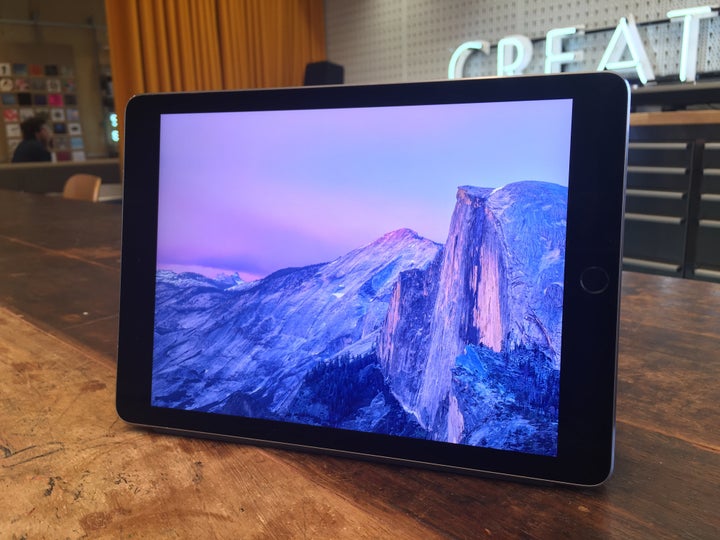 Apple has taken a plethora of technological features and combined them all together to create a tablet screen that can do a number of very clever things.
First up it has the same frame refresh technology that's available on the larger iPad Pro. Roughly translated that means everything looks smoother while still making sure the screen isn't destroying your battery life.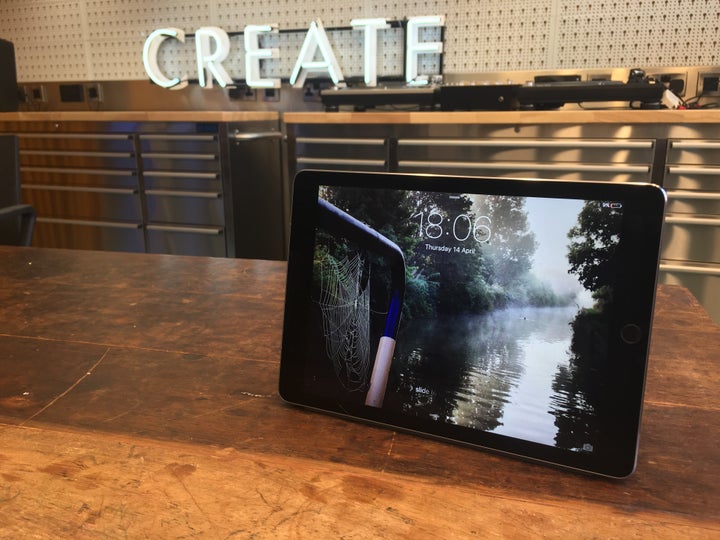 Unique to the 9.7-inch version though is a new wide colour display. This means it features the same colour range that you would expect professional filmmakers to be seeing. As a result the screen not only looks great but it's a huge selling point if you're big on your photo and video-editing.
Finally, and again unique to the smaller iPad Pro, is the True Tone display. This uses the light sensors on the iPad to detect the colour range of the environment you're in whether that's the harsh lighting of an office or the dark and warm lighting of a pub. The display will then compensate the colours on the iPad to look their best within that environment.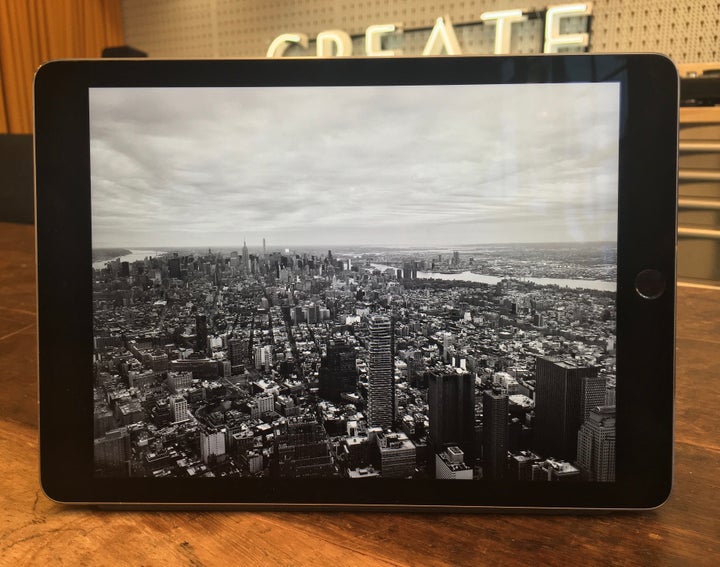 We'll be honest it takes some getting used to. At times the display felt too warm with a gently orange tint becoming too obvious prompting us to turn it off. What we did notice though, and this is a real bonus, is that the display feels far less aggressive on our eyes.
Long periods of screen time, especially when typing, no longer feel quite as abusive on our retinas and for that reason alone, True Tone moves from the realm of gimmick to genuine lifehack.
And so to summarise: This is the best iPad Apple has ever made, there's no doubt about that. What's also beyond dispute is the cost, this is also a very expensive tablet.
That said, this has always been the way with Apple. It's an extremely rare thing for you to buy an Apple product and feel short-changed, this is not one of those moments. It's worth every penny.
Who should buy this iPad?

If you're looking for the ultimate tablet experience than this is for you. At £619, the 128GB model seems the logical choice. For people in the creative industries this might also be the laptop replacement they've been waiting for. Apple Pencil integration is flawless while the display is the best we've ever seen on a tablet.

Who shouldn't buy this iPad?

This is not a family 'home' tablet so if you're looking for something to use and abuse around the house then the Pro isn't for you. The iPad Air 2 is cheaper, just as portable and can offer all the media-watching performance you'd want. This is also not a tablet (yet) for people who are 'power' users. We're talking heavy Email/Word and Outlook businesspeople. iOS is great but it still feels that little bit clunky when trying to move content between its apps.
Popular in the Community