Apple Store workers from Towson, Maryland, have been meeting with the company at a hotel in downtown Baltimore this week to negotiate what they hope will be a groundbreaking union contract at the tech giant.
But after four two-day bargaining sessions since January, those workers say they aren't convinced Apple ever wants to reach a deal with its first unionized shop in the U.S.
"They are fighting us at every step of the process," Kevin Gallagher, who teaches classes for customers at the Apple Store, told HuffPost during a break in talks at the hotel. "It feels like they're trying to drag this out as long as they can."
Gallagher and his pro-union co-workers emerged victorious in their election last June, voting 65 to 33 in favor of joining the International Association of Machinists and Aerospace Workers, or IAM — one in a string of recent high-profile victories for organized labor at previously non-union companies, including Amazon, Starbucks, Trader Joe's and REI.
But like workers at those other companies, the Apple Store employees have an even heavier lift still ahead of them: bargaining a first contract at a powerful employer that wants to keep unions out.
"They don't seem to want to accept that they have a union now," Jay Wadleigh, a business representative for the IAM who is leading negotiations for the union, said of Apple.
The stakes are high for both sides, since a solid collective bargaining agreement can convince Apple workers elsewhere to try to unionize. The company is facing organizing campaigns not only from the IAM but also the Communications Workers of America, which formed the company's second retail union last October, at a store in Oklahoma.
"They are fighting us at every step of the process. It feels like they're trying to drag this out as long as they can."
Billy Jarboe, who, like Gallagher, is a member of the Towson store's bargaining committee, said he was outraged last week when he learned managers had shared a small handful of the union's proposals with non-union stores during their morning meetings. Jarboe said the proposals were cherry-picked and taken out of context to make the union look bad.
One of the proposals related to seniority and promotions. Workers proposed that if managers have determined two workers are equally qualified for a position, then it should go to the one with the longer tenure, rather than be left to the manager's discretion. They argue this would remove management bias, but they say the proposal was "spun" to make it sound like newer workers wouldn't get promotions.
"There's a great plan to dismantle this movement and invalidate it in any ways they can," Jarboe said.
Wadleigh said the company sharing the union's proposals with other stores was "a stab in the back."
"That solidified in my mind that they have no intentions of getting to a contract," he said.
Gallagher and Jarboe said after they learned of those meetings, they proposed to the company that they bargain over Zoom so that all the workers at the Towson store could see both sides' proposals and negotiations for themselves. They said the company's lawyer immediately denied the request.
"We want full transparency now," Jarboe said.
California-based Apple didn't respond to emails from HuffPost seeking comment.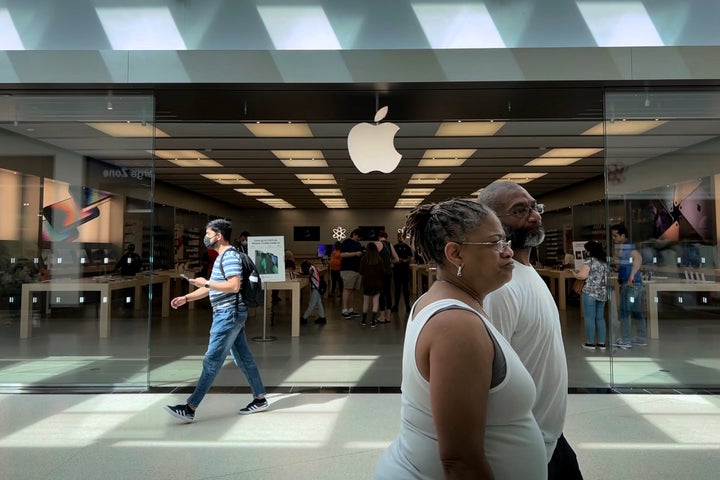 Workers at other newly unionized companies have faced similar hurdles in their bargaining efforts. The union Workers United has organized nearly 300 Starbucks stores and is at odds with the company over remote negotiations, with Starbucks insisting both sides meet solely in person. The labor board's general counsel has accused Starbucks of illegally refusing to bargain over Zoom.
After Amazon workers formed the company's first U.S. union last year, at a warehouse in Staten Island, New York, the company challenged the results of the election, accusing the union and labor board agents of improprieties. The litigation surrounding that challenge delayed bargaining for months, with the union calling it a stall tactic by the company. A board official certified the election results in January but Amazon has appealed that finding as well.
When it comes to negotiating first contracts, time is on the side of the employer. The union has every incentive to reach a deal soon and show workers elsewhere they can improve their pay and gain new protections by forming a union. But it's typically in the employer's interest to take their time and hope union support will erode as time passes and workers still have no contract to show for their efforts.
Employers sometimes deliberately draw out the process in hopes a decertification campaign will take hold. That's when employees petition for an election to vote the union out of the workplace. Workers can request a decertification vote once a year has passed since the union became their representative.
"Hopefully we can bring them a contract that will demonstrably improve their lives," Gallagher said of his co-workers. "It all comes down to whether Apple is actually wiling to agree to anything."
"There's a great plan to dismantle this movement and invalidate it in any ways they can."
According to data from Bloomberg Law, it takes on average 465 days for a union to negotiate a first contract these days. In some cases, no agreement is ever reached — a factoid that many employers are happy to share with workers before they vote in a union election.
It's been less than a year since the Towson Apple Store unionized. The IAM says last year it agreed to delay negotiations until after the company's busy season during the holidays, so long as the company put bargaining days on the calendar.
Workers said that so far, the company and the union have reached a few tentative agreements on smaller issues, but what are expected to be the most contentious still lie ahead. The union declined to share details on what the workers' economic demands will be — such as a minimum pay rate or annual percentage raises — since they have not been brought to the table yet.
One of the challenges of bargaining a first contract is that there is no existing framework to draw from. Many employers who are union-free are hesitant to break from any of their existing policies, for fear of opening themselves up to new demands from other workers.
Wadleigh said the bargaining team proposed a grievance procedure — another standard in union contracts — and that Apple quickly rejected it.
"They're reluctant to do anything different than they already do," he said. "I don't believe they want to give us anything that you could use to organize someplace else."