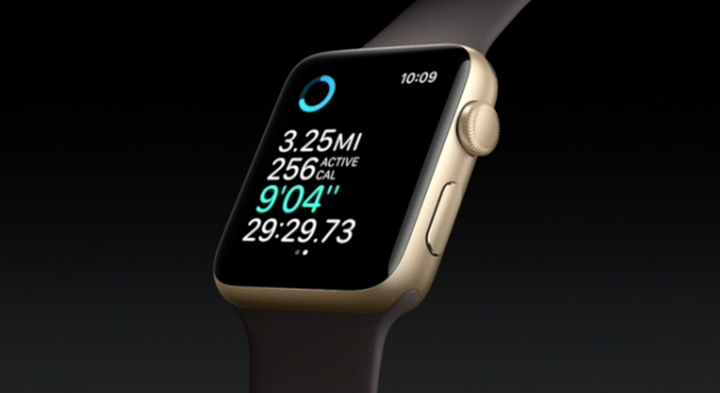 Apple has unveiled the Apple Watch Series 2 at a special event in San Francisco.
The second iteration of Apple's first wearable device features superior waterproofing, a brighter screen and a much faster processor.
Apple will be hoping the Series 2 will build on the modest success of the first Apple Watch. It might be the world's most popular smartwatch, but the timepiece is still leagues behind the iPhone when it comes to sales figures.
Apple Watch Series 2 UK Release Date:
It will be available to preorder on 9 September and to buy in stores on September 16. It costs upwards of £369.
Apple Watch 2 bears a close resemblance to its predecessor. But the familiar design hides some powerful new features.
The second iteration includes a dual core processor and a new GPU for superior graphics.
It also features a new display, which is twice as bright as the previous version. In fact, it's the brightest screen of any Apple product in history.
The watch gets a built in GPS so that joggers don't need to take their phone with them to calculate the distance they cover.
It's also swim proof. The speaker is specifically designed to eject water. Apple placed the Watch into swimming simulators for days on end to ensure that it was watertight.
Customers will also have the option of buying Apple Watch Series 2 with a ceramic finish promised to be much tougher than steel and as a Nike+ edition.
Apple first previewed the OS in June. Available on Apple Watch and Apple Watch 2, the software doubles down on health and fitness functionality.
The Activity app encourages competition and team exercises by allowing users to compare and share data.
The upgraded operating system also features a Breathe app, which is designed to allow users to destress with deep breathing exercises.
Apple claims the new OS will make it "easier and faster than ever" to perform tasks such as replying to a message, skipping a song or starting a workout.
The communications interface also gets an update with new functionality for stickers, handwriting, full-screen effects and invisible ink, which reveals a message "only after a friend swipes over it".
The OS also enables users' to send their location to and call the emergency services by simply holding the side button.
Finally, Apple revealed that the operating system will also support Pokemon Go. Users will be notified via the watch when they come across a new Pokestop or Pokemon and when an egg is ready to hatch. John Hanke, Niantic's CEO, said the game will be shipping on the watch by the end of the year.
Apple is also giving the original Watch an upgrade by installing the new dual core processor from the Series 2 and slashing the price to £269 for the 38mm version and £299 for the 42mm version.