Argos claims to have created the world's first vegan BBQ, leaving the internet with a lot of questions.
The £9.99 barbecue is "designed to cook corn on the cobs, peppers, Shroomdogs and more to flame-grilled perfection", according to the retailer's website. But, as Twitter users were quick to point out, unless it is made out of plant-based goods, isn't it... just a barbecue?
"With the temperature set to hit 30C this week, this bargain BBQ is the best way to rustle up a home-cooked vegan feast for family and friends in your back garden," the product's description reads. While other notable features include a 35cm x 35cm cooking area, a porcelain-enamelled steel pan, a weight of 1.5kg and it comes flat-packed.
Yup, we still don't know what makes it a vegan BBQ either - and neither does @TheEcoVeganGirl. "Unless this BBQ is made of tofu...I don't see anything strictly vegan about this one," she tweeted.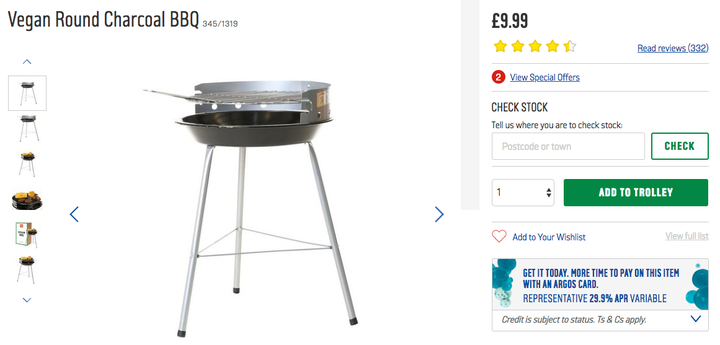 Argos has since admitted what we all knew: this is actually an existing product that has just been renamed, hence the fact that it has more than 300 product reviews already. "We took one of our most popular barbecues and re-launched it especially for the ever-growing vegan market," a spokesperson told The Independent. "We think that veg deserves a chance to be King of the BBQ too!"
Twitter user @VeganForever26 retorted: "Argos has released a Vegan barbecue but admitted it's actually a normal barbecue but they've just named it Vegan barbecue... There was absolutely no need to do this! They've just made themselves look silly!"