WASHINGTON ― When people first filed into the courtyard of the Smithsonian National Portrait Gallery on Monday morning, the stage before them was empty, save for two massive, rectangular objects draped in plain brown fabric.
An hour later, Michelle Obama and Amy Sherald, the artist the former first lady carefully selected to paint her official portrait, took the stage. Together, they tugged on one of the fabric coverings until it fell to the ground. The crowd gasped audibly when the larger-than-life painting appeared before them and then broke into enthusiastic applause.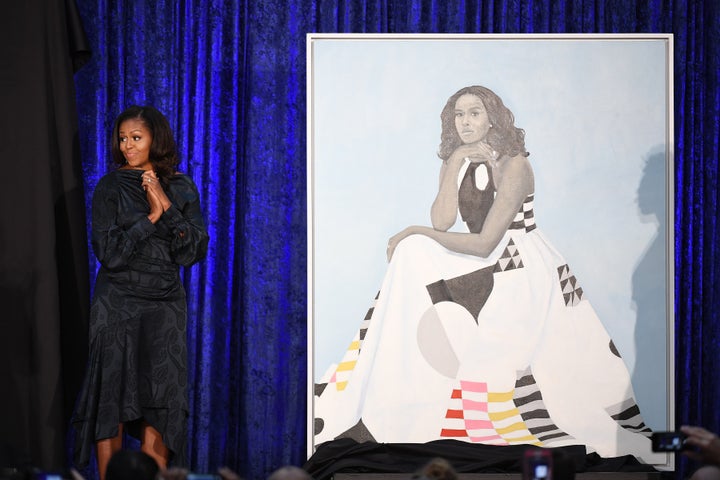 Of course, they'd all seen Michelle Obama's face countless times before in photographs, on television, in fantasies of her future presidential run. But never like this. Sherald's painting is a dreamlike vision of the former president's wife that depicts her as more than a first lady ― she's an archetype of grace and elegance. Her edges are muted, her gaze distant, her skin a charcoal gray.
Sherald described her painting practice as a conceptual one, founded not upon accuracy but imagination. "Once my paintings are complete, the models no longer live in the paintings as themselves," she told the crowd. "I see something bigger in them, something more symbolic, an archetype. I paint things I want to see. I paint as a way of looking for myself in the world."
Moments after Sherald's painting was revealed, Twitter was teeming with reactions from newly anointed art critics, who praised and condemned the work at lightning speed. First came the takes, then the memes, then the takes on takes. Real art critic Lee Rosenbaum said the portrait lacked vibrancy. Not an art critic Chris Cillizza said the piece looked "very little like Michelle Obama."
This routine isn't at all surprising in our digital age, when images and opinions emerge at a rate faster than any human can consume them. But it is somewhat amazing that the echo chamber of Obama-related commentary is revolving around something so quietly traditional as a painted portrait. Every four to eight years, a couple of new presidential portraits appear at the National Portrait Gallery, memorializing the likes of George W. and Laura Bush, Bill and Hillary Clinton, George H.W. and Barbara Bush, and so forth.
Of course, Michelle and Barack Obama's portraits are different for multiple reasons.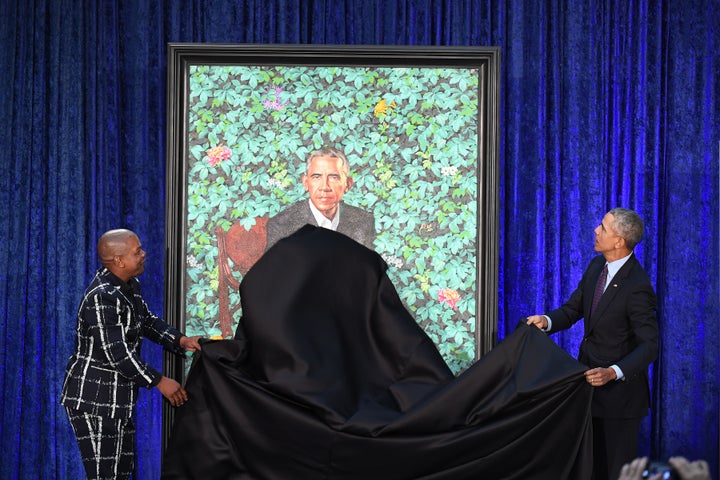 After the unveiling, Michelle Obama reflected on the otherworldly experience of seeing herself in paint. "As a young girl, even in my wildest dreams, I never could have imagined this moment," she wrote on Instagram. "Nobody in my family has ever had a portrait ― there are no portraits of the Robinsons or the Shields from the South Side of Chicago."
Former President Obama expressed similar excitement. He'd posed for a high school picture, he joked to the crowd, but this was different. Even after achieving the impossible so many times over, Obama was visibly bowled over by seeing his likeness in a frame, where it would remain, in a prominent American cultural institution for all time.
When he and his artist of choice, Kehinde Wiley, unveiled his presidential portrait, the crowd managed another round of sharp inhalations. Wiley painted a stern-faced Obama sans tie, seated amidst a backdrop teeming with fecund greenery. The flowers ― blue lilies, jasmine and chrysanthemums that pay homage to Kenya, Hawaii and Chicago ― here and there eclipse the former president's form. As with many of Wiley's paintings, the background seems to be battling the subject for the viewer's attention.
"There's a fight going on between him and the plants in the foreground that are trying to announce themselves," Wiley said of the work. "Who gets to be the star of the show? The story or the man who inhabits the story?" In other words, who will history remember, the man or the myth? The subject or the painting?
Although Wiley's aesthetic style is hyperrealistic, he, like Sherald, doesn't depict his subjects as they are in real life. He's best-known for scouting young, black men on the street and painting them with all the accoutrements of Old World mastery ― horses, scepters, robes and the like. With Obama's portrait, instead of invoking classic nobility, Wiley paints him dressed down and casually seated among flowers, uprooting traditional notions of power, masculinity and privilege altogether.
It's the radical nature of Barack and Michelle Obama's portraits that has stirred up conversations online and off. The unorthodox, fantastical details of each painting speak to the mythic proportions of their subjects. They're what set Wiley's and Sherald's works apart from the other presidential portraits, many of which are naturalistic, straight-forward, a little buttoned-up and rendered in browns and grays.
Perhaps the most unconventional portrait before the Obamas' was Bill Clinton's pixelated painting, crafted by artist Chuck Close. Yet Clinton's face, no matter how unusually depicted, still fades into the long hallway of heretofore entirely white bodies. (Moreover, a closer examination of the people behind the pairing reveals two men both accused of abusing their positions of power.)
Even before they were painted, the Obama portraits were revolutionary. They are, after all, the only paintings at the National Portrait Gallery that immortalize a black presidency. The individual aesthetics of each painting flesh out this fact with precision and imagination. Just as Barack Obama eschewed the traditional imagery of power, so he avoided the typical template of what a presidential portrait should be. Instead, he embraced an artist's ability to go beyond immortalizing a likeness and begin to shape a legacy.
After the Obamas and the artists left the stage, the portraits were thronged by visitors eager to get a closer look. People took photos, of course, but they also stood and stared in reverie. Not yet installed on museum walls, the paintings felt especially sacrosanct. Generations from now, people will encounter them; perhaps then they won't be seen as a revolutionary divergence but the beginning of a sea change.
Monday's portrait unveiling involved a mix of tradition and innovation that evoked drama, pride and a glimpse at our future. It demonstrated how history is not an abstract concept but something that is carefully deliberated over and physically made. In a time when images are so readily available, adaptable, mutable and meme-able, it's all the more mesmerizing to encounter a painting that will, assuredly, live on forever.