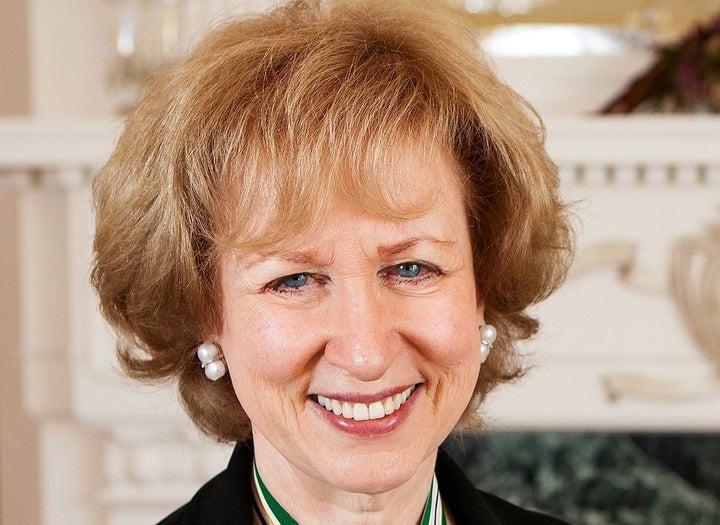 "I haven't been naked in years," declared 52-year-old Carrie Fisher in her one-woman show Wishful Drinking, "I haven't been sleeveless in twenty!" Upper arms are one of those parts of the body many women don't dare to bare after 40, and after the controversial comments about bare arms by former Canadian Prime Minister Kim Campbell, women will be under even more scrutiny from the body-shamers.
Bizarrely, Campbell aimed her remarks at female TV presenters who wear sleeveless dresses alongside suited male counterparts, saying she felt it was "demeaning" to the women. "Bare arms undermine credibility and gravitas!" She declared on Twitter, linking to a tweet by the Informed Opinions organisation, which advises public speakers to "Keep your arms covered." Ironically the organisation itself states its mission is to "amplify women's voices for a more democratic Canada." It seems, however, that they have scored a spectacular own-goal.
Personally I've always pitied female breakfast TV presenters. While their male counterparts can loll about on the sofa, man-spreading comfortably in their suits, the women adopt curiously stiff poses, presumably lest they show a roll of tummy fat and are accused of being pregnant. Which of course is exactly what happened to journalist and presenter Steph McGovern recently - the 35-year-old business presenter for BBC Breakfast was accused of being pregnant on social media, but laughed it off admirably, tweeting "I am not with child. I am with pot belly." It's a sad indictment of attitudes to women's bodies that instead of listening what Steph had to say about the Carillion collapse, some viewers were far more interested in her body.
Why are women judged so much for the way they look? The BBC's own 'Ron Burgundy', John Humphrys, once introduced Mishal Husain on Mastermind as a "newsreader and a very good-looking woman", going on to ask "Are you doing your job only because you are good-looking?" Meteorologist Sian Lloyd received endless comments about her dress sense, while Michael Fish just showed up in a bog-standard suit to no comment whatsoever. One Australian male TV anchor wore the same blue suit for a year and nobody noticed ("No one gives a shit" he concluded); veteran Giles Brandreth has appeared on TV for years wearing hideous jumpers yet is regarded as some kind of ironic fashion hero.
Yet what's most serious about Kim Campbell's comments about women's bare arms is that they lead us along a dangerous path. When we equate covering up with women's bodies with measuring their intelligence and the respect they deserve, it not only undermines women but, at its extreme, legitimises the belief that women who dress in a certain way, who reveal their flesh, are "asking for it".
What women everywhere are really asking for is this: Judge us on our ability. Not our appearance.
Related