A group of students is hoping to combat food waste at Cambridge University by launching a scheme to donate excess produce to food banks.
Shivan Thakrar was prompted to found the CU Foodbank Society in December after hearing "worrying reports" of increasing numbers of people relying on food banks.
"Meanwhile, at Cambridge, there are numerous events held by colleges and societies, for example formal dinners or May Balls, that are potential sources of surplus food," he says "In some cases, this surplus food may be redirected to local foodbanks, but in others it may be thrown away."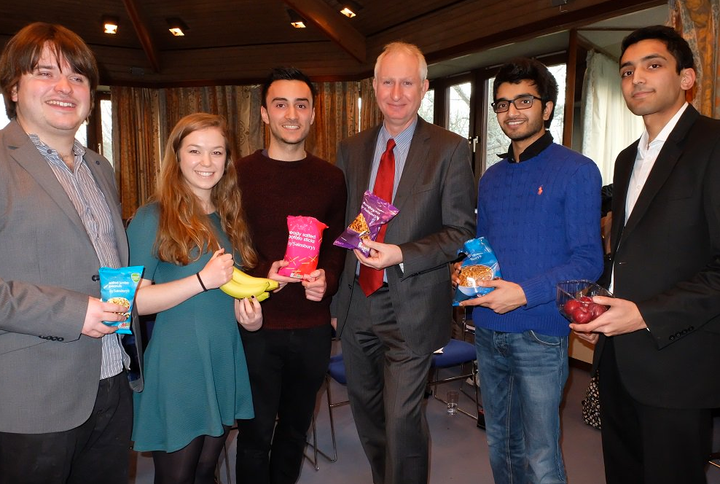 Thakrar founded the society to "address the disparity" and to "energise" studens and colleges to support a more responsible and open management of surplus food - including engaging with local foodbanks where possible.
The society has five members on its executive committee, and currently has representatives at 13 of the university's colleges, with hopes of expanding to all 31.
"These college representatives primarily promote the use of college boxes set up, but also help promote awareness of the campaigns or events we hold," Thakrar explains.
Eventually, the society wants to see Cambridge introduce a policy which will see the pre-planning of what will happen to surplus food from any university-related event.
"We hope this would encompass societies as well as colleges." Thakrar says. "This pre-planning should strongly encourage liaison with local food banks where possible. However, we believe it is important to begin by first demonstrating behavioural changes between students with their own surplus food."
Thakrar highlights the difficulty of shopping "for one", which often leads to excess food being thrown away as it has passed its sell-by-date before the buyer can consume it.
"We can act to reduce this excess food, by encouraging sharing between students."
The society has so far set up hubs at more than nine colleges, where students can share non-perishable items throughout term by dropping items off in a box planted within each college.
The society's got perishable food items covered too, starting a novel campaign to encourage students to share food they can't eat or don't want.
Students who share fridges can simply place stickers with the phrase "take me" on any item they won't eat, rather than them throwing the food in the bin.
Cambridge students have been "wholly receptive" to the idea, with more than 300 supporting the society.
"These schemes are attractive to students as they promote changes to their behaviour in an easy, effective manner," Thakrar says.
"We hope student use of this scheme grows and that this will empower us further as we approach the University to liaise with local food banks where possible."
He adds: "We are actively looking for sponsors to provide these 'Take Me' stickers, which we hope we can bring to students at Cambridge University to tackle the excess of perishable food."