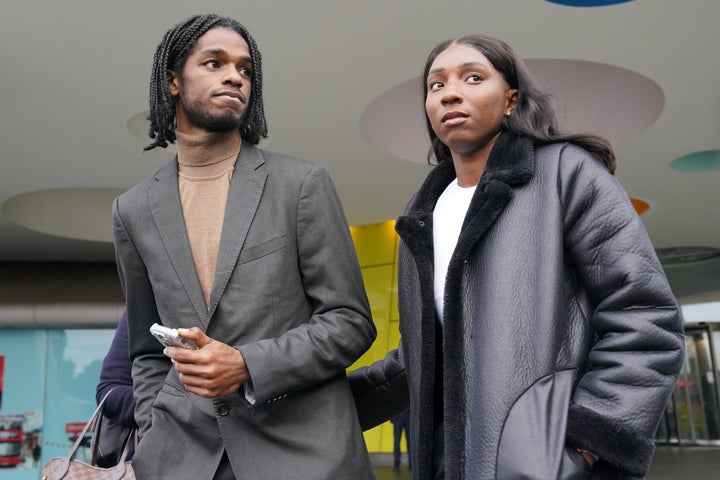 Two Metropolitan Police officers have been found to have committed gross misconduct over the stop and search of two Black athletes by lying about smelling cannibis during the incident.
The officers were dismissed from the UK's biggest police force on Wednesday after a disciplinary panel probe into the stop and search of professional sprinters Bianca Williams and Ricardo Dos Santos. The couple complained to the police watchdog that they were racially profiled by a group of police officers on July 4, 2020.
The athletes were driving home in London with their three-month-old son in the back seat when police followed their car and pulled them over outside their home. The athletes were handcuffed and searched on suspicion of having drugs and weapons, but nothing was found.
The disciplinary panel heard the officers said they followed the athletes' vehicle because of Dos Santos' "appalling" and "suspicious" driving, and that they were doing their duty when they conducted the stop and search.
But the panel concluded that two of the officers, Jonathan Clapham and Sam Franks, lied about smelling cannibis during the incident.
The panel's chairperson, Chiew Yin Jones, said their conduct had breached standards of professional behaviour in respect of honesty and integrity, and the two were dismissed without notice.
Three other officers were cleared of breaching standards.
Williams, a sprint relay gold medalist at the 2018 Commonwealth Games and 2018 European Championships, filmed the incident and the video was shared widely online. She has said that she hoped the hearing would lead to the Metropolitan Police being "more honest" about its "culture of racism".
Dos Santos said after Wednesday's hearing that he believed he was accused of "bad driving, threatening violence and drugs" based on "racial stereotypes".
"We've supported the IOPC (Independent Office for Police Conduct) case over the past three years and it's highlighted what most Black people are far too aware of regardless of their background, education and employment," he told reporters. "They are nine times more likely to be stopped by the Met and three times more likely to be handcuffed."
The Metropolitan Police has been dogged by allegations of institutional racism and sexism in recent years. In March, an independent review said the force had lost the public's confidence because of ingrained racism, misogyny and homophobia and must overhaul itself.
Related