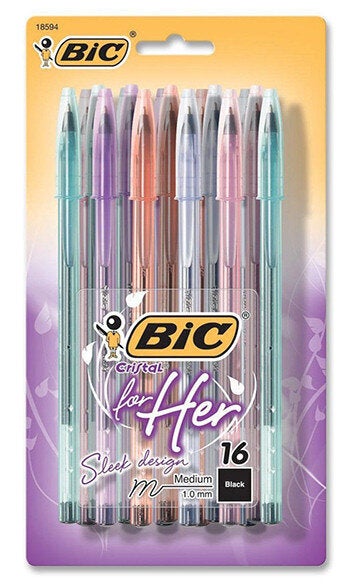 Who knew there was a pen specially designed for women? The Bic pen "For Her" might be the first of its kind, but that didn't prevent Amazon.com reviewers from offering up snarky, sarcastic reviews of the product.
The Bic Cristal "For Her" pen boasts product features like "elegant design - just for her!" and a "thin barrel to fit a women's hand." (Yes, seriously.) The pens also come in an array of pretty pastels such as lavender and mint. (You know, because it's just "for her.")
One retailer describes the "For Her" pen as such: "Cristal For Her ballpoint pens are reserved for women and feature a diamond-engraved barrel for an elegant, unique feminine style. The tinted, hexagonal barrel is thinner for better handling for women and still keeps the ink supply visible. Quick-drying quality black ink is designed for smooth writing. Tungsten carbide ball is a perfect sphere and very resistant."
"Finally! For years I've had to rely on pencils, or at worst, a twig and some drops of my feminine blood to write down recipes (the only thing a lady should be writing ever)," one reviewer wrote. "I had despaired of ever being able to write down said recipes in a permanent manner, though my men-folk assured me that I 'shouldn't worry yer pretty little head.' But, AT LAST! Bic, the great liberator, has released a womanly pen that my gentle baby hands can use without fear of unlady-like callouses and bruises. Thank you, Bic!"
"Oh. My. God. I've been doing it all wrong," quipped another. "There was me thinking I didn't need to worry about whether my writing implement sufficiently reflected my gender. Thank you so much Bic for showing me the error of my ways. Perhaps Bic will also bring out a new range of pink (or purple) feminine spanners, screwdrivers, electric drills and angle grinders so that I can carry out my job as a bicycle mechanic without further embarrassing myself? Luckily my male colleagues have managed to keep their disapproval of my use of their masculine tools to themselves. I'm so ashamed. And re-educated as to my place in society. Thanks again Bic!"
One male respondent even got in on the action, writing: "Men, don't stand for this. Aren't there enough products specific to women already? First it was tampons, now these pens? What other products will I have to suffer the indignity of being unable to purchase just because I'm a male person?"
Bic is also not the first to design and market a product specifically to the fairer sex. Tech companies have created gadgets just for women, like the Diamond Turntable for Women, Casio Elixim's "Makeup Mode" camera, pink rhinestoned cables and GAUDI quilted camcorders. Most of these are, you guessed it, pink.
LOOK: The Bic pen just "For Her."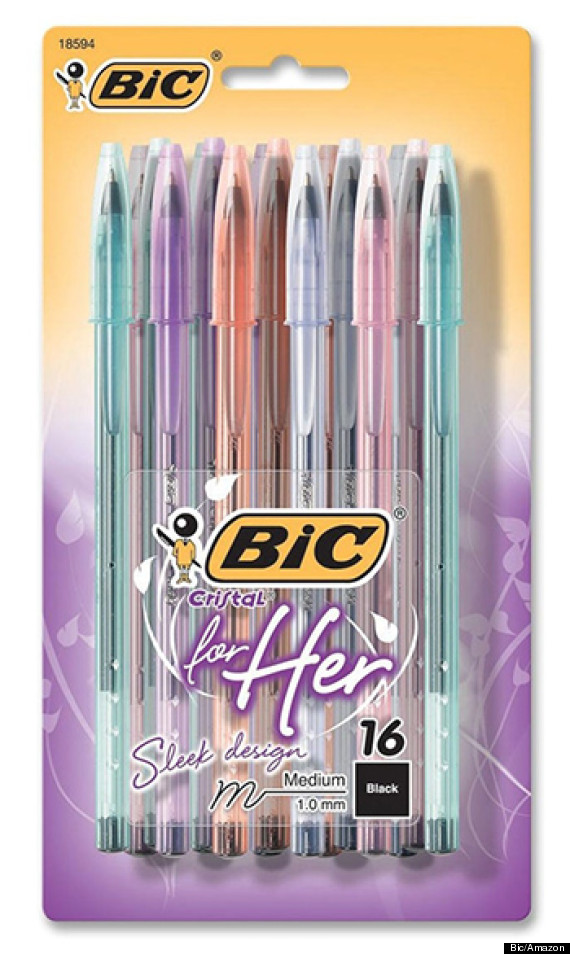 Check out some of the funniest reviews below:
Related