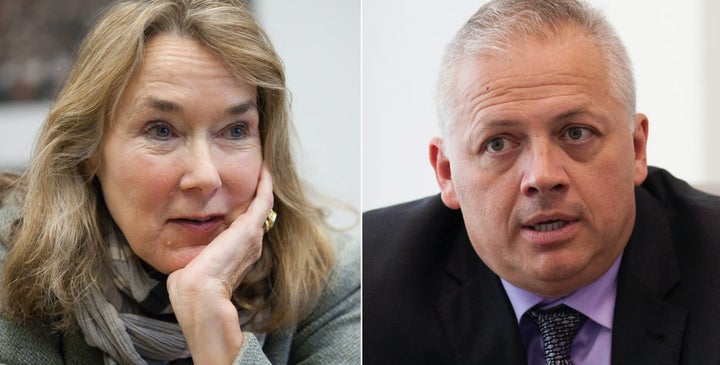 A Democratic candidate in a hotly contested U.S. House race in Virginia has accused her opponent of supporting white supremacists — oh, and also of liking Bigfoot porn.
Democrat Leslie Cockburn sparked a Twitter frenzy on Sunday by sharing a curious drawing, apparently taken from Republican rival Denver Riggleman's Instagram page, showing a Bigfoot-like creature with its genitals obscured by a "censored" sign.
"Now he has been exposed as a devotee of Bigfoot erotica," Cockburn continued.
Cockburn faces Riggleman on the November ballot for Virginia's 5th Congressional District, which includes Charlottesville, the site of last year's deadly white supremacist rally.
She later shared another image from Riggleman's Instagram page (which has since been set to private). That image shows Riggleman's face superimposed on a drawing of Bigfoot, which also has its genitals censored.
"My 'buddies' thought this pic was fitting for my birthday next week," read a caption, "and to celebrate my new book release in about a month or 2… 'Mating Habits of Bigfoot and Why Women Want Him.'"
Riggleman until recently had been promoting a self-published book with the same "Mating Habits of Bigfoot" title on Facebook, according to The Cook Political Report. He has since deleted that page.
Riggleman also co-wrote a book more than a decade ago titled Bigfoot Exterminators Inc.: The Partially Cautionary, Mostly True Tale of Monster Hunt 2006. The Daily Progress newspaper in Charlottesville noted the book doesn't appear to be sexual in nature.
People on Twitter reacted with bemusement ― and amusement ― to the saucy Bigfoot allegations.
"Bigfoot porn being an actual topic of political discussion is my absolute favorite thing to happen in 2018," one person wrote.
Even before the Bigfoot twist, Cook Political Report had described the congressional race as "stranger than fiction."
The seat is up for grabs after the Republican incumbent, Rep. Tom Garrett, abruptly announced in May that he was alcoholic and would not seek re-election. His resignation came days after a Politico report accused Garrett and his wife of turning his staffers "into personal servants."
The district has traditionally swung Republican, though Democrats are hoping to flip the seat, in part by leveraging anti-Trump sentiment and outrage that followed the Charlottesville rally.
Democrats have railed against Riggleman, an owner of a distillery and a former Air Force intelligence officer, for his apparent support of people with ties to white supremacists, including Isaac Smith and Corey Stewart, a Virginia Republican Senate candidate who infamously said last year that white nationalists were not solely to blame for the Charlottesville violence. Riggleman has denounced white supremacists.
Now, it seems Cockburn, a journalist and author, is hoping to use Riggleman's alleged Bigfoot interests against him, too.
"Leslie has been traveling throughout the district meeting with real people about real issues that matter to them," Louise Bruce, Cockburn's campaign manager, told The Daily Progress on Sunday. "Meanwhile, Mr. Riggleman is home scrubbing his social media of 'Bigfoot erotica' and who knows what else."
Riggleman refuted Cockburn's characterization of the Bigfoot material, telling The Daily Progress that the drawings unearthed by his opponent are not erotica, but a "joke his military friends played on him."
Cockburn's tweets with the Bigfoot sketches were "absurd," Riggleman added.
Some people on Twitter urged Cockburn to focus on issues that really matter ― like racism ― instead of shaming fetishists. Bigfoot pornography, as BuzzFeed pointed out, is a robust genre of erotica with a sizeable audience.
Cockburn herself has been criticized by Virginia Republicans for her earlier writing. Her 1991 book about U.S.-Israeli relations has been slammed by the GOP as anti-Semitic.
"Assuming there's something to this 'Bigfoot erotica' story, both candidates will find themselves fending off attacks based on things they previously wrote ― though the subject matter couldn't be more different," Geoff Skelley, a political analyst at the University of Virginia, told The Daily Progress.
CORRECTION: A previous version of this story indicated Riggleman owned a "craft beer distillery." He owns a liquor distillery.
Related