But a Bolsonaro victory, which polls suggest is almost assured on Oct. 28, would also have a major global implication: It could spell doom for the worldwide fight against climate change.
Few countries are more important to stemming climate change than Brazil, which is home to the Amazon rainforest and the Cerrado savanna ― two of the most crucial environmental defenses against global warming.
And over the last two decades, no country as large as Brazil has assumed more of a leadership role in addressing the crisis. While many large nations dawdled in addressing the threat, Brazil made dramatic reductions in greenhouse gas emissions since 2004. It has emerged as one of the planet's leading producers of sustainable biofuels, and in 2017 it launched an ambitious effort to plant more than 70 million trees to help reforest the Amazon ― and thus increase absorption of carbon dioxide.
Bolsonaro, however, could threaten much, if not all, of that progress.
He has acknowledged the threat of climate change. But on the campaign trail, he has promised to shutter Brazil's Ministry of the Environment and put many of its administrative and regulatory duties under the charge of other agencies. He has said he would seek to withdraw Brazil from the Paris climate accord (following the lead of U.S. President Donald Trump).
Bolsonaro has committed to stop demarcating indigenous lands in the Amazon and further open the forest to mining interests. And he has pledged to loosen regulatory regimes over land-use and deforestation in the world's largest tropical rainforest.
A move by Brazil to absolve its leadership role on climate change through the election of Bolsonaro would have "huge consequences" for the rest of the world, said Steve Schwartzman, the senior director of tropical forest policy at the New York-based Environmental Defense Fund.
"The kinds of policies Bolsonaro has talked about could be catastrophic," Schwartzman said. "Brazil is still the world leader in reducing greenhouse gas pollution. If that changes, it's exactly what Brazil doesn't need, and exactly what the world doesn't need."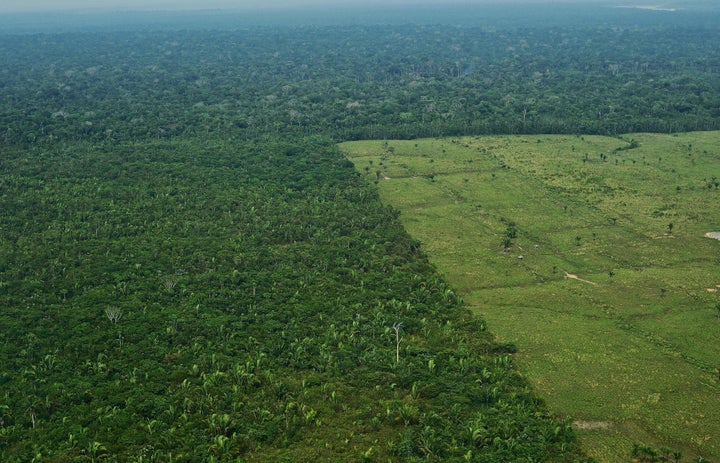 Climate Action Runs Through Brazil's Forests
After finishing first in the first round of voting on Oct. 8, Bolsonaro faces former São Paulo Mayor Fernando Haddad, of the leftist Workers' Party, in the upcoming runoff election. A poll released Monday showed Bolsonaro leading by 18 percentage points.
As Brazil's president, he would take office at a crucial and increasingly alarming time in the global battle to stave off the worst effects of climate change.
Last week, the leading international body of researchers studying anthropogenic global warming issued a dire warning to world leaders: Take swift action to overhaul the global economy and rein in carbon emissions or prepare for devastating, perhaps irreversible, impacts.
The sobering report, by 91 researchers and editors from 40 countries, details how difficult it will be to keep the planet's average temperature from warming 1.5 degrees Celsius (2.7 degrees Fahrenheit) above pre-industrial levels by — the aspirational goal of the 2015 Paris climate treaty.
The United Nations' Intergovernmental Panel on Climate Change (IPCC) found that if humans continue to pump greenhouse gases into the atmosphere at current rates, the 1.5-degree increase mark will likely be reached sometime between 2030 and 2052. To avoid that, greenhouse gas emissions would have to be cut by about 45 percent from 2010 levels by 2030. And the world would have to reach net zero emissions by 2050.
"It is physically, chemically possible," IPCC Vice Chair Ko Barrett said at a briefing Tuesday in Washington. "The question is, 'Is it humanly possible?'"
The climate crisis won't be solved unless the world weans itself off fossil fuels. But the IPCC also makes clear carbon dioxide must be removed from the atmosphere. And forests like the Amazon are key to accomplishing that and limiting future warming.
The IPCC examines several pathways to achieve the emission-reduction goal. While some rely heavily on nascent technologies to remove carbon dioxide from the atmosphere, all require not only stopping deforestation but increasing Earth's forested areas. Depending on the scale of emissions reductions, the effort could require adding as many as 3.86 million square miles ― an area slightly larger than the U.S. ― of forest by 2050.
Drew Shindell, a climate science professor at Duke University and a co-author of the IPCC report, stressed the importance of trees in a warming world. With so little time to slash greenhouse gas emissions, it's essential that forests aren't making the problem worse by emitting more carbon than they absorb, which can happen when forestland becomes degraded.
"You need to have forestry on your side," Shindell told HuffPost. "Opening up the Amazon to greater exploitation would really take one of the world's largest forest areas and move it in the wrong direction."
That means the planet needs Brazil on its side, too, and the world has seen what can happen when South America's biggest country embraces that role.
"We saw in the last couple decades, particularly in the 2000s, a substantial decrease in worldwide emissions that is almost all coming from the success of Brazil," Shindell said. "Brazil is a big, big player that has been able to shift the whole planet's net CO2 from forestry and land use."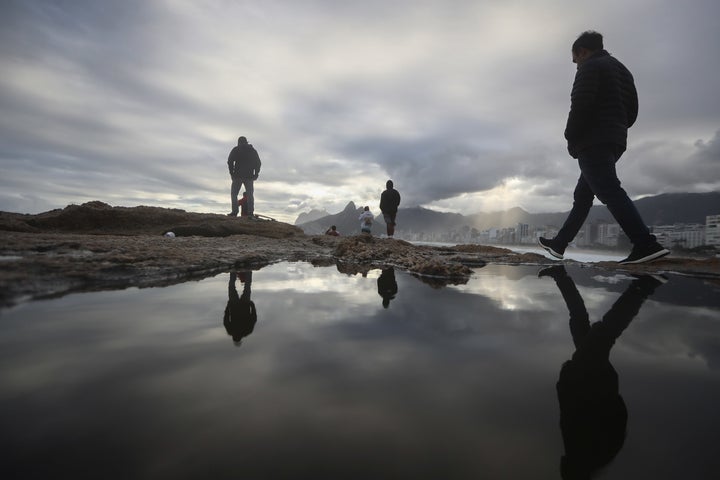 In recent years, though, the country's progress has waned. Brazil saw a 29 percent increase in deforestation between 2015 and 2016. In 2017, just months after Brazil pledged to replant more than 70,000 acres of forest, President Michel Temer removed protections on a plot of the Amazon the size of Portugal.
Rates of Amazonian deforestation have risen nearly 40 percent since August 2017, according to Brenda Brito, a research associate at Imazon, a Brazil-based environmental nongovernmental organization.
"The Amazon already may be approaching a tipping point past which large parts of it turn from forest into savannah," Schwartzman said. He added that losing even more of the forest would alter rain patterns across Brazil and the world and make climate change an even more inevitable reality.
Despite Temer's efforts to roll back environmental protections, Brazil last year managed to reach the lower emissions targets it set as part of the 2009 Copenhagen climate accords. But efforts to stem illegal logging and land use have spurred violence and become a major human rights issue ― Brazil is one of the world's most dangerous countries for both indigenous populations and environmental workers.
Bolsonaro's stated positions have also threatened the substantial progress the country still needs to make to meet goals it set as part of the Paris agreement; it pledged to reforest nearly 30 million acres of the Amazon and reduce emissions by 37 percent by 2025 and 43 percent by 2030.
"The country should be now taking serious measures to stimulate forest conservation to reach its goal, instead of sending signals that illegal deforestation and environmental crimes will be tolerated," Brito said. "But Bolsonaro has been more aggressive than the current government in his statements against conservation and human rights policies. Thus, the losses to the environment and human rights protection may be higher if he is elected."
By signing on, nearly 200 countries committed to do their part to prevent global temperatures from increasing by 2 degrees Celsius, the "magic number" scientists say the world must stay below to stave off the worst effects of climate change.
As part of his sweeping fossil fuel-focused "energy dominance" agenda, Trump announced in June 2017 plans to withdraw the U.S. from the agreement ― though it can't formally pull out until November 2020. In response, Syria and Nicaragua, the only two nations that had not joined the global pact at that point, signed on and agreed to reduce their greenhouse gas emissions.
The U.S. is far from alone in failing to live up to its commitments under the Paris agreement. It ranks alongside Russia, Saudi Arabia, Turkey and Ukraine as "critically insufficient" in terms of meeting the pact's baseline goals, according to Climate Action Tracker, a Berlin-based project that monitors national emission plans. China, Canada and Japan are listed as "highly insufficient," while Mexico, Australia and Brazil rank as "insufficient."
In what would constitute a major setback for the agreement and the world, Brazil may soon rate even worse. Bolsonaro's brash, offensive rhetoric and fawning admiration for the American president have earned him the nickname "Brazil's Trump." And he helped confirm that moniker by copying Trump's contempt for the Paris accord and calling for Brazil to pull out of it.
Because Brazil's legislature already ratified the country's commitment to the agreement, it is unlikely Bolsonaro could reverse that. But he could still undermine Brazil's role in the accord if he "stimulates a rise in deforestation" that makes it impossible to achieve its emissions goals, Brito said.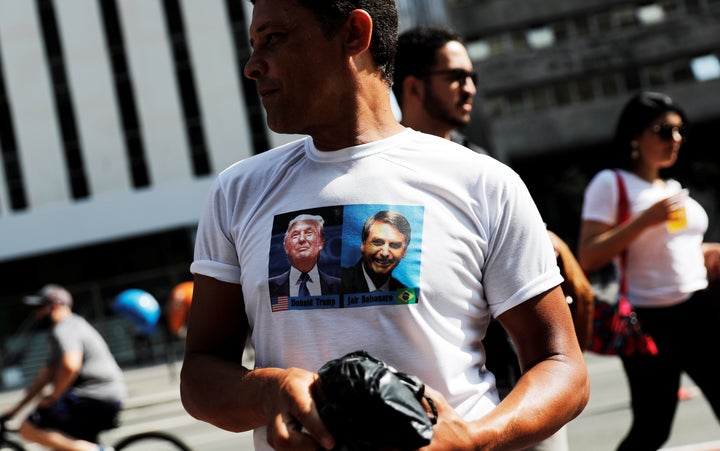 Even with Brazil's full involvement, experts agree that the pledges made in Paris aren't enough to prevent 2 degrees Celsius of warming, much less 1.5 degrees.
Gavin Schmidt, a climate scientist and director of the NASA Goddard Institute for Space Studies, said at Tuesday's briefing that it's not if, but when, the world surpasses the 1.5-degrees mark.
A clash of values, Schmidt said, is "at the heart of why it's been so difficult to move on this question, and why we still have so much trouble today."
The projected effects of a 2-degree rise in global temperatures are astounding. Coral reefs would all but disappear, and hundreds of millions of people would be exposed to climate-related risks and poverty by midcentury, the IPCC found.
Approximately once per decade, the Arctic would be free of ice in the summer. In the western hemisphere, rising sea waters would drown cities up and down the Atlantic coast, from Rio de Janeiro to Miami to New York. And the global economic damages would reach an estimated $69 trillion.
With the U.S. under Trump opting to take a backseat in the climate fight, it has become increasingly important that large nations like Brazil and China, joined by the European Union, do even more to rescue the planet from the humans who inhabit it.
That means Brazil's next president must weigh actions on the environment and social rights "very carefully," said Mauricio Voivodic, executive director of conservation group World Wildlife Fund Brazil.
"Setbacks to the social and environmental agendas may have serious effects on day-to-day life, today and in the future, of everyone in Brazil," he told HuffPost via email. "Compromising the environment will compromise the country's future."
And, potentially, the rest of the world's future, too.