Nearly 11,000 people in the UK could be living with undiagnosed breast cancer due to the Covid-19 pandemic, a charity has warned.
Breast Cancer Now calculated that fewer referrals and less access to treatment, coupled with a pause to breast screening programmes, meant 10,700 fewer people were diagnosed with breast cancer between March and December 2020 than it would have expected.
The team analysed a range of data to reach the figure, including the number of people starting their first treatment for breast cancer, the number of women screened each month and the length of time for which services were paused.
Even though services have resumed, the charity said they are operating at around 60% capacity due to the need for social distancing and infection control.
It warned of a forthcoming "perfect storm", with health workers in imaging and diagnostic services under unprecedented pressure due to the pandemic, having already been "chronically under-resourced" beforehand.
One in 10 women in the UK have never checked their breasts for signs of cancer, a survey by Breast Cancer Now revealed in October, and almost half don't check their breasts regularly. Asked what stops or prevents people from checking their breasts regularly, almost half (46%) said they forget to do so.
Anyone of any gender should be checking their breasts regularly, as men and non-binary people can also get breast cancer. Breast Cancer Now recommends doing a check at least every six weeks.
So, what are the signs to be aware of?
When asked more about why they aren't doing regular breast checks, one fifth (21%) of women said they are 'not confident' about what new or unusual changes they should be looking for.
Manveet Basra, head of public health and wellbeing at Breast Cancer Now, says many women may know that a lump can be a possible symptom of breast cancer, but it's "vital" to know that there are other signs to be aware of too.
A lump
Thickening of breast tissue that feels different from the rest of the breast
Nipple discharge
Dimpling or puckering of the skin of the breast (looks like orange peel)
The breast looking red or inflamed
Swelling in the upper chest or armpit
A change in breast size or shape
Your nipple becomes inverted or changes shape
Constant pain in your breast or armpit
While most breast changes won't be cancer, it's crucial you get any new or unusual breast changes checked by your GP right away.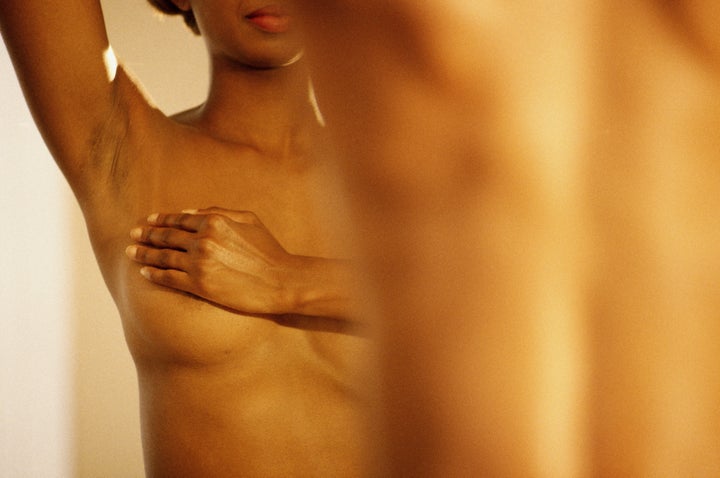 How to do a breast check
You should do a breast check every six weeks if possible. It might help to set a reminder on your phone if you often forget to do it.
Making these checks part of your routine – such as in the shower or when you apply moisturiser – can help you to remember to do it regularly, suggests Basra.
She says there's "no special technique" for doing a check. You should feel your breasts regularly to get to know what's normal for you, so you can spot any new or unusual changes. A breast check should also include your armpits and the area up to your collarbone for any changes. Watch the helpful video above from breast cancer awareness charity CoppaFeel! for more tips on checking your breasts.
If you do notice something's amiss, book an appointment to see your GP, who will also need to check your breast area.
Breast Cancer Now is encouraged that 87% of women who have not had breast cancer said they would visit a doctor if they noticed a new or unusual breast change to get this checked. Some said they wouldn't, however, due to feelings of awkwardness or embarrassment, being too busy, or not wanting to bother their GP in the pandemic.
Getting any symptoms checked is hugely important – and the sooner you do it, the better the outcome if it is a sign of cancer.
Baroness Delyth Morgan, chief executive at Breast Cancer Now, says: "Early diagnosis increases the chances of successful treatment, which can prevent women from dying of the disease, meaning the importance of regular breast checking cannot be underestimated."