In HuffPost Birth Diaries we hear the extraordinary stories of the everyday miracle of birth. This week, Carly Lett, 32, shares her story. If you'd like to share yours, email amy.packham@huffpost.com.
I never intended to be a pregnant bride – side note: the pull-out method is not effective – so yeah, it was a shock. But my wedding was planned for the end of March and my due date was early June, so there was a big enough gap not to worry about overlapping. Or so I thought.
Everything went swimmingly until my 20 week scan, where I was told I had a low-lying placenta. I was told that in nine out of 10 cases, the placenta would move before the due date – but that if it didn't, then I would need a C-section so there would be enough space for the baby to come out. Naturally I assumed that I'd be the unlikely one whose placenta didn't move.
At 26 weeks pregnant, I went on my hen do in Amsterdam – which had been booked before I found out I was expecting. Imagine me, six months preggo, watching a sex show dressed as a nun. Hilarious. But shortly after I returned from my hen, I started bleeding.
It was February, one month before my wedding.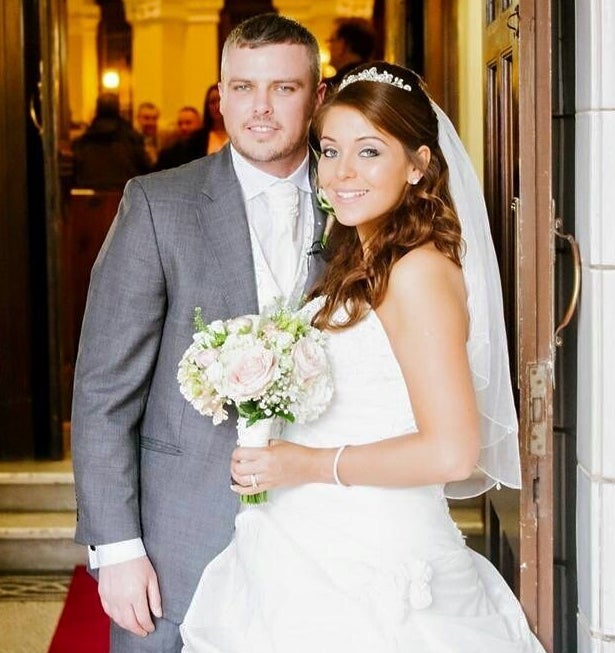 For the following month, I bled every weekend. I'd been told that a low line placenta – called placenta previa – might cause light bleeding. While more often that not, everything is okay, sometimes it can mean a big bleed is coming, so it needs to be taken seriously.
Each time, I bled I had to go to hospital,and be hooked up to a machine to be monitored. Each time, I'd stay for two days to check I wasn't going to have a "big bleed" – and when it didn't, I was sent home to rest.
Nurses and midwives kept telling me my son would arrive early. "I'm getting married in a few weeks!" I'd say, but they'd brush it off, convinced I wouldn't make it without giving birth. At best, they said I'd have my son before the wedding; at worst, on my wedding day. Given that I'd spent £17,000 on the wedding, this sent my stress levels through the roof.
I'm sure everyone's wedding week is full of anxiety, but mine was something else. I was constantly on edge, frantic every time I went to the loo, worrying there'd be blood. But then my world came to a halt.
Just three days before I was due to get married, my dad had a heart attack. Thankfully, he was okay, although he wasn't able to make the ceremony.
It meant that in the immediate run up to the wedding, I was focused on my dad, rather than whether I was going to go into labour. But when my wedding day came, there was no sign of the baby. I was relieved I wasn't in labour, but getting married while you're pregnant is still difficult. You're tired, you don't feel good in yourself. Combined with everything else happening, it just put me in a dark place. Throughout the day, I was constantly on edge.
After the wedding, we tried to find a sense of normality. We went to Edinburgh, for our honeymoon – I'm still shocked we managed it. Our main concerns were where the hospital was, and how long it'd take to get there. It was hard to enjoy those first weeks of married life while also being on guard for our child to arrive at any time. As every new week began, I'd Google the survival rate of a baby born at that stage, and what he or she would look like.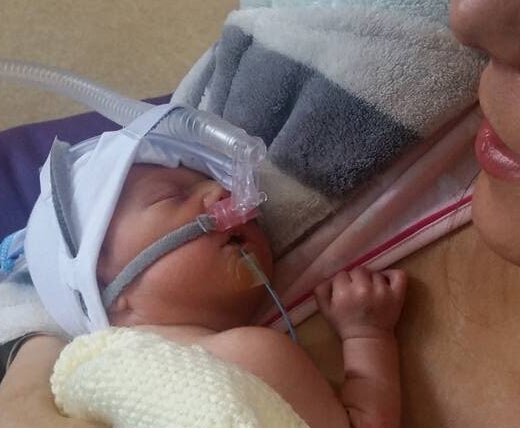 The bleeds kept happening. During one hospital stay in April – seven weeks before my due date, and three after the wedding – I woke up with that feeling you get when you think you've come on your period. I was so tired, I couldn't be bothered to turn the light on. But when I finally did, the bed was covered in blood.
As I headed to the reception desk, more blood flooded out of me. Nurses came running. The baby was okay, but I'd had a placental abruption, and lost two litres of blood by the time they got to me. I went straight in for an emergency C-section. My son, George, had to be resuscitated when he was born, but I didn't know that at the time. I was completely out of it. He had to have two blood transfusions – as did I – and was sent to the neonatal ward.
I was in hospital for a week, and George was in for three because he needed breathing support. The neonatal nurses were amazing, letting me ring in the middle of the night just to see how he was. But the experience, as a whole, was really hard. I couldn't sleep, and my nights were filled with panic attacks. I struggled to bond with George at first, and was diagnosed with PTSD and postnatal depression.
My pregnancy, my wedding, the birth, my dad's illness – it had been a whirlwind. I'm forever grateful for the support I got at that time. I was advised to find parent and baby groups, and I started taking George out more. I opened up about my feelings in a blog, started an online directory of parenting classes for others in my situation, and got us an annual zoo pass (it sounds simple, but getting that fresh air and going for walks really helped).
Reflecting on it, even now, is hard. It makes me teary. But I'm so proud of myself and my family – and, of course, my beautiful son George.
My birth advice?

Make loads of ready meals – you don't know how you'll feel after, so fill your freezer with healthy and nutritious meals so you don't have fast food all the time. My husband and I also did sleep shifts, where I'd get a full night's sleep on Tuesdays and Fridays while he slept with George. It worked wonders.
Carla runs MyBump2Baby, a directory of thousands of listings of classes, groups, and events for parents. She set it up after struggling to find something similar when she was looking for parent and baby groups.