The new menu will feature items from M&S' 'Food on the Move' section including hot bacon rolls and Aberdeen Angus beef sandwiches, with prices ranging from £1 to £4.95.
While the range promises to include more choice than the airline's existing complimentary menu, the prospect of no longer being provided free food has hacked a few people off - with some calling the airline an "overpriced Ryanair".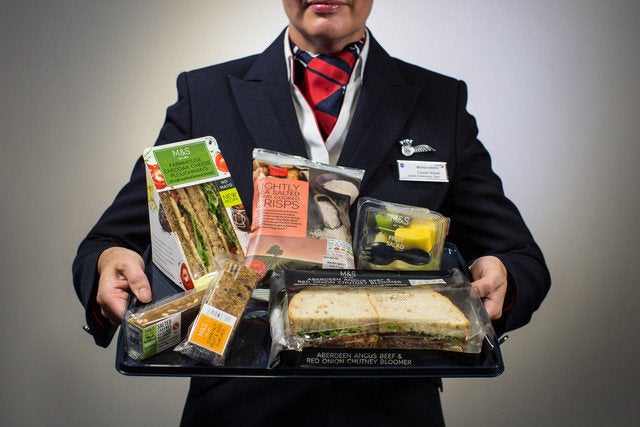 BA's new menu will include a number of fresh options as well as packaged products from M&S.
The food will be available on flights from Heathrow and Gatwick on 11 January 2017, and from London City and London Stansted by summer 2017.
The menu change comes after customers highlighted they were unhappy with the short-haul economy catering and wanted more choice.
New breakfast options on the menu include:
Greek style natural yogurt with summer berry compote and granola (£1.95).
Classic fruit salad with pineapple, melon, mango, apple, kiwi and blueberries (£3.10).
M&S Café bacon roll with pork from British farmers (£4.75).
Tomato and mozzarella focaccia (£4.75).
Some of the sandwich options include:
Aberdeen Angus beef and red onion chutney bloomer (£4.75).
Cheese ploughman's with nine-month aged farmhouse mature cheddar and vine ripened tomatoes, pickle and mixed salad (£3.00).
There are also a wide range of snacks such as assorted nuts, salted cashews and Percy Pig sweets.
Many customers have expressed their disappointment at the free menu items being scrapped, with some saying the airline should lower their costs to reflect this.
Alex Cruz, British Airways' chairman and CEO, said: "Like British Airways, Marks & Spencer is a well-known, premium British brand that is respected and trusted, so it's an ideal partnership, providing our customers with a choice of products they recognise and value.
"I firmly believe what we are delivering breaks the mould and sets a new standard in short-haul catering."
He added that travellers are able to use their Avios points to purchase meals.
What do you think of the move to swap free food for paid-for M&S favourites? Let us know in the comments below.