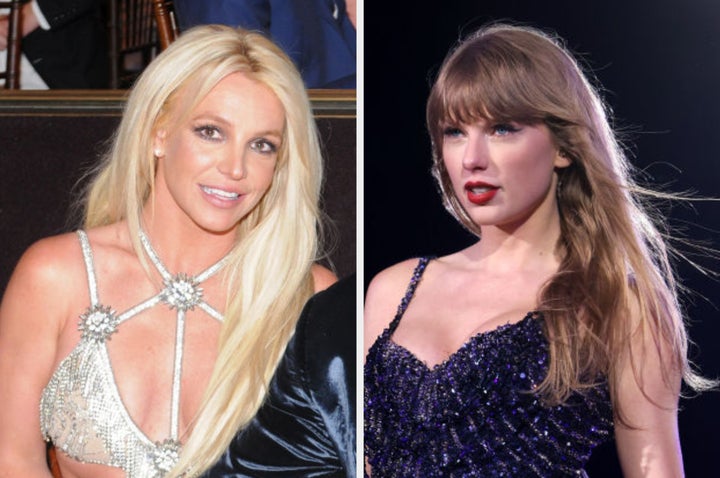 In a recent Instagram post, Britney shared how she was introduced to a 14-year-old Taylor during her own Oops!… I Did It Again world tour.
She included also pictures of herself with the Grammy-winning star in both 2003 and 2008.
"This is way back when but kinda cool," Britney began, adding that she "got a knock at [her] door" backstage while on tour.
According to Britney's account, she was then introduced to "a girl named Taylor who wants to come in and sing for you." That was, in fact, Taylor Swift ("kinda cool" doesn't QUITE cover it, Britney).
Britney is clearly a fan of Taylor
Referring to Taylor her "girl crush," Britney had a lot of compliments to share about the Anti-Hero singer.
"[Britney's assistant manager] walks in, and she [Taylor] sings a beautiful song with her guitar... I was like wow wow she's unbelievable!" the Stronger singer said of their initial meeting. "We took a picture, and she then became the most iconic pop woman of our generation."
"Kinda cool she plays stadiums, and I prefer her videos over movies any day. She's stunning!" Britney, an apparent diehard Swiftie, said.
At the end of the post, Britney went on to share an aside directed at her mother, which read: "Ps. mom I love you so so much, but there were three dolls in the cabinets when I went home two years ago … kinda really weird you would take them out and then put them back in … so messed up.
"Nope, I don't want them. Keep it all. I honestly don't care anymore … honestly though."
Fans were pretty happy
In a series of X (formerly Twitter) posts about the Instagram entry, fans shared their delight at the crossover.
"Imagine being called the most iconic pop woman of our generation by Britney Spears," one fan said.
Others commented on the singer's call out to her mother at the end of the post.
"Screaming at britney spears fangirling over taylor swift and dragging her mom in the same post," the original poster of the screenshots said.
Others read Britney's comment "I prefer [Taylor Swift's] videos over movies any day" in the original Instagram post as a sleight against Taylor's acting career ― but, as one X user pointed out, it seems "she means she'd rather watch her music videos than a movie in general."