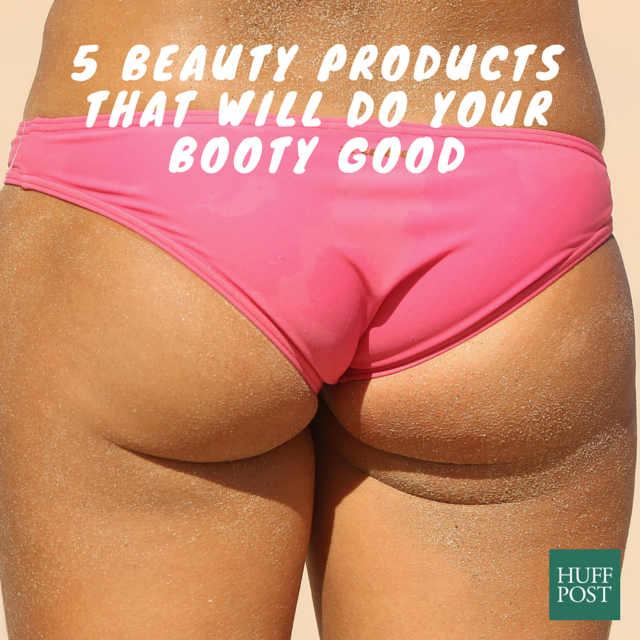 You may not have a booty like Jennifer Lopez or Beyoncé, but that doesn't mean it's not worth flaunting or taking care of.
The butt is plagued with the same skincare problems as your face or back -- from hyperpigmentation and acne breakouts to excessive dryness and fine lines. There are tons of products and treatments on the market that claim to prevent pimples and blast cellulite on your backside, but much of it is hype. So here are five products we've tested and know for sure will work.
1. SheaMoisture Super Fruit Hand & Body Scrub, $8.99, Target.com. Trust us, you won't be able to resist rubbing this product on your booty after your first time exfoliating with this scrub. It's blended with red raspberry, goji, guava and green coffee bean extracts, mango butter and jojoba and olive oils that's easy to massage into your cheeks. The product makes skin feel silky and supple. Plus, this tropical-scented exfoliant doesn't leave behind a mess in the bathtub!
2. Frank Body Cacao Body Scrub, $16.95, Frankbody.com. If you aren't afraid of getting a bit "dirty," we highly recommend this natural exfoliator made of coffee, brown sugar, salt and macadamia oil. The caffeine found in the ground coffee beans helps to stimulate blood flow and tighten the skin, while the macadamia oil works as a natural antiseptic to target dryness and reduce inflammation. Just be sure to have some extra time on your hands to scrub the tub after doing this treatment.
3. Nip + Fab Glycolic Fix Night Pads Extreme, $14.95, Nipandfab.com. These treatment pads are loaded with acne-fighting ingredients like salicylic acid, glycolic acid and lactic acid. After cleansing, swipe one pad across your derrière to remove lingering dirt and sweat that can cause clogged pores.
4. Sol De Janeiro Brazilian Bum Bum Cream, $50, Soldejaneiro.com. Fifty bucks may be a steep price for some butt cream. But after testing out this cupuaçu butter, açaí and coconut oil-enriched moisturizer for a few weeks, we think it's worth every single penny. Its creamy consistency melts down and leaves your booty feeling super soft, and the nutty sweet scent makes it almost good enough to eat.
5. Liha Idan Oil, £39 ($61), Lihabeauty.co.uk. We were first introduced to this cold presseed coconut oil that's infused with Tuberose flower by writer Elise R. Peterson when she shared her Afro haircare secrets. But it turns out this oil works extremely well from head to toe. After adding a few drops to our bath water, we resurfaced with a noticeably smoother backside. It's also great for pre-bathing body massages.