A couple who deliver gifts to people in hospital have revealed that by the end of this year they will have distributed more than 13,000 presents to brighten patients' lives.
With a team of four volunteers, Lorraine and Lee Lewis visit hospitals and deliver presents to patients that are either practical or can simply brighten their day - things such as portable radios, adult colouring books, blankets, pamper packs, model craft kits and puzzle books.
In 2016, they set up The Lewis Foundation to supply gift packs to hospitals in the East Midlands including BMI Three Shires, Northampton, Kettering General Hospital and Milton Keynes University Hospital Trust. And they are soon expanding even further.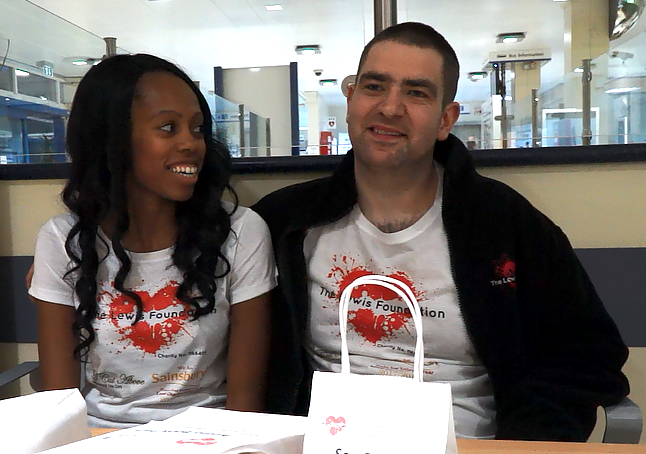 The couple were spurred to make a difference after spending four years in and out of hospital caring for Lee's mum while she had cancer.
The couple said they "hit rock bottom" during this time and had never fully appreciated how tough it was to support a family member with cancer. Lee's father, who passed away in late 2012, had shielded them from it. When he died, the couple took over the role of supporting his mum and "learnt how tough it was financially, physically and emotionally".
"We know how hard it can be," Lorraine told HuffPost UK. "People need to have a positive mindset and a sense of normality, when they are going through cancer treatment. So being able to give people things they love at no cost makes us so happy. We wish when we spent 4 years in hospital, someone would have visited my mother-in-law and cheered her up with things she loved."
It was during this time that the couple decided they wanted to do something productive, so they fundraised money to buy 11 TVs and DVD players for the private rooms. Lorraine did Tough Mudder and Rat Race Dirty Weekend, which she said was "completely out of my comfort zone".
The pair also supported other hospital patients by fetching them items they needed like magazines and toiletries. "That was when we came up with the idea of giving free gift packs to people in hospital, so they could have items they loved without having to worry about paying for it," Lorraine explained.
The Lewis Foundation was born from there. Initially the couple started off by giving 80 gift packs a month, but this has now expanded.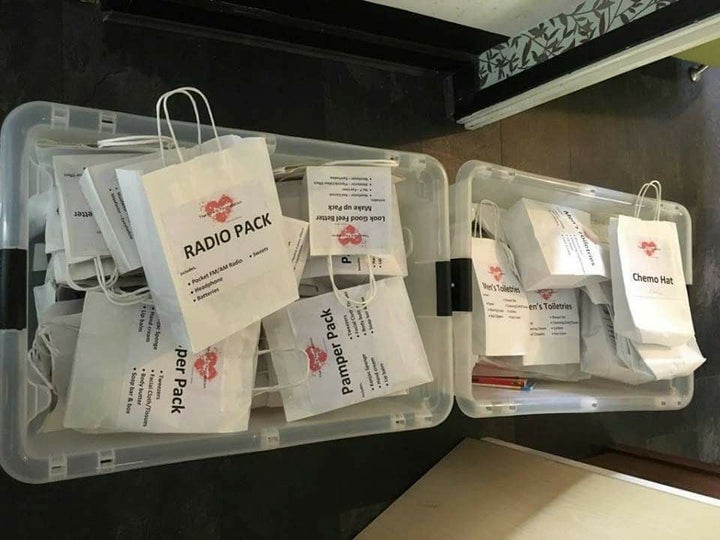 "Through the toughest four years of our life, we identified a need and created something positive," Lorraine said.
The gifts make the world of difference to those confined to hospital beds. Sharon Ingram, a haematology/oncology patient who regularly attends Kettering General Hospital received a bag containing a drawing pack. "I was so thrilled with this," she said. "It really was great, and it means such a lot."
The gift packs have left a positive impact on family members, too. Charnee Leaves said her late mum Sue Passchier "was so grateful" for the support the charity showed her. "Also the magazine gift pack had a sample of a perfume we both loved - she managed to get me it for Christmas and so when I smell that I will remember and think of my mum."
Lorraine added: "We do this because we want people to know they are not alone and people do really care about them. When we see how happy it makes people, it makes us happy. Every minute we give knowing the difference it will make it so worth it."
HumanKind is HuffPost's celebration of kindness, featuring people who do incredible things for others or the planet – transforming lives through small but significant acts. Get involved by joining us on Facebook or telling us about the people who you think deserve recognition for their kind works. You can nominate them here or share your personal story by emailing natasha.hinde@huffpost.com.