California Gov. Jerry Brown (D) signed a landmark bill into law on Friday aimed at banning the sale of cosmetics that have been tested on animals.
The California Cruelty-Free Cosmetics Act, authored by Democratic state Sen. Cathleen Galgiani, prohibits manufacturers to "import for profit, sell, or offer for sale" any cosmetic product that was developed or made using an animal test, if the test occurs after the law takes effect on Jan. 1, 2020. That means products developed using animal testing may still be sold, as long as the testing does not continue after that date. Violations are punishable by a $5,000 fine, plus an additional $1,000 for each day the violation continues.
Animal tests used in the cosmetic industry include painful skin and eye irritancy experiments, as well as toxicity evaluations that involve exposing animals to deadly substances, sometimes by force-feeding or inhalation. The most commonly used animals are mice, rats, rabbits and guinea pigs. The vast majority are killed when testing is complete.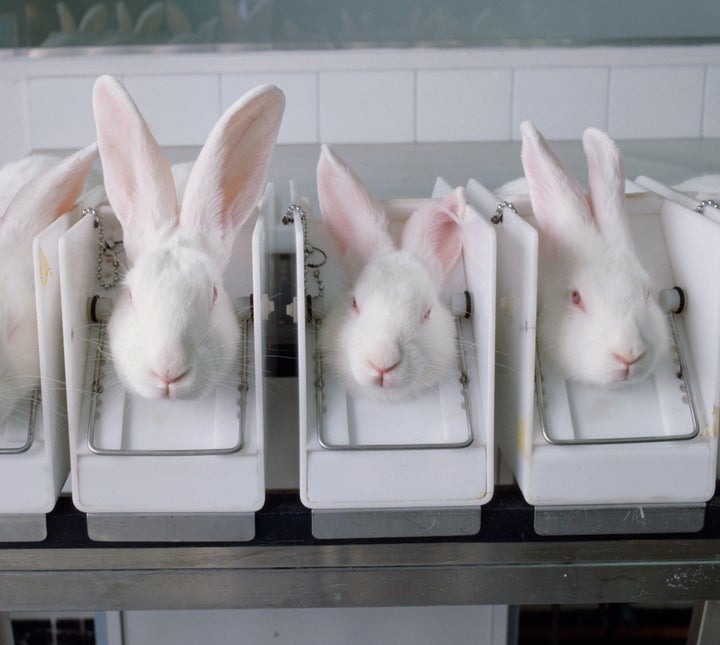 Measures similar to California's new law already exist in the European Union, as well as in India, Israel and Norway. The Humane Cosmetics Act, a federal bill geared toward phasing out animal-tested cosmetics, was introduced in Congress last year but hasn't been passed.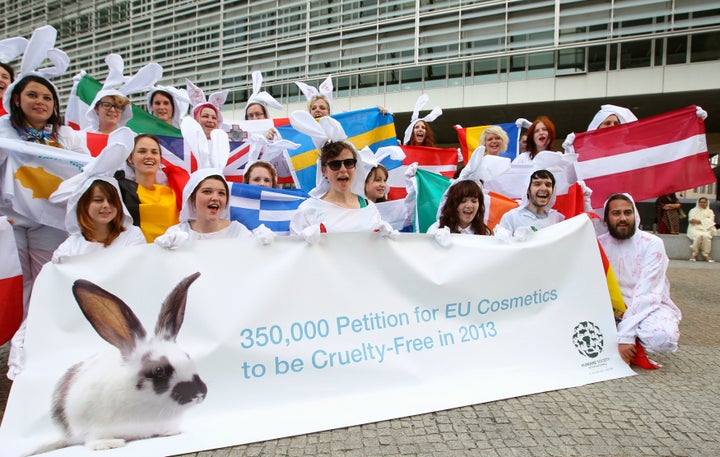 That makes California's law the first of its kind in the U.S. Supporters said they hoped it will encourage other state laws or changes at the federal level.
"We're hopeful this law will encourage the federal government to pass the Humane Cosmetics Act," Vicki Katrinak, the program manager for animal research issues at the Humane Society of the United States, told HuffPost.
The Humane Society became involved with the bill, which was spearheaded by the Physicians Committee for Responsible Medicine and Social Compassion in Legislation, after it passed the California Senate.
The measure has some significant limitations, though. The biggest is a carve-out that says companies can continue to pay for animal testing on products or ingredients in countries where it's required by law. And they can still sell those products in California, as long as the animal tests weren't specifically used to determine the safety of the product for sale in the state.
Advocates said they hoped California's law will encourage companies to fight for international changes.
"It gives greater impetus for [the cosmetics] industry to push for changes in other countries," said Katrinak. She noted that companies generally don't want to pay for an animal test to sell products in China and then an alternative test to sell the same product in places like California or the EU.
Another potential limitation of the California law is enforcement, which rests with county district attorneys or city attorneys. It's unclear how local prosecutors would uncover possible violations, but Katrinak speculated whistleblowers could bring violations to the attention of authorities. Neither Galgiani nor the California District Attorneys Association replied to requests for comment from HuffPost.
Despite its limitations, the California law represents a major step for opponents of animal testing in the U.S., who believe it's a clear sign that the beauty industry will continue to shift away from animal-based research.
"We're hoping that California will just be the start of resolving this issue," said Katrinak.