A man arrested on Tuesday in connection with a devastating wildfire in Southern California is a conspiracy theorist who posted videos about satanic rituals and QAnon.
"This place is going to burn," Forrest Clark, 51, allegedly texted a volunteer fire chief two weeks before an inferno enveloped Orange County, burning nearly 20,000 acres and destroying 12 homes.
The Holy Fire still rages and is only 5 percent contained, the Orange County Register reported.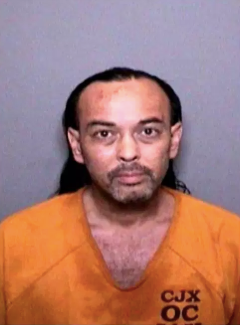 Clark, a former landscaper, was arrested shirtless at his home. He is facing two felony counts of arson, one to terrorize and a misdemeanor count of resisting arrest. If convicted, he could face life in prison.
Mike Milligan, the chief of Holy Jim Volunteer Fire Department, showed CNN the text messages, according to a Friday report. He said residents who knew Clark were scared of him.
"For us, it's disappointing because he is just a scourge on this canyon," Milligan told local media. "Every single person in this canyon is afraid of him. Number one, avoids him; number two, knew he was going to do something crazy."
Orange County sheriff's deputies received a call reporting "erratic behavior" by Clark on July 23 and placed him on a psychiatric hold, the Associated Press reported, citing Carrie Braun, a department spokeswoman. The department did not say when Clark was released from police custody at the time.
On his Facebook page, Clark had posted dozens of videos spanning years delving into absurd conspiracies, including beliefs that Satanists run amok and control the world. He believed Pizzagate is real (it's not, but it did lead to a seriously dangerous situation) and more recently that someone deep within the U.S. intelligence community is posting clues to troll boards, including 4chan and 8chan, about a coming political reckoning.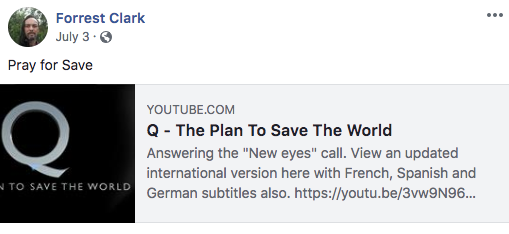 The latter, referred to as QAnon, has suckered legions of conspiracy-minded parties to believe that President Donald Trump is secretly busting a massive pedophile ring. They also believe the president will be liberated from all suspicion in special counsel Robert Mueller's FBI investigation into Russia's possible influence on the 2016 presidential election.
Clark's arrest earlier this week once again puts the spotlight on the possible real impact of conspiracies.
Clark allegedly started the fire following a dispute with Milligan. Two weeks ago, he came to Milligan's home to return items he "borrowed" from the fire department, the volunteer fire chief said.
"I said, 'I want nothing to do with you, Forrest. Just go,'" Milligan said, according to CNN. "He was being gentlemanly in the beginning, and turned and then swore at me, and turned and left and was quoting the Bible. Later, he came back and told me what a jerk I was and everyone was after him."
"The place is going to burn just like you planned," Clark later texted, according to Milligan.
Orange County Supervisor Todd Spitzer didn't mince words at a news conference Wednesday.
"This is a monster," Spitzer said. "Who would go out with low humidity and high wind and the highest heat temperatures this time of the year and intentionally set the forest on fire?"
Clark is being held on a $1 million bail.
Related