When the gongs were handed out last night at Lambeth Palace, home of the Archbishop of Canterbury Justin Welby, it was the popular Sunday night drama that won the popular vote, with Radio Times readers declaring it a clear winner for the fifth episode of Series 4 where Sister Julienne (Jenny Agutter) had to negotiate medical attention for a sick baby, whose mother's Christian Scientist religious beliefs prevented her giving antibiotics to her ailing child.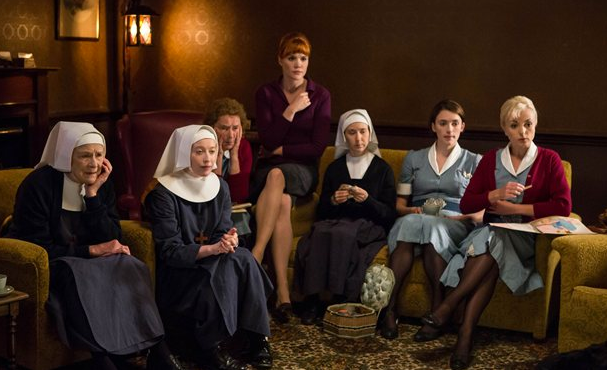 Accepting her prize, the show's creator Heidi Thomas explained that, when she first talked about the commission with the BBC, she was asked "how she was going to deal with the religious aspect". She explained, "I said that as the story centred around a group of nuns, that would probably take care of itself."
Other winners last night included Channel 4 documentary 'My Son the Jihadi', the moving story of how one woman, Sally Evans, made the devastating discovery that her son Thomas had left their home in a Buckinghamshire village and travelled to Somalia to join a deadly Islamist terrorist group.
Religious website www.thingsunseen.co.uk won the award for Interview of the Year for their moving conversation with Diane Foley, a mother who had to endure the knowledge that her son, US journalist James, was in danger of execution, and then had to learn to live with his very public and brutal killing by Islamic State in Syria in August 2014.
Talking to Mark Dowd, Diane reflected on why, even though she never spoke to Jim again after his capture, she knew her son was close to her in prayer. She explained how the experience has helped her understand Mary far more deeply, and why she has been able to forgive 'Jihadi John', her son's unrepentant killer. She revealed why, despite her strong Catholic faith, reports that James converted to Islam in captivity never worried her, and she described how Muslims in her neighbourhood had gathered together to pray for peace in his memory.
During his keynote address at the beginning of the evening, the Archbishop of Canterbury made it clear his belief that religious broadcasting must take a more central position if we are to have any hope of addressing the international crises we are faced with today.
"We can't hope to understand why people do what do until we understand what drives them," he said.
"You could argue one of the great crises of our times is that we're facing racially motivated threats for the first time in more than 200 years and broadcasters have neither the images nor the interpretative skills needed to face them.
"It's impossible to understand the world today without understanding religion, not because a religion is an exercise in private piety designed to keep some people happy, but because religion is a great indicator of behavior for both individuals and communities.
"Religion needs to be treated with the same respect as other genres."
The final winner of the night was Dame Joan Bakewell, recognised with the Trustees' award. In accepting her honour, the veteran presenter, who has been making programmes on ethics and religious values since the 1960s, including her TV series 'Heart of the Matter' and radio show 'Belief', explained that she had never had a sense of faith herself, but she had always been "curious" as to what it meant to different people and how it influenced them in their lives.
Related