Members sent official complaints to the party's General Secretary Iain McNicol calling for immediate suspension, amid rumours Labour was likely to take action against her.
Meanwhile the chair of the Jewish Labour Movement Jeremy Newmark called for her resignation, unless she showed "some sensitivity and contrition".
"As Vice Chair of Momentum Jackie Walker has consistently failed to demonstrate any sensitivity to the impact of her words and actions upon the Jewish community. She must now consider her position, show some sensitivity and contrition or resign", he said.
TheCEO of the Holocaust Educational Trust Karen Pollock said Walker had "undermined and belittled" Jews:
"The Holocaust was a defining episode in history where 6 million men, women and children were brutally murdered simply for being Jewish; the very epitome of man's inhumanity to man.
"Whilst Holocaust Memorial Day rightly and proudly commemorates the Holocaust and subsequent genocides, one has to wonder why Ms Walker takes issue with commemorating the mass extermination of Jews in its own right.
"The deliberate use of term 'HolocaustS' - plural - undermines and belittles the distinct nature of the tragedy itself, ignores that genocides are the result of diverse and unique factors, and also deprives the Jewish community of their collective memory."
In response to the furore, Walker tweeted: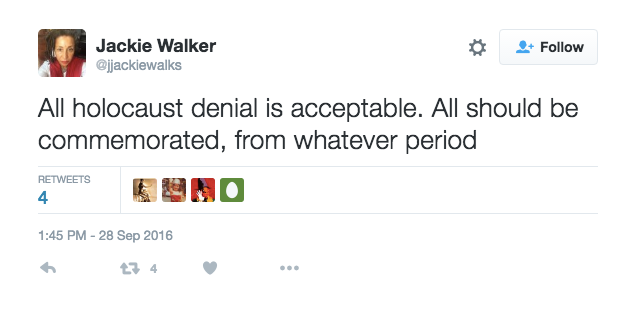 She then deleted it, correcting the tweet:
Popular in the Community