Cardi B has asked fans to return her wig after she got a little carried away and threw it into the crowd at Wireless Festival.
The Grammy-winning rapper headlined the event at London's Finsbury Park on Friday, treating the audience to her biggest hits and a surprise guest appearance.
However, she admitted to regretting one moment of exuberance, appealing on Twitter for the return of her hairpiece after the show.
Fan-filmed footage of the evening shows Cardi, real name Belcalis Marlenis Almánzar, kneeling on the stage before ripping her wig off mid-song and throwing it into the audience, leaving screaming fans to fight it out for a souvenir.
Sharing the video, she added: "I GOT CARRIED AWAY …….I want my wig back:/ Dm me."
Unfortunately, the wig is yet to be found and the replies to Cardi's tweet include a lot of fans advising her to check eBay to see if it's being sold.
Cardi's set also saw her bring out rapper of the moment Lil Nas X, with the pair performing his breakout hit Old Town Road.
Writing on Twitter, Cardi B predicted a bright future for Nas.
She said: "I'm going to bed I have such S bad headache .I want to thank @LilNasX for coming out tonight at Wireless !
"It was lit keep doing your thing ,the stars is the limit …..Stream rodeo for a date with lil nas."
Promoting her own track, she added: "Oooooo yeah and stream Press for hair growth."
Cardi's performance was a relief for many fans, as it came following a string of cancelled gigs.
In May, she cancelled several tour dates, with a representative for the musician saying she was adhering to "strict doctors' orders".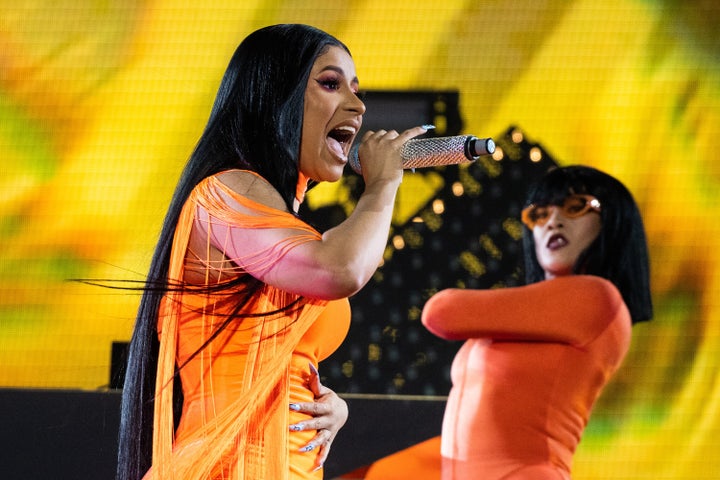 In an Instagram video posted at the time, she added :"You know, I hate cancelling shows because I love money.
'I'm a money addict and I get paid a lot of money. A lot of money for these shows, like I'm cancelling millions of dollars in shows.
"But like, health is wealth, so I have to do what I have to do... My breasts gotta fucking heal, and it is what it is."