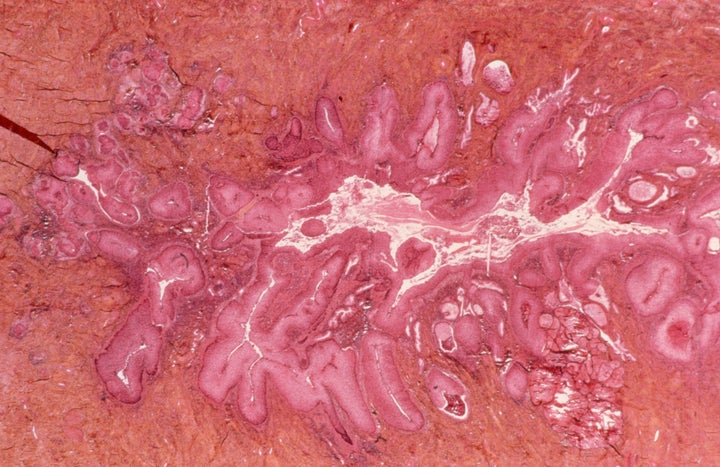 This Cervical Screening Awareness Week I am encouraging all women to take their smear test, and equally for all women and men to encourage the women in their lives to get checked. The more we all talk about cervical cancer, and smear tests, the more people can be saved.
Every year in the UK, hundreds of women die as a result of cervical cancer. Some 75% of cervical cancers can be prevented by the quick and simple cervical smear test. That is why I support the work of charities including Jo's Cervical Cancer Trust in their campaigns to raise awareness of the importance of cervical screening. About one in 20 people will have an abnormal result after cervical screening, that means 220,000 women every year.
I know how important these tests are all too well, because 10 years ago I had a cervical smear test that picked up abnormalities which, if left untreated could have developed into cervical cancer. It is undeniable that not going for cervical screening is one of the biggest risk factors for developing cervical cancer and so we have duty to ensure that all women, regardless of their background or circumstances have the opportunity to access the NHS cervical screening programme.
With all of us leading increasingly busy lives, I know from personal experience how easy it often is to put off going for a test. At the moment the number of women going for smear tests is at a 20-year low, with over 1.2million women who are eligible for the test, not taking up their invitation for screening each year. This is all the more alarming as nine women are diagnosed with cervical cancer every day and two women lose their lives.
Five million women in the country are currently overdue for testing. It is crucial that all women go for their cervical screening and we must do everything we can to remove the barriers to women accessing smear tests.
Tests can be difficult for women for a variety of reasons, particularly for women with physical disabilities or those suffering from emotional trauma. Women with disabilities such as muscular dystrophy or multiple sclerosis may find it particularly challenging because of a lack of equipment like hoists in GP surgeries. It is also vital that women who may have suffered from sexual or physical abuse are properly supported when seeking cervical screening. So I would encourage any women in these circumstances to contact their GP to find out what help is available.
For some, it is a lack of understanding of the smear test and its importance which means they do not take up the invitation for screening. In particular, women from BAME communities are less likely to attend. A study by Jo's Trust, which examined the difference in understanding of smear tests among women from BAME communities and white women, found that a third more women from BAME communities had never attended screening. As many as 30% of Asian women said they didn't understand the programme or procedure. That is why the government now provides translations of screening invitations which are available online.
In many areas across the country women are able to access smear tests through home visits or adapted or specialist provision in their GP surgeries or hospitals, but we must make sure that such provision is available to everyone who needs it so that there are no unnecessary barriers that mean women are missing out on tests which could ultimately save their lives.
Recent research has shown that the majority of women who do not attend their appointments feel scared and vulnerable at the prospect of taking the test while an overwhelming number, approximately 81%, said embarrassment was what stopped them visiting their GP for the test. There should be no barriers to women accessing the screening programme and yet all too often fear, embarrassment or even shame prevents us attending the test.
Over 3,000 women are diagnosed with cervical cancer in the UK every year and almost 900 die of the disease. That is why I welcome the national campaign to highlight the risks of cervical cancer and encourage more women to get screened. I urge all women, regardless of age, disability, ethnicity or circumstances to make the time to attend their smear test – those few moments of embarrassment could save your life.
Rachel Maclean is the Conservative MP for Redditch