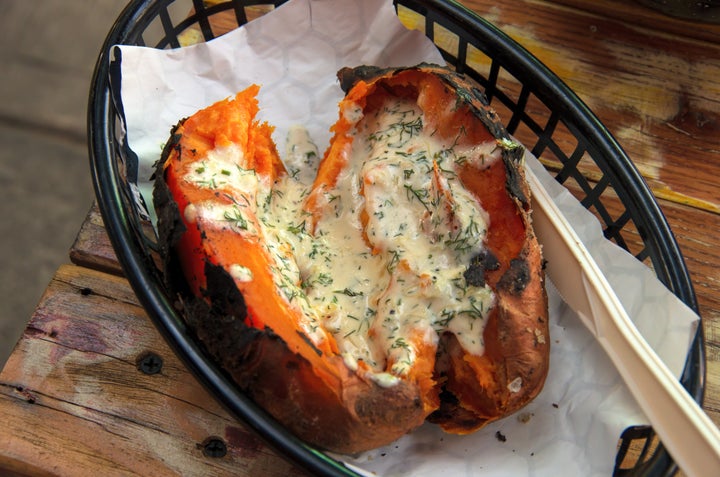 The nights are getting darker, the days are getting colder, and my energy levels are, to put it mildly, dipping. So, it makes sense that my takeaway bill went significantly up in the past month or so.
But reality bites: like most of us, I'm very conscious of the health of my bank balance right now. Hence my hunt for easy, cheap midweek meals began in earnest.
Enter: TikToker @bunchuk's meal idea involving chickpeas, spinach, tahini, soy sauce, butter, maple syrup, and lime juice (with crispy chilli oil, which has long been my favourite flavour-enhancer). And having made it about eight times since seeing it, it's fair to say I've been sold on the cheap, low-hassle recipe.
So, I thought I'd share how to make it – and how to sub ingredients out if your midweek cupboard is a little bare.
Let's talk ingredients
I'm cooking for one, so I can prep enough for two nights with a pair of sweet potatoes, one can of chickpeas, a couple of handfuls of spinach, tahini, lime juice, a dash of soy sauce and honey, and some butter or oil. For me, that comes to about £3.
I pierce the sweet potatoes with a fork, coat them in oil, salt, and pepper, and stick them in the oven for about 45 minutes (these can take up to an hour, but I find that switching the oven off after 45 minutes and letting the spuds sit in the warmed oven while I make my topping does the job).
The TikTok creator air-fries her sweet potato, which takes a similar period of time. She also microwaves them, which provides a surprisingly crisp skin and creamy texture ― this should take about five minutes.
However you're cooking them, the flesh under the potato's skin should squish under pressure to show they're tender.
Then, I add oil to a hot pan and chuck in a tin of chickpeas with some spices ― I go for turmeric, cumin, chilli, salt and pepper, but this isn't needed as the sauce provides a lot of flavour.
I add some spinach after a minute or so and stir until it wilts ― I've found this is a great way to use up leaves that are still usable, but don't look crisp or fresh enough for a salad.
Next, mix a tablespoonful of tahini with about half a teaspoon of honey or maple syrup, a teaspoon(ish) of soy sauce, a small knob of melted butter (or oil, which I've been using), and a dash of lemon or lime juice.
Cut open your sweet potatoes, smash the insides for an even layer, and add your spinach and chickpea mix to the top before pouring the tahini sauce over it and adding crispy chilli oil if preferred.
"I'm making this right now. I could drink the tahini butter sauce it's so good," one commenter said. "Oh man, this was cheap, quick, filling, and DELICIOUS. Will be making over and over," said another.
It's among the most filling recipes I've tried, and I've found that leaving an uncut sweet potato and the chickpeas in a container overnight makes the meal really easy to microwave the next day.
What if I don't have everything on here?
Part of the beauty of this recipe is how easy it is to adapt. While one TikTok user commented that they'd been able to go home and make it immediately as they had all the ingredients to hand, others found some easy subs that were still delicious.
Some subbed tahini out for peanut butter (I've tried this, and was impressed). Others added feta instead of chilli oil to the topping ― I've subbed the chilli oil out with sriracha or Tabasco before, and loved the results.
Spinach can be subbed for kale. Chickpeas can be subbed for butter beans or any other creamy legume, and lime juice can be switched with lemon.
As I've said before, I've been subbing out the butter for oil because I just don't use or buy butter that much ― it's been lovely, but I do suspect the buttery flavour is probably better.
Lastly, do not fear the microwaved baked potato. I've made them before in a rush, and while they're maybe 15% less tasty than the oven kind, sometimes the time efficiency is worth it.
It still has the caramelised flavour and crispy skin. "I microwaved the sweet potato so it came together real quick. this was lovely because there was depth of flavour and it was beyond easy," one commenter shared.