A group of footballers have been banned from attending the Cheltenham Festival today after photos emerged appearing to show men urinating into a glass and tipping the contents over a balcony.
MK Dons FC and Bristol City FC released statements on Wednesday saying that they would be investigating the incident.
Midfielder Samir Carruthers is said to have been caught by a photographer as he relieved himself on a balcony while surrounded by race goers at the prestigious meet.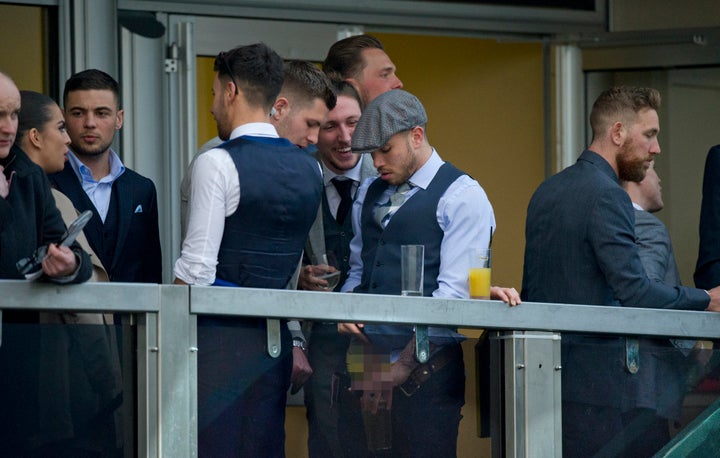 A grinning Luke Ayling was photographed standing next to Carruthers as the contents of the glass were then tipped over the balcony by another member in the group.
Cheltenham Racecourse confirmed that the group featured in the images have been banned from attending the event today.
In a series of images printed in The Sun on Wednesday, the contents of the glass are then poured over the railing by another member in the group.
Carruthers, 22, who is wearing a grey flat cap and waistcoat, is pictured smiling as the liquid is thrown over the balcony.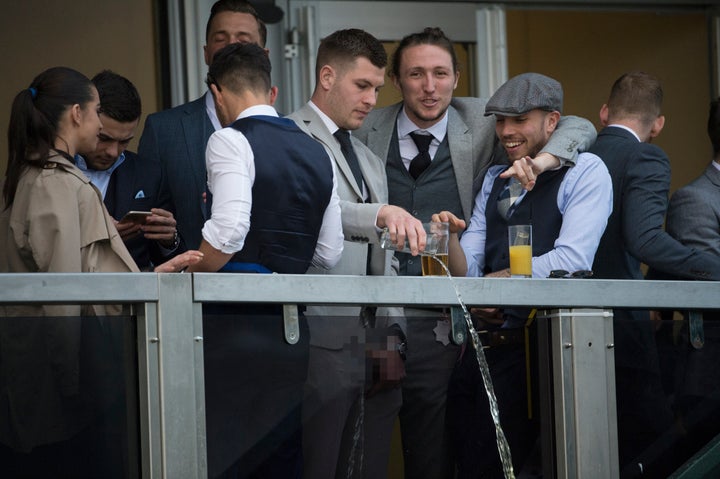 Carruthers apologised for his behaviour on Wednesday, saying that he "feels so embarrassed".
He said: "I have to take the critcism that comes with it. It's not something that should be laughed about.
"It's not an example I should be giving to kids either, I'm meant to be a role model.
"I'm really hurt by what I've done. It was a silly mistake and I just have to take everything that comes with it."
A spokesman for the Championship side said that while Carruthers was involved, neither he nor any other MK Dons player threw it over the balcony.
MK Dons said in a statement: "The club is aware of pictures circulating in the national media of one of its players at the Cheltenham Festival.
"The club has commenced an internal investigation into the matter."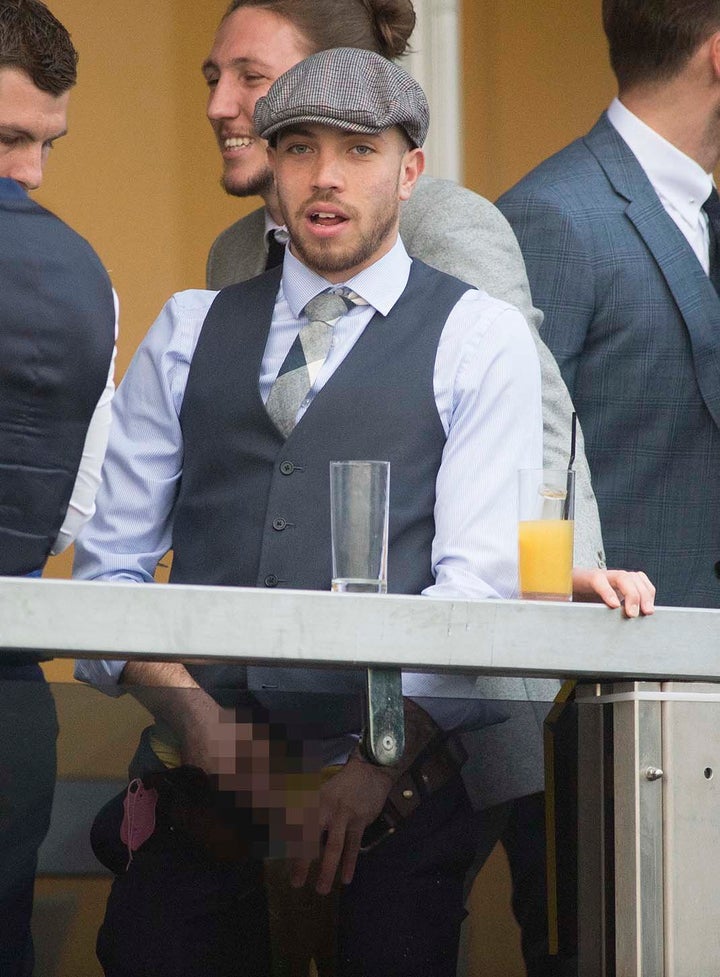 Bristol City FC released a statement on Wednesday morning saying that they would also be looking into the incident after Ayling was photographed in Carruthers' group.
A statement from Bristol City FC said: "We are aware of the disappointing images from the Cheltenham Festival that have been printed in various national newspapers this morning.
"We will be speaking to the players concerned and will take appropriate action where necessary."
Those caught urinating in public places can usually expect to receive a £45 penalty from police.
Many people have pointed out the double-standards between how an "ordinary" person would have been punished for such an offence compared to a celebrity.
While others are "disgusted" with the men's behaviour, few are surprised at their antics.
The four-day festival is one of the highlights of the horse racing season, with Zara Philips among the well-heeled guests at this year's event.
Tickets to some of the exclusive enclosures can cost more than £700 a day.
Popular in the Community