It seems that not even the Trump administration can get Republicans concerned about the devastating consequences of climate change.
"We know that our climate is changing. Our climate always changes and we see those ebb and flows through time," Sen. Joni Ernst (R-Iowa) said on CNN's "State of the Union."
Ernst said any sort of federal response to climate change needed to consider the impact on the economy and jobs. The Iowa senator, who was recently elevated to a Senate GOP leadership position, talked up her state's reliance on wind and solar energy, as well as biofuels like ethanol.
"There is a balance that can be struck there," she said. "Again, in Iowa, as a state, we have set that standard, and it hasn't been by mandating, it has been by incentivizing."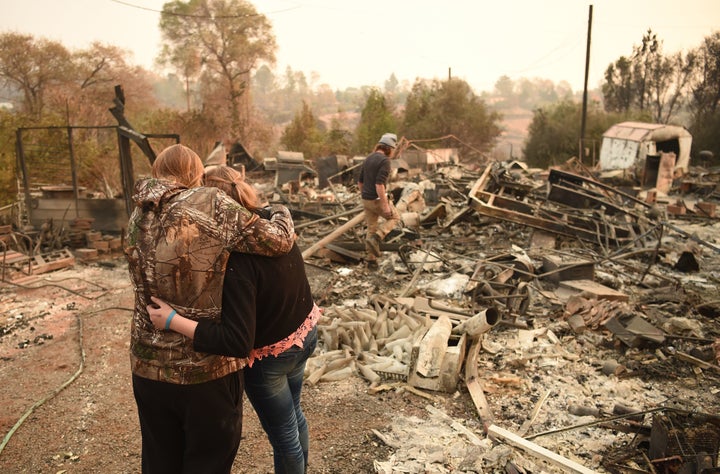 Sen. Mike Lee (R-Utah), meanwhile, expressed concern about climate proposals that could "devastate" the U.S. economy.
"I think if we're going to move away from fossil fuels, it's got to be done through innovation. And innovation can be choked out through excessive government regulation. We can't let that happen," he said on NBC's "Meet the Press."
Sen. Ben Sasse (R-Neb.) similarly called for "innovation" to deal with climate change. The U.S. needs to "participate in a long-term conversation about how you get to innovation, and it's going to need to be a conversation again that doesn't start with alarmism," he said on "Fox News Sunday."
However, the report says the U.S. economy could suffer upward of $500 billion a year in crop damage, lost labor and extreme weather damages by the end of the century if warming continues on the current trajectory.
"With continued growth in emissions at historic rates, annual losses in some economic sectors are projected to reach hundreds of billions of dollars by the end of the century — more than the current gross domestic product (GDP) of many U.S. states," the report said.
Under President Donald Trump, the U.S. has rapidly moved to eliminate policies aimed at reducing the nation's carbon footprint ― even as other top emitters of carbon dioxide, such as China, have taken steps to curb emissions. Trump announced last year that he would withdraw the U.S. from the 2015 landmark Paris climate accord. His administration has also moved to scrap Obama-era regulations curbing greenhouse gasses from automobiles and power plants.
Ahead of the Thanksgiving holiday, Trump once again expressed denialism about climate change by tweeting that he believes cold weather disproves long-term trends of a warming climate.
The Trump administration also seemed to minimize the findings of the new report by releasing it the day after Thanksgiving, when many people are likely to be shopping or spending time with family instead of paying attention to the news.
"They couldn't pick a day where they tried to get less attention on this report," Sen. Amy Klobuchar (D-Minn.) said on ABC's "This Week." "But I think it backfired. … A lot of people have found out about it or signing up to get an overview of the report."