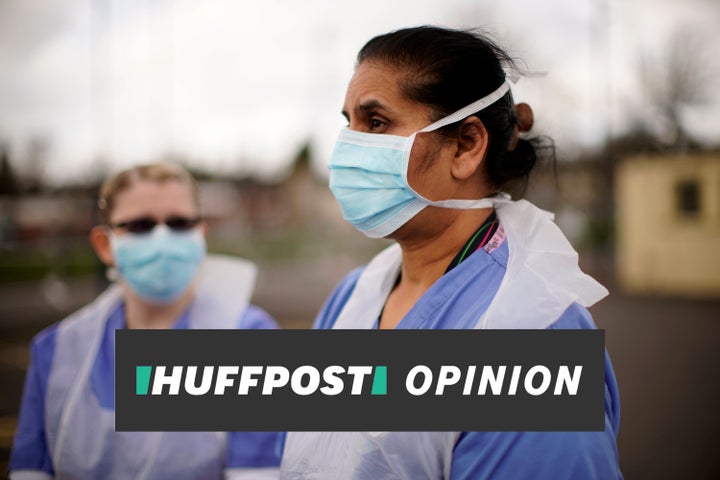 Remember just a month ago when the government announced its plans for a new immigration system? Remember that they would have excluded thousands of social carers, teaching and healthcare assistants, cleaners and childcare workers who are now providing life-saving care?
The idea that these workers, most of whom are women, are 'low-skilled' looks pretty absurd during the Covid-19 crisis. In fact, many of these roles have been designated as 'critical' by the government in fighting the outbreak.
The government's immigration proposals set out a series of criteria through which migrants seeking access to the UK could qualify for points to secure a visa. These included extra points for 'high-skilled' applicants with a job. Yet, the government's definition of 'high-skilled' seemed to translate to 'highly-paid', given that the minimum salary threshold was £20,480, with extra points for those earning above £23,040 and £25,600 respectively.
That criteria would disqualify many of the people currently putting their lives in danger to deliver vital care in the wake of the coronavirus crisis. For example, 24% of carers are on zero-hour contracts so it is nearly impossible to predict their annual salary. For those working set hours, average starting salaries fall between £16,000 and £19,500. And the cleaners keeping hospitals as sanitised as possible? They are considerably unlikely to be earning more than £20,000.
It would also disqualify many of the people that the government, through its own admission that their children must be kept in school, consider priority workers, including health and social care workers, education and childcare professionals, food and transport providers and public safety professionals.
Many of these workers would not qualify for a visa under the immigration system proposed by the government a month ago. And many of these workers are migrants: for example, nearly one in five care workers was born outside the UK, with one in seven care workers from outside the EU.
In addition to the value migrants contribute to our culture, society and personal relationships, Covid-19 is proving what many have been saying for years: the British economy, not least the NHS and care systems, cannot function without the contributions made by 'foreign-born' workers.
"All of these scenarios will demonstrate that although undervalued, underpaid and in many cases invisible, women's care work lies at the foundation of a functioning economy."
The majority of these workers are also women: 77% of NHS staff are women while BAME women are significantly overrepresented in the health service. A total of 80% of paid care workers are women, and women are significantly more likely to deliver unpaid care at home.
In the coming weeks it will become ever clearer that care work is vital. It will become clear when, for example, schools close and teachers — 85% of which are women are primary level, 63% at secondary level — are no longer able to care for children. When hospitals become overcrowded and parents and grandparents are forced to put their own health in danger to care for patients at home. When care workers have to self-isolate.
All of these scenarios will demonstrate that although undervalued, underpaid and in many cases invisible, women's care work lies at the foundation of a functioning economy. This includes migrant women's care work.
The days of these proposals already feel like very different times. The Covid-19 outbreak, which has only really come to sink into the British public and political consciousness in the last five days, changes everything. It has already exposed how the decimation of our public services has left us vulnerable and unprepared to cope with periods of crisis. It has proven that we are all interconnected and that care truly is the bedrock of our society and economy.
It's dreadful that it has to take a global pandemic for us to look around and realise that the economy is not simply operating at the behest of market forces but it is impacted by all of us every day. It is care and it is community.
Those on the front lines are not providing 'low-skilled' work. There are many lessons we can learn from the crisis, but let that be one of them.
Jenna Norman is the public affairs officer at the UK Women's Budget Group.