In a public health crisis, speeches save lives. Without drugs or vaccines to stop Covid-19, politicians had to use the power of public persuasion to get all of us to change behaviour and make personal sacrifices.
But that is what makes it so shocking that at the height of the coronavirus crisis, 89 out of the 92 ministerial speeches given in the UK government's daily press conferences were given by men. When political decisions were being taken and communicated, women were left out.
The irony is that across the world many of the leaders who have done the best job making covid decisions, communicating them and building community confidence have been women.
In different ways, New Zealand's Jacinda Arden and Germany's Angela Merkel built trust, speaking directly to their countries with empathy and openness about the challenges they faced.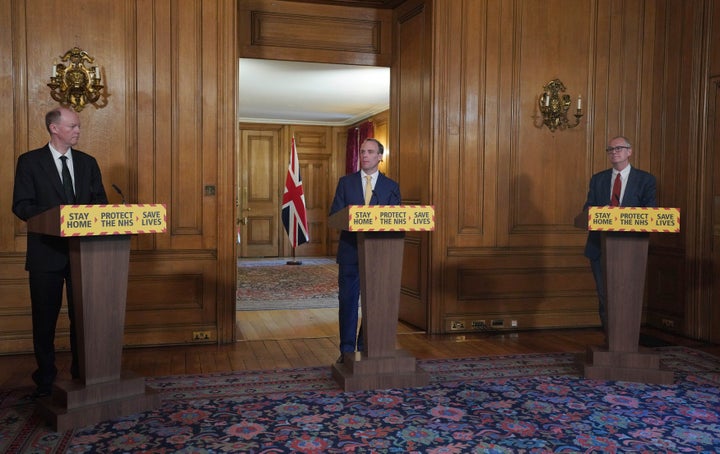 Back here at the height of lockdown, the person who best captured the national mood and pulled us together was the Queen as she invoked our history to inspire compassion and resilience, promising that "we will meet again."
Men at the heart of the UK government could have learnt many lessons from all these women on how it should be done.
Sadly of course none of this is new. Women are still less likely to hold public office, less likely to get to speak at conferences, less likely to hold forth in a business meeting zoom or a conference call.
For centuries, bold and brilliant women have taken to public stages to speak out – as experts and activists, as politicians and protesters – but too often their voices have been sidelined or drowned out, and public speaking can still feel like a man's world.
Even in recent speech anthologies or online celebrations of oratory, women are notably absent – often accounting for just one in five or even fewer than one in ten of the chosen speeches.
Too often when women do speak out, they can face greater vitriol or even violence for doing so. The abuse aimed at women MPs – particularly black, Jewish and Muslim MPs – is vile. But it is part of a long history of attempts to silence women.
Suffragettes were tortured, abolitionists faced angry mobs outside the churches where they spoke. Josephine Butler, a Victorian campaigner for women's rights had to escape from a window when the barn she was speaking in was set on fire by her opponents.
For centuries women have been fighting back and speaking out – so it's time we celebrated and amplified their words rather than letting them get lost or assuming that all the great oratory through the ages belongs to men.
"The Covid-19 crisis has shown once more the power of words and also why it matters when some voices are missing."
That's why I have compiled forty women's speeches from across the world and through the ages – published in paperback this week.
From Sojourner Truth's powerful words against slavery in 1850s America to Julia Gillard's exposé of Tony Abbott's misogyny in the Australian Parliament eight years ago, from Boudicca to Greta Thunberg, these are incredible speeches that should be read and heard to inspire more women to speak out.
Many women's speeches from our past feel more important than ever. Words from the speech by civil rights activist and poet Audre Lourde, given in Chicago in 1977, have been emblazoned on the banners of Black Lives Matter protests.
Her words, "your silence will not protect you", are relevant and rousing for a new generation, and a reminder of the responsibility we all bear to recognise and challenge racism and injustice wherever we find it, and to seek out under-represented voices.
The Covid-19 crisis has shown once more the power of words and also why it matters when some voices are missing.
The absence of diverse voices made for a weaker response. It's time to put that right – to amplify and to celebrate women's voices so we can inspire a new generation of women and girls to speak out.
Yvette Cooper is Labour MP for Normanton, Pontefract and Castleford.