Thinking about getting a test for Covid-19? If that's the case, it can be hard to know where to start – after all, there's so much information out there.
Before you set about the task, here are some key testing myths that need putting to bed.
1. You should get a test if you have a runny nose or sore throat.
While you should get a Covid test if you have any of the three main symptoms of Covid-19 – a continuous cough, fever, or loss of (or a change) in sense of taste or smell – you shouldn't seek a test for other symptoms at this stage, according to government advice.
Public Health England (PHE) suggests there's been a spike in other viruses that cause the common cold, which can cause symptoms including a runny nose, sneezing and a sore throat. But people shouldn't book tests for these kinds of symptoms.
Some people reporting symptoms to the Covid-19 Tracker app might be urged to book a test for the purpose of academic research, despite having different symptoms to the three listed above. Care home residents and staff members are also able to get tested even if they don't have symptoms.
2. It's only for adults.
The Covid-19 tests available in the UK are also available to children.
There are two ways to get tested: booking a visit to a test site or ordering a home testing kit. Both methods require you to self-refer via the government's website and during this process, you'll need to fill out an online form with some personal details. You can also book a test in this way for someone you live with who is displaying symptoms.
The at-home tests, which involve a nasal and throat swab, should be carried out by an adult on children aged 11 and under.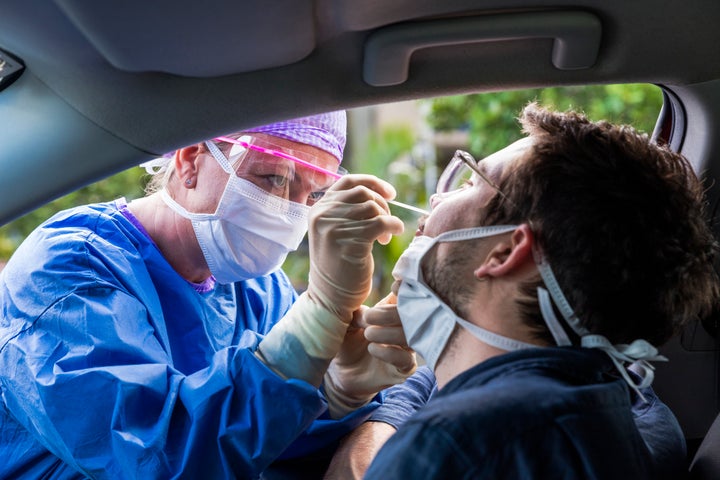 If your child has any of the symptoms listed above, get a test to check if they have coronavirus as soon as possible. While you wait for the test result, you and the rest of your family should self-isolate, and if the test result comes back positive, you should self-isolate as a household for 14 days.
3. If one family member becomes ill, you should all get tested.
People should only get tests if they have symptoms of Covid-19, which means if you come down with symptoms and your other half doesn't, they shouldn't get tested but should self-isolate. If they don't come down with symptoms, there's a likelihood they may be asymptomatic, which means they could still spread the virus around but are not necessarily sick.
You can get a test for someone you live with if they have symptoms of Covid-19, but government advice is that you shouldn't order tests for people you live with who do not have these symptoms.
4. You can have a test weeks after becoming ill.
The coronavirus test widely used in the UK should be carried out within the first five days of experiencing symptoms – anything longer than that and there's a high chance you'll get a negative result, even if you do have Covid-19.
Urgency is key, which isn't ideal when lots of people are reporting being unable to get access to tests at all. NHS staff are being forced to stay off work and self-isolate because they cannot access coronavirus tests for themselves or family members, while some people have had to drive long distances to testing facilities, only to be turned away.
5. You can have a test for free on the NHS if you're going abroad.
Wrong. If you're going abroad and you need to take a test beforehand for the purposes of being able to travel, you should pay for a private test rather than using the free testing service available on the NHS. Private tests can range in price from £99 right up to £195.
6. The test hurts.
There's a widely held belief that having the nasal swab hurts. While it can be a bit uncomfortable or strange, it shouldn't hurt or be painful.
7. It's 100% accurate.
That said, the test is still the best chance we've got of telling us how rapidly Covid-19 is spreading in the community. And it's mostly offering a good indication of who does and doesn't have it.
It's also worth noting your doctor might clinically diagnose you with Covid-19 even if your test comes back negative, in which case you will still need to self-isolate.
8. It's easy to get a test if you really need one.
Delays have been attributed to a severe backlog in processing the tests in laboratories, where there's inability to keep up with current demand.
A Department of Health and Social Care spokesperson told HuffPost UK people should check the government website at different times of the day to try and get a test. "Booking slots for Covid testing sites are made available the evening before for morning appointments, and on the morning for afternoon appointments," they said.