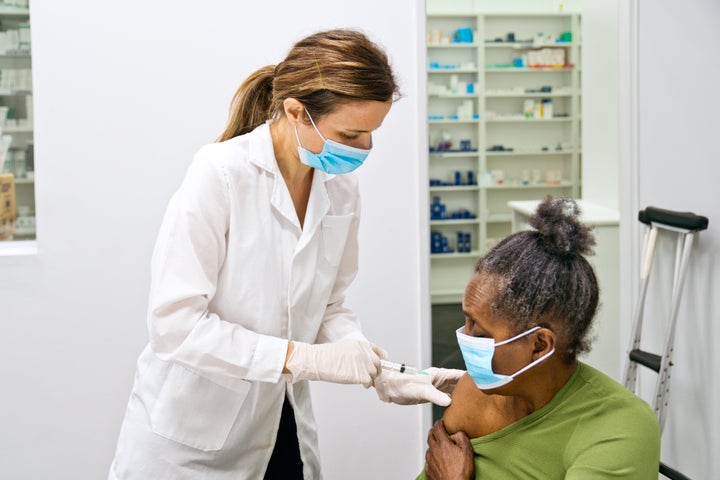 "Health chiefs have ensured there is enough capacity to offer the flu and Covid vaccines to all those eligible by the end of October, reflecting the risk of the new variant," the NHS said.
Millions of eligible people can book their Covid vaccines online from today, September 18.
Almost 5,000 sites ― more sites than ever before ― will be involved in the vaccine's distribution.
Eligible people, including "all aged 65 and over, pregnant women and those with an underlying health condition," will be contacted by the NHS from this week to encourage them to arrange a booking. Many will also receive an invitation to receive a flu jab.
"Over 30 million people are eligible to receive a flu vaccine and over 20 million are able to get a Covid jab," the NHS explained.
Care home residents and people who are housebound began receiving their vaccines from last Monday, September 11.
Experts urge those eligible to take both the Covid and flu vaccines
Dr Ranee Thakar, President of the Royal College of Obstetricians and Gynaecologists (RCOG), said: "We are urging all pregnant women to get their free Covid-19 and flu vaccines, to give themselves and their babies the best protection this winter."
"Pregnant women are more vulnerable to Covid-19 and flu infection, and both viruses can cause severe illness in pregnancy.
"Covid-19 infection in pregnancy means you are more likely to develop severe illness and need hospital care compared to someone who is not pregnant," the doctor explained.
Even if you've had a Covid or flu top-up jab before, immunity fades over time. And new viruses, like Pirola, are mutations of the diseases you've already been vaccinated against ― so your body can't recognise them.
"We are already seeing a slow rise in cases of Covid-19, as well as increases in hospitalisations, particularly among the over 75s. Older people and those in clinical risk groups remain at higher risk of severe illness, so it's important all those eligible come forward when offered and get protected against flu and Covid," said Dr Mary Ramsay, Head of Immunisation at UKHSA.
Covid vaccination dates for those 18 and under will start later in the year, and families will be alerted when this happens.
Flu vaccinations for those aged two to seventeen have begun, and the first invitations to parents of children aged two and three are also being sent today.