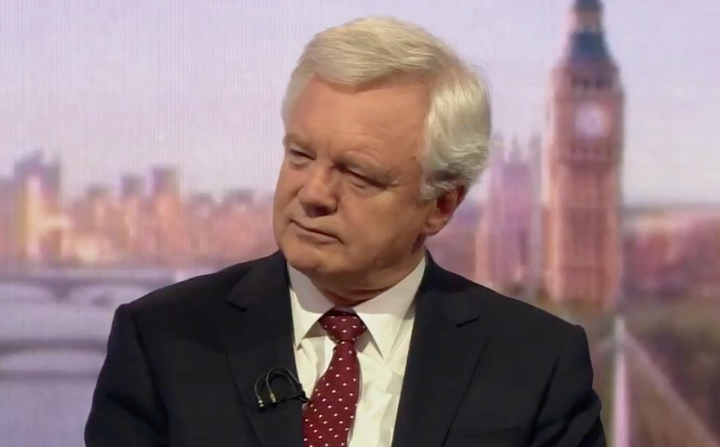 David Davis has said he will vote against Theresa May's Brexit plan as it is "almost worse" than remaining a member of the European Union.
Speaking on the BBC's Andrew Marr Show on Sunday morning, the former Brexit secretary said he would try and sink the prime minister's proposed deal.
"I'd vote against it, it would be rather odd for me to resign over something and then vote for it when it came back," he said.
"In my view the Chequers proposal – it's not a deal, we shouldn't call it the Chequers deal, it's the Chequers proposal, is actually almost worse than being in."
May insisted today she would not be pushed around by Brussels as Brexit negotiations heat up.
The prime minister stood by the government's controversial Chequers exit plan despite continued sniping against it from Tory benches.
Writing in the Sunday Telegraph, May said: "I will not be pushed into accepting compromises on the Chequers proposals that are not in our national interest."
The comments came as it was reported that the election strategist who helped Boris Johnson win the London mayoralty was involved in a bid to scupper the Cabinet's Chequers compromise.
Sir Lynton Crosby, who also advised May in last year's general election when the Tories lost their majority in a shock poll result, is manoeuvring to derail the PM's EU withdrawal agenda with a co-ordinated national campaign, according to the Sunday Times.
The paper also reports the PM's aides have held talks with senior civil servants about whether to call a general election if a Brexit deal is rejected by MPs.
Justine Greening, the pro-EU former education secretary who is pushing for a second referendum, told HuffPost UK there would be "deadlock" in parliament when it came to a vote.
"Chequers is unifying the country. Against it," she said.
Tory MP Nick Boles, who backed Remain at the referendum, also came out against the Chequers deal today.
He told the Sunday Telegraph that under current Government plans, the UK faces "the humiliation of a deal dictated by Brussels", which is treating the Chequers proposals as an "opening bid".