For the latest in our WISE WORDS interview series - where stars from a whole range of fields share the important life lessons they've learned along the way - we're posing some of the big questions to DAVID HAYE.
David Haye is one of Britain's most popular boxers, a former world champion in two weight classes, the cruiserweight and heavyweight, since he turned professional in 2002 at the age of 22.
Now aged 35, he returned to the ring this year after a three year hiatus. In his time away, he found more fans with his foray into the jungle for 'I'm a Celebrity… Get Me Out of Here!', which saw him come third.
He is a committed vegan, and his son is named Cassius after his boxing idol, Cassius Clay. As part of his work with Vauxhall for its Great British Legends campaign, David tells HuffPostUK what he's learned about negativity, the new insights he's gained from meditation, and the greatest lesson his parents taught him...
What do you do to switch off from the world?
I actually find this a real challenge. I've always been involved in the business side of my career, so it has never been the case that I simply walked out of the gym at the end of a session and 'switched off'.
That said, I do love to watch documentaries, ones which really get you thinking.
How do you deal with negativity?
I have learned over the years it's best to simply ignore it and rise above. People who direct negativity towards another are often struggling with their own insecurities, and retaliation to these people only gives them a sense of worth and purpose.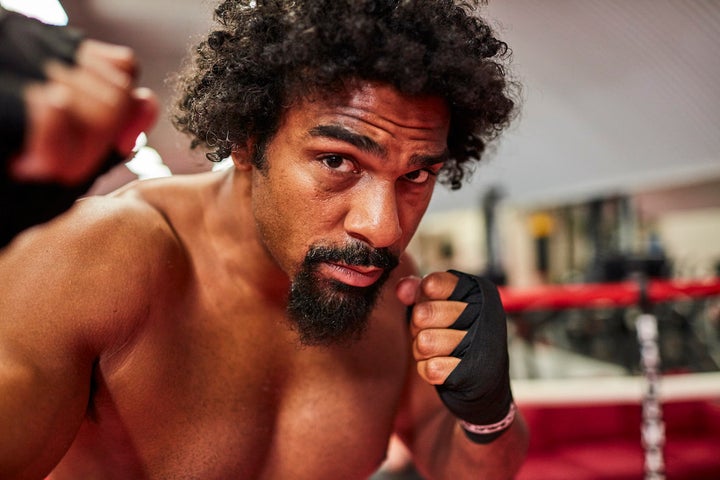 As a kid it used to hurt my feelings when the "haters" said disrespectful things about me, but with age and experience one learns how to shield this negativity.
It can take a lifetime to build a monument, but only one single match to burn it all down in hours. Many people in our society (particularly on social media) spend much of their time diminishing others' flames to give their weak flame the allusion of it appearing brighter. I'm confident in my body of work inside and outside of the ring, no one can rightfully use words to bring me down for the count.
When and where are you happiest?
In a tropical climate; clear waters, white sands, my mobile phone left on the boat, without a worry in the world.
What's the best piece of advice you've ever been given?
My mum and dad taught me from a young age not to expect to be given anything in life without working for it, anything without effort doesn't have a real value.
What has been the hardest lesson you've learned?
Reading, this was a bit of a battle for me. I'd use memory recognition for words rather than simply breaking them down.
What would you tell your 13-year-old self?
Don't feel bad about missing out on what the other kids are doing, have comfort knowing the sacrifice will be paid back with interest. The fun your friends are having now can't scratch the surface of what you will be able to do in time.
What 3 things are at the top of your to-do list?
- See the 7 wonders of the world
- Regain World Heavyweight Title
What do you think happens when we die?
That's determined by what you do whilst on earth. Regardless of your religion, doing good in this life will determine your happiness in the next phase.
When do you feel a sense that we live in the presence of something bigger than ourselves?
Whilst in deep meditation, I truly appreciate that this physical life on earth is just a speck of dust in an infinite universe of everything.
What do you try to bring to your relationships?
A good work ethic and loyalty. I also try and echo what my parents taught me as a kid - anything is possible if you put the work in.
What keeps you grounded?
Gravity (and a sense of humour!)
What was the last good deed or act of kindness you received?
I bought a necklace when I was in Miami, it wasn't expensive but meant a lot to me. I managed to drop and break it earlier this week, a friend knew how important it was so managed to fix it for me. It may still have a little crack in it but we just joke now it's got 'character'.
David Haye is working with Vauxhall for its Great British Legends campaign, which celebrates over 35 years of the legendary Vauxhall Astra by profiling other iconic British figures. For further information, visit: www.vauxhall.co.uk/greatbritishlegends