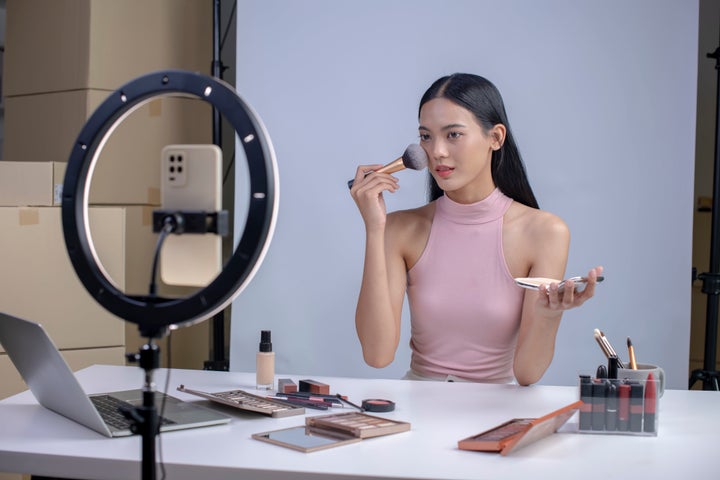 Usually, trends kick-started on the social media platform by influencers encourage you to follow them. However, this new trend is a little bit different: influencers are now flipping things around and de-influencing.
Sounds a bit ironic right?
Well, the de-influencing trend has everyone's For You page flooded with posts of influencers telling you what you shouldn't buy in order to save money, as opposed to creating hype around a product.
The term first cropped up at the start of the new year and the hashtag now has more than 94.9 million views as influencers race to expose products that are overhyped and not worth the money.
'Mascara Gate' led to important conversations surrounding influencer culture and how honest influencers truly are when they review products.
Critics of influencer culture often accuse content creators of happily putting up dishonest positive product reviews as long as they're rewarded with brand deals, sponsorship and a steady stream of freebies.
Last year also saw influencer Lydia Millen under fire for checking into the five-star Savoy Hotel after her heating broke. Amidst a cost-of-living crisis where millions of families are struggling to afford a basic standard of living, experts have argued that the marketing industry is entering an era of 'recession-core influencing.'
Though in theory, it's just another social media trend, it speaks volumes as to how consumers and even influencers feel about the current landscape of social media.
Room Unlocked - a platform overhauling influencer marketing for the world's biggest brands - found that 60% of the nation finds influencers who flaunt their wares on social media infuriating amidst the cost-of-living crisis.
They also revealed 64% of Brits say they have lost respect for influencers that are driven by commercial gain, and lack authenticity.
37% said they identify more with influencers who post with a social cause at the heart of their content – highlighting the need for brands to engage with content creators, not just for financial gain, but to make a positive difference in society.
Meanwhile, 25% of respondents said that they only follow influencers who share the same beliefs and values as them.
As long as social media exists, so will influencers. However, it seems that people are now being intentional with the influencers they follow.
20-year-old Michelle Skidelsky, a student from Toronto, Canada loves the de-influencing trend as it shows that people are becoming aware of their own overconsumption and thinking of ways to reduce it.
"Social media advertising in general can mislead people into believing that they can buy themselves into a better life, which is a dangerous mindset," Skidelsky tells HuffPost UK.
Skidelsky thinks the best thing about de-influencing is that it allows people to recognise just how artificial the lives of influencers really are. "Morning routines and 'get ready with me' videos seem so effortless and attainable on the surface when in reality they're filled with ornamental product placement."
"Influencers are given so many commodities for free, while their viewers spend their hard-earned money on things they don't need in the hope that owning the same products as their favourite influencers do will allow them to lead the same lifestyles as well."
"It's incredibly unrealistic, and I'm glad that the de-influencing trend is recognizing that and telling people "none of this is real. Embrace the life you already have for the sake of your finances," Skidelsky adds.
Natalie Sportelli, a 30-year-old Head of Content for Thingtesting, a place to research and review online brands, from New York tells HuffPost UK that she thinks that the trend is an inevitable reaction to our exposure to years of influencer marketing and hype around products.
"Determining if those products are worth it boils down to real people being honest about their own experiences with them. I see this trend as a refreshing opportunity for consumers to actually come together to swap and share information they've been missing to make their own informed purchase decisions," Sportelli says.
"Today's shoppers are only getting better at sniffing out if a product is really worth buying, or if they are being sold on the marketing," she adds.
"This trend will hopefully make people pause for a moment to do more research and seek out other people's candid reviews before deciding to buy something they don't really need."
"Right now the trend is having a major moment and that's been huge for simply creating a conversation around the need for more transparency when talking about products online. I'd like to see de-influencing remain part of the conversation as consumers continue to value real experiences and take those into account before making their purchases."
However, 25-year-old Hannah Sabrye who is a content creator from London says the influencing trend isn't new. "I think a lot of us realised what "de-influencing" was a long time ago but didn't give it a name."
"But now that white influencers are talking about de-influencing especially after "mascara gate", it's become a thing. Which is why I don't actually think it's honest at all."
"For example as a Black creator and lover of makeup, I already had my set go-to influencers that I've always watched for makeup or fashion. Even if I couldn't afford the exact product I knew what to look for if I wanted to buy a specific product in-store."
"For Black girls, the de-influencing trend is pointless because everything we had was already limited. I think now people are only focusing on high-end luxury products they couldn't afford but brought even because their favourite influencer bought them. So from my perspective, it's not a thing because everything for us has been limited."