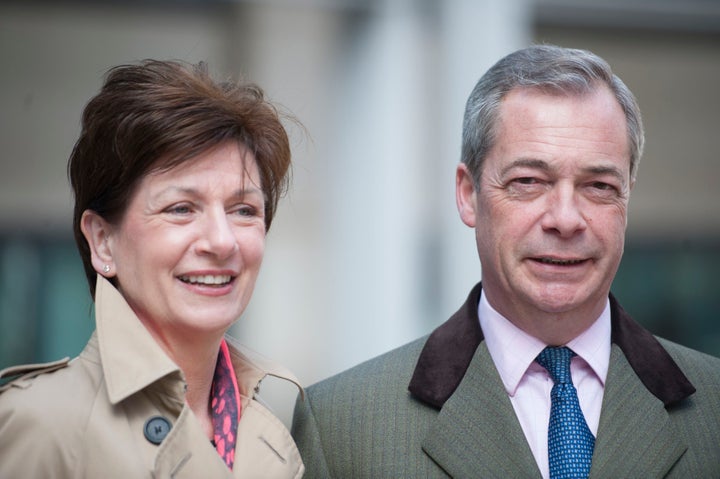 The favourite to take over as Ukip leader has missed every hustings so far because she is in France - and may not take part in any of the future debates.
Diane James, who is the most high-profile candidate in the race to succeed Nigel Farage, has failed to attend three leadership hustings this week, and looks set to miss a fourth one this evening.
The hustings have been held in Northern England and Scotland – precisely the areas that Ukip is hoping to make significant electoral gains.
One party insider joked that James is being dubbed "Queen of the South" as she seems reluctant to travel north, while another remarked they were going to produce a "missing" poster for the MEP.
A spokesperson for her campaign would not comment on whether James was in the country, but insisted she is running her own campaign which means she might miss all the hustings.
They said: "The campaign is up and running and we will be are making an energetic case for Diane to be the next Ukip leader.
"She wants to win, and she is running the campaign her way."
Leadership rival Bill Etheridge took to Twitter last night after hustings in Wakefield to criticise not just her no-show, but also the non-appearance of Liz Jones, another contender based in the South.
Speaking to HuffPost UK this afternoon, Etheridge said "he hoped" James would return from France, adding: "I am looking forward to debating her."
He went on: "We should not just select our leader on the basis of who the press office put forward for Question Time, particularly as a leader is so much more than that – it's about the whole direction of the party and the leadership, diplomatic and team skills that go with that."
Etheridge added it was "a shame" that she had not attended any northern hustings "since it is here where Ukip stands its best chance of taking council seats and getting into Westminster."
James is one of Ukip's most high-profile members after coming within 1,771 votes of winning the Eastleigh by-election in 2013 from the Liberal Democrats.
Her leadership campaign has been endorsed by Ukip donor Arron Banks and his Brexit campaign group Leave.EU. Banks had previously backed Steven Woolfe, but he was banned from standing after submitting his application 17 minutes after the deadline.
There have also been complaints from candidates and members about the "boring" hustings.
"The candidates can't quiz each other and they can't debate policies or points put forward as facts. A lawyer should not be deciding the format of political debate - a third of the audience left yesterday," one insider told Huff Post UK.
Ukip leadership candidates have to endure a grueling schedule of 12 leadership hustings over three weeks as they make their pitches to party members across the country.
The tour kicked off in Gateshead on Monday, before moving to Falkirk, Wakfield and Bolton tonight.
Next week sees the candidates debate each other in Wolverhampton, Belfast, Newport and Torquay, and the final round will be held in Bournemouth, Camberley, Clacton and London.