If you've started going out more since the easing of lockdown but are worried that people aren't respecting the 2m rule, a new 'distance aware' badge could help offer a polite prompt for them to keep away.
Those who are anxious about a lack of social distancing, or have been shielding, can now order a badge or lanyard which essentially tells other people: "Help me feel safe. Respect my space."
The 'distance aware' project is the brainchild of Helen Iliff, a trainee anaesthetist at Prince Charles Hospital in Merthyr Tydfil, Wales, who has been shielding since March and was worried about returning to work.
Iliff saw there was a need for some way to prompt others to maintain social distancing – especially as lockdown restrictions ease. So she teamed up with three advertising professionals who had been made redundant – Joe Dennett, Rob Donaldson and Dan Gaffney – to design messaging that encourages just that.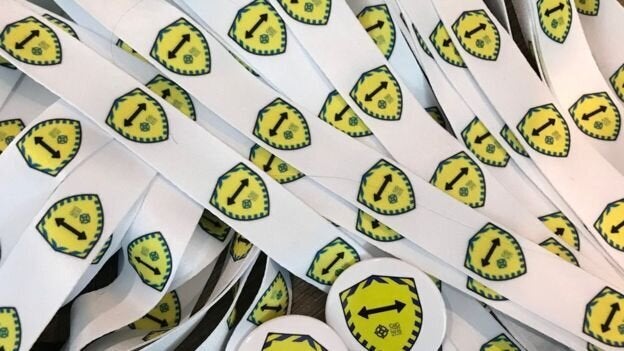 The 'distance aware' logo comes in the shape of a bright yellow shield with a striped border and a double-ended arrow to highlight the need for physical distancing.
"As people go out and about more, and there are conflicting messages, it is easy for people to forget the importance of social distancing over time," Joe Dennett tells HuffPost UK.
"The badge acts as a gentle, non-confrontational prompt to respect distance."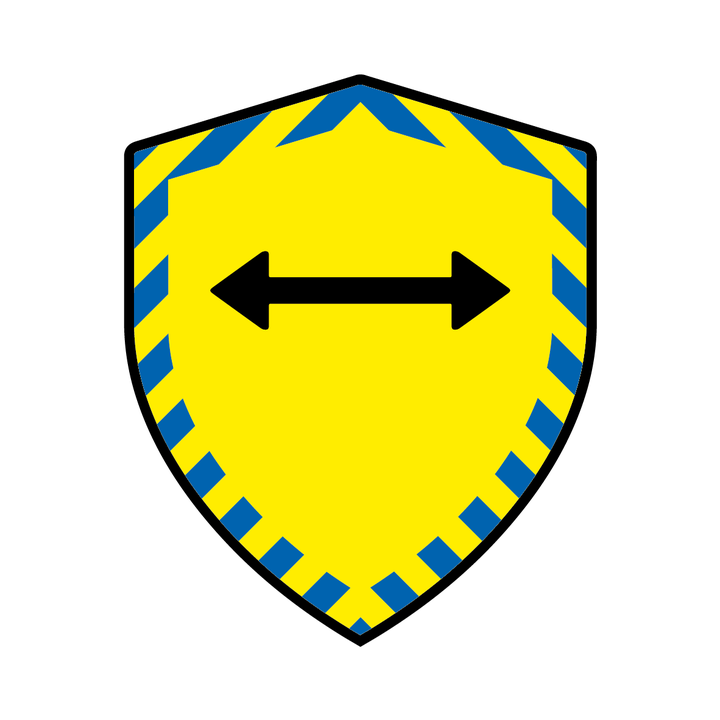 Shops and charities can also download posters and social media images to tell customers they are distance aware. If businesses use them, says Dennett, it might also give people confidence to get out more and interact with those organisations, "knowing that others care and want to keep them safe",
The 'distance aware' scheme, launched through the Bevan Commission think tank, is already taking off in Wales where several charities have taken on the designs and created badges or lanyards for people they support.
Kidney Wales is one of them. The charity identified a need for such a scheme after a poll of 1,749 people in June, including people with kidney disease, found that more that 91% thought it was a good idea to have a badge or similar available to enable individuals to self-identify as vulnerable.
Almost all (99%) of those polled said that if they saw a badge or pin they recognised, they would respect someone's space and keep their distance.
While the 'distance aware' scheme isn't specifically for shielders, it may help bring peace of mind to the 2 million people for whom shielding will be 'paused' from August onwards.
Among this group, the easing of restrictions has been met with a lot of understandable anxiety. Research by Scope found only 5% of disabled people feel safe about shielding being paused and a fifth said they won't go out until a Covid-19 treatment is available.
Currently, the badges and lanyards are available through NHS Wales health boards to staff and patients – as well as through Kidney Care UK, Marie Curie and Lymphoma Action. The 'distance aware' creative team are also in contact with major retailers to try and make them more readily available.
In the meantime, if you can't get hold of a badge or lanyard, images of the shields are available to download here – or Dennett recommends making your own badge or lanyard using 'create your own' websites.
There has been "overwhelming support" for the initiative so far, with backing from Wales' first minister, health minister and NHS Wales, he says.
"Thousands of requests have come in. This is clearly filling a huge need."