The identification of a suspect in the decades-old Golden State Killer case using public genealogy databases has authorities in California hoping the same method can be used in the so-called Zodiac Killer murders in the 1960s and early 1970s.
According to the Vallejo Police Department, in the San Francisco Bay area, they have evidentiary items believed to contain the unknown serial killer's DNA. That evidence has been sent to a lab for extraction to generate a profile of a suspect. Police plan to compare that profile to samples used for genealogy research.
While it's unlikely Zodiac will be found in the database, there is a real possibility that a genetic match could be identified, which would enable investigators to create and follow a family tree directly to a suspect.
Police used the technique last month to identify relatives of Joseph James DeAngelo Jr., a former police officer who's since been charged in two cold cases that had been attributed to the Golden State Killer and the East Area Rapist. The cases involve at least a dozen deaths and nearly 50 rapes that were committed from 1976 to 1986.
"It really comes down to DNA. Without it, you have nothing."
Zodiac terrorized Northern California from 1968 to 1970. The killer sent cryptic letters and notes to police and newspapers, which were signed "Zodiac," a moniker that was adopted by police and the media.
The Vallejo Police Department, the agency handling the DNA evidence in the Zodiac case, did not return multiple calls for comment from HuffPost on Monday. In an interview with The Associated Press, Detective Terry Poyser said his team is hoping to know something within the next few weeks.
"It really comes down to DNA," Poyser said. "Without it, you have nothing. It's a 50-years-old case."
Las Vegas criminologist Scott Bonn, who has spent years studying and interviewing some of the most notorious criminals, said he's excited about the prospect of police finally cracking the cold case.
"It will be great if this works a second time," Bonn told HuffPost. "We could finally have answers to one of the greatest whodunits of all time."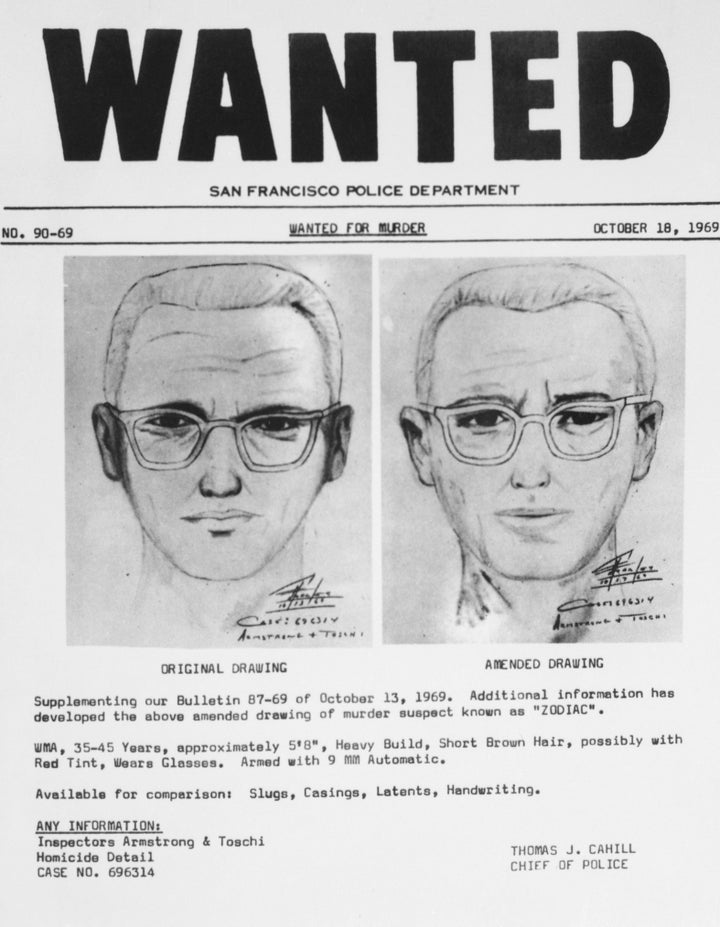 Zodiac used the cryptic notes and letters to taunt police and boast of his crimes, claiming credit for dozens of murders.
"I like killing people because it is so much fun," reads a deciphered message that police attribute to Zodiac. "It is more fun than killing wild game in the forest because man is the most dangerous animal of all. To kill something gives me the most thrilling experience."
The letters were often marked with a cross-hair symbol, which police believe represents a gun sight.
By his own account, Zodiac claimed to have killed more than 30 people. However, police say they believe he's actually responsible for six homicides and two attempted slayings.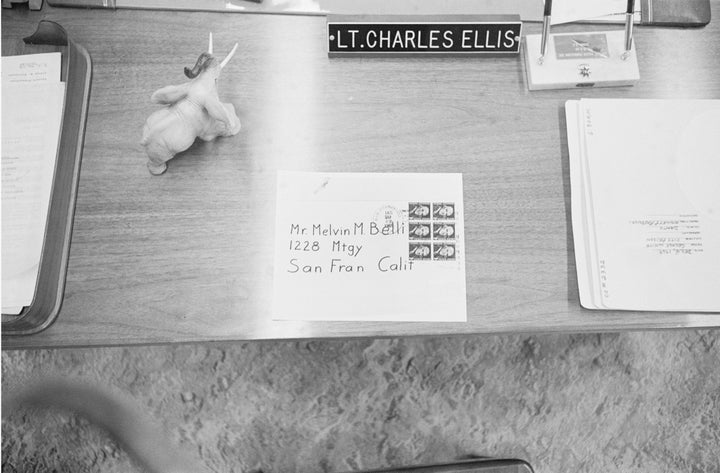 It's believed Zodiac committed his first two murders on Dec. 20, 1968, when he shot high school students David Faraday, 17, and Betty Lou Jansen, 16. Their bodies were found along a lover's lane near Vallejo.
About six months later, Zodiac struck again.
According to police, it was just before midnight on July 4, 1969, that Darleen Ferrin, 22, and Michael Mageau, 19, stopped at a park just four miles from the scene of the first killings. The couple were sitting inside Ferrin's car when they were shot multiple times. Ferrin was killed in the attack, but Mageau, who was shot in the face, chest and neck, survived.
It's believed the killer waited roughly three months before striking again.
A knife was the killer's weapon of choice in a Sept. 27, 1969, attack in Napa County. Police say Pacific Union College students Bryan Hartnell, 20, and Cecelia Shepard, 22, were picnicking by Lake Berryessa when they were approached by a man wearing a black hood. The two were stabbed multiple times with a knife. Hartnell survived the attack. Shepard later died, but not before giving police a description of the assailant.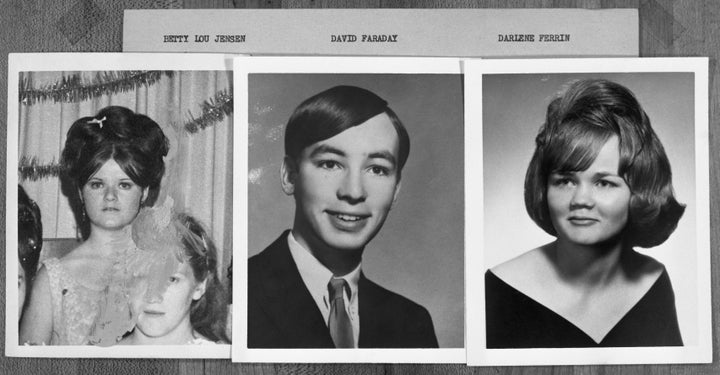 On Oct. 11, 1969 ― two weeks after the attack on Hartnell and Shepard ― cabdriver Paul Stine, 29, was shot and killed after picking up a passenger near San Francisco's Union Square. A letter about the killing was sent to a San Francisco newspaper. The envelope contained a blood-stained piece of Stine's shirt, police said.
Investigators consider Stine's homicide the last committed by Zodiac. However, the killer has been considered a possible suspect in other unsolved cases from the same time, including a handful of similar homicides and at least one disappearance and attempted abduction.
Authorities also believe Zodiac last communicated with them in 1974, when he sent a letter saying he'd found "The Exorcist" to be "the best saterical comidy [sic] that I have ever seen."
There has been no confirmed communication since that time or an unsolved homicide believed connected to the killer. The killing spree, it seems, stopped just as suddenly as it began.
"There's a good chance that something happened in his life back then that caused him to stop," Bonn said. "He could've been arrested on unrelated charges, he could've died or maybe even aged out of his crimes, especially if he was middle-aged."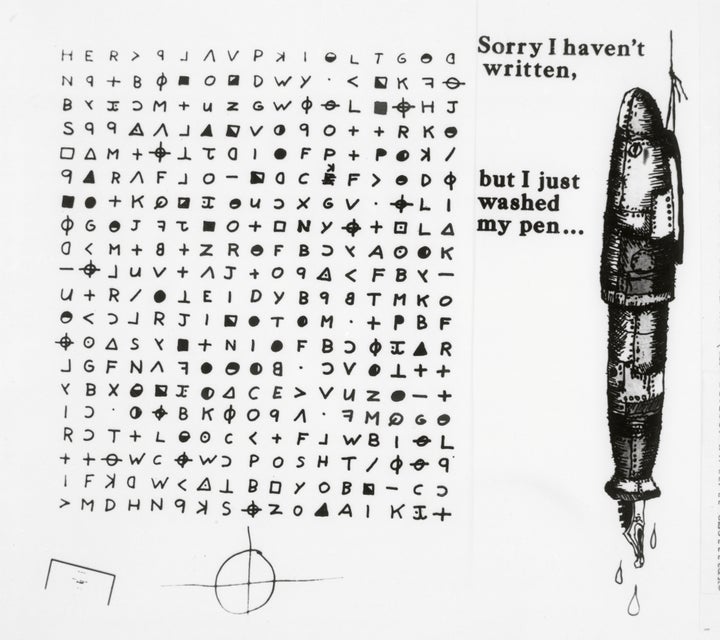 There was once hope that a sketch of the killer could crack the case. The sketch was based on descriptions provided by surviving victims and witnesses who reported seeing the killer near a crime scene. He was described as a stocky middle-aged male with a receding reddish-brown crew cut. It's believed he wore glasses. The sketch, despite mass distribution by national media, failed to lead to an arrest.
Now, with advancements in DNA testing and a multitude of databases available, police might have a chance of determining the identity of Zodiac. While it's unlikely he's still alive, a positive identification would allow authorities to close the book on an infamous serial killer who once terrorized citizens of California.
"And regardless of the outcome in this case, these new avenues of investigation have great potential," Bonn said. "Think of how useful these ancestry DNA databases could be in solving other unsolved cases."