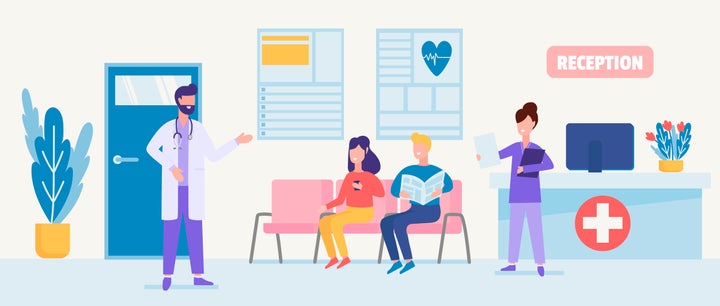 The UK is going into a second lockdown from 5 November, but medical appointments remain one of the few reasons you're permitted to leave the house.
The government website states you are allowed to go out "for any medical concerns, reasons, appointments and emergencies". That may not mean it's business as usual at your local GP, hospital or dentist, however.
You may be encouraged to access medical assistance remotely. And of course, if you have symptoms of coronavirus – a high temperature and a new, continuous cough – you're advised not to visit a GP surgery, and instead use the NHS 111 tool.
But what if you're feeling unwell and don't have any virus symptoms? Or you have a routine health appointment booked. Should you still go?
Here's everything you need to know.
GP appointments
Some GP surgeries have already suspended face-to-face appointments to limit the risk of transmission for both staff and patients.
Professor Martin Marshall, Chair of the Royal College of GPs, told HuffPost UK: "As we approach a second national lockdown, we need patients to know that general practice is open and our services are accessible, but they may be delivered differently than normal.
"GPs and our teams have been working incredibly hard throughout the pandemic, delivering care to patients with conditions related and unrelated to Covid-19. Most consultations with be delivered remotely via video consultations or telephone calls – in accordance with official guidance to help stop the spread of the virus, and keep patients and staff safe.
"However, when a face-to-face consultation is required – such as when a patient needs a medical examination, to receive a vaccination or if a remote consultation simply isn't appropriate – GP teams will continue to facilitate this in as safe a way as possible."
"GPs and our teams are balancing access to our services with maintaining good infection control, but patients should be assured we will continue to provide high-quality care to those in need, and efforts have been made to make GP practices as safe as possible for when patients must attend in person.
"We would urge anyone who is ill or has concerns about their health, including if they have potential signs of serious illnesses, such as cancer, to seek the appropriate medical advice, either via NHS 111 or their GP practice - or in emergencies dialling 999."
Hospital appointments and operations
If you have a hospital appointment scheduled in lockdown, it's worth getting in touch to see if it is still going ahead.
If it is, it's important to go. Some changes have been made to hospital services. These include:
you must wear something that covers your nose and mouth when you go to a hospital
some appointments may be online, by phone or by video call
you may be asked to come to your appointment alone, if you can
some appointments may be cancelled or rescheduled – but keep going to any appointments you usually have, unless you're told not to.
If you're having surgery or a procedure:
you, the people you live with and anyone in your support bubble may need to self-isolate before you go into hospital
you may need a test to check if you have coronavirus before you go into hospital.
Dentist appointments
After the second lockdown announcement, the British Association of Private Dentistry tweeted: "Despite an impending lockdown private practices will remain OPEN. It's safe and essential to attend the dentist. We remain open to all, for both routine and emergency treatments. #DentalCare."
The British Dental Association (BDA) put a statement on its website stating: "Following the Prime Minister's announcement on Saturday evening, we are seeking urgent clarification as to the position of dental services during the four week period of additional restrictions from 5 November.
"Based on the government guidance so far published our interpretation is that dental practices will continue to operate as at present. The guidance says that individuals can be outside of their homes for specific purposes, which include 'for any medical concerns, reasons, appointments and emergencies'.
"Our view is that this includes dentistry, but we are seeking confirmation and will update you as soon as we have more information. There is no reason why practices should shut. Dental teams have risen to the challenge during the pandemic and are delivering vital care while ensuring the safety of both staff and patients."