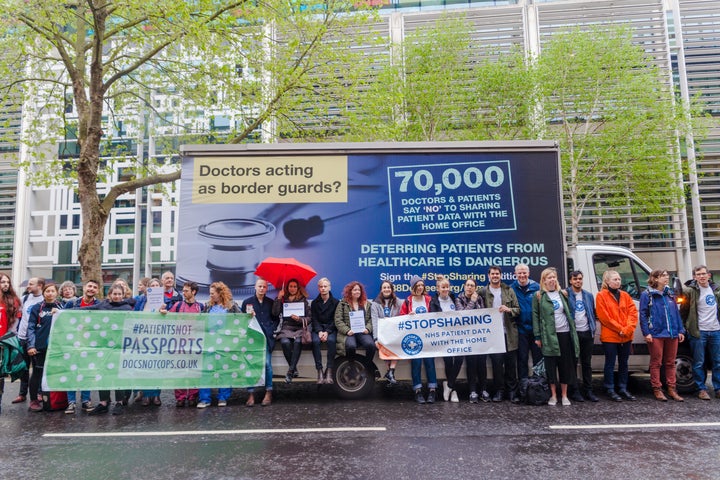 A replica of Theresa May's controversial 'go home' vans has been used by doctors protesting the government's use of NHS data in immigration probes.
Dozens of healthcare professionals, including GPs, nurses and midwives, picketed the Home Office on Wednesday as part of a campaign to end a memorandum of understanding between the government and NHS Digital.
It allows officials investigating illegal immigration to request confidential details obtained via medical records, including addresses, to help them trace suspects.
Their billboard van, modeled on those piloted by the PM when she was home secretary in 2013, cites support for the cause from 70,000 professionals - all of whom have signed a petition which will be delivered to health secretary Jeremy Hunt.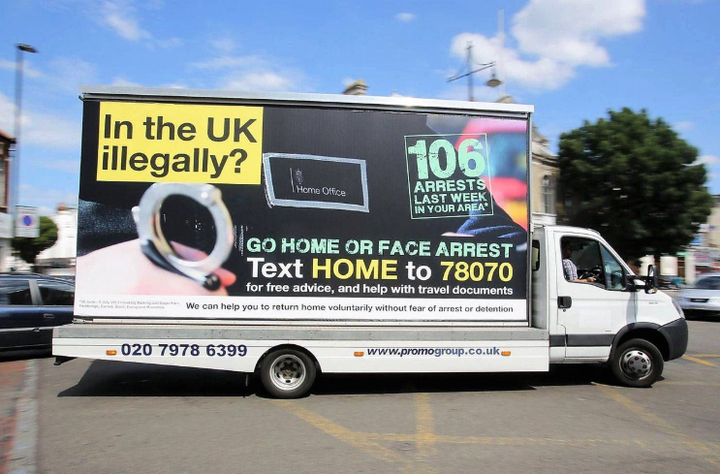 Dr Peter Gough, an NHS GP and volunteer for charity Doctors of the World, which organised the protest with campaign group 38 Degrees, said: "Anyone who works in the NHS knows the fundamental role timely healthcare plays in protecting patients, NHS resources and society as a whole.
"These policies, which deliberately frustrate this fundamental principle of effective healthcare delivery, are short-sighted and dangerous.
"Today, as doctors and nurses who work in the NHS, we are fighting for the right to provide care to our patients, and we look to the secretary of state for health and social care to protect the NHS from policies the that undermine the provision of healthcare."
Doctors of the World, which holds regular clinics in Bethnal Green, east London, offers access to healthcare to vulnerable people who would otherwise be denied it free of charge.
"At our clinic we see people in urgent need of care, including cancer patients and heavily pregnant women, who are refused treatment or simply too afraid to even approach the NHS," Dr Gough added.
The charity's president, Tim Dudderidge, said: "It is essential that we protect the boundaries of patient confidentiality. For us it is of great concern that patients with serious health needs are scared of attending NHS services because they fear the Home Office.
"Doctors should not be prevented from caring for patients in need in this way.
"The Department of Health and Social Care's guidance is very clear – urgent care should not be withheld from anyone – but in practice these rules are poorly understood by many in the NHS, meaning people living in the UK are going without that life saving care that they are entitled to".
The organisation wants newly-appointed home secretary Sajid Javid to end the memorandum of understanding, but officials have said they are awaiting the results of a in-depth study of the policy and its wider impact by Public Health England before taking any decisions.