A fundraising appeal for an elderly man who sells ice lollies on the street to pay his wife's medical bills has reached $249,141 (almost £187,000).
Donations flooded in after Joel Cervantes Macias spotted the 89-year-old man struggling to push his paleta trolley along a street in Chicago.
He took a photo of him and stopped to buy $50-worth of paletas (a type of ice lolly). It was then that he learnt the man was called Fedencio Sanchez and he was selling paletas to be able to afford medical treatment for his sick wife.
Macias shared Sanchez's story online, along with a photo of him, where it received an overwhelming response. This prompted Macias and a friend to set up a GoFundMe page for the elderly man.
In as little as three days it has surpassed the $3,000 target and has reached just under $250,000.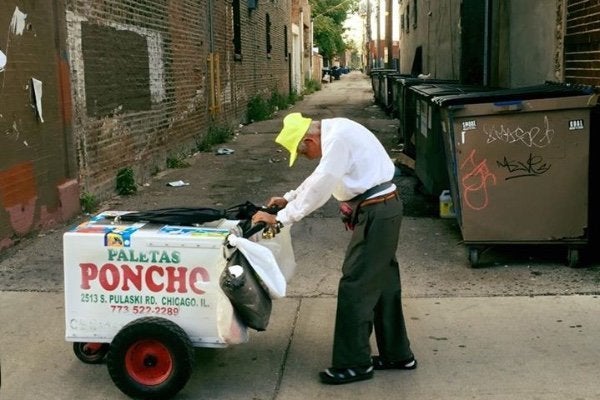 Macias told DNA Info that the powerful photo communicated many things - "poverty, struggle, pride" - and that's why he believes it resonated so deeply with others.
Macias was passing in his car when he took the photograph of Sanchez. On seeing the struggling man he stopped his car, got out and bought 20 paletas for $50.
It was then that Macias found out Sanchez had recently lost his only daughter.
His wife had been selling popsicles to help pay the bills, but then she fell ill and Sanchez was left to bear all of the financial responsibility.
"My daughter was like a mother to us," Sanchez said. "She worked every day, she cooked for us every evening and night. We still don't know what to do without her."
After hearing his heartbreaking story, Macias knew he had to do something to help, so he set up a GoFundMe page to raise money for the couple and pay their medical bills.
He never expected that kind strangers would pledge so much more than the $3,000 target.
So far, more than 11,000 people have donated just shy of £187,000 to help give Sanchez the comfortable retirement he deserves.
"God bless every single one of your donations," he said. "This is very surreal to me. It's gonna make a huge difference in these hard working people's lives."
Kelsea Little, spokesperson for GoFundMe.com, said: "We are extremely touched by this heart-felt campaign and in awe at the amazing support shown towards Fedencio and his wife at this difficult time."