You're reading our series Summer's Not Cancelled, where we celebrate summer in this new normal. From rediscovering nature and cherishing time with friends and family, to virtual festivals and unforgettable staycations – summer's still here, it's just different.
The NHS is warning its staff and the general public to remove hand sanitiser from cars this week as a heatwave hits the UK.
In a document posted online, the NHS explains that alcohol-based sanitiser can become a fire risk when combined with high temperatures and the flammable elements in a car.
"We have received a number of reports of hand sanitiser being the cause of fires when left in vehicles in the hot weather the UK is currently experiencing," the document says.
"The alcohol hand sanitiser is becoming heated resulting in flammable vapours being released. These vapours are reaching their 'flashpoint' and then ignite in normal air conditions, setting fire to flammable components within the car."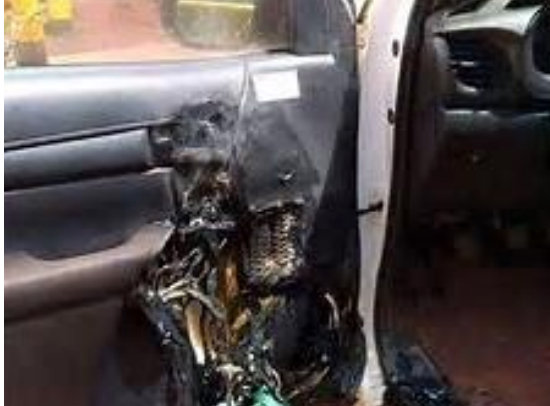 The notice was reportedly issued to NHS staff, but has since been shared with the public on Twitter by official local NHS pages, including NHS Bedfordshire CCG, NHS East Lancashire CCG and NHS Blackburn with Darwen CCG.
The document reminds everyone that when temperatures reach 25°C outside, an internal car temperature can hit 55°C. With highs of 31°C expected in some parts of the UK this week, it's certainly worth paying attention to.
Some have questioned the validity of the photo and message shared by the NHS, asking whether it shows a real car fire caused by hand sanitiser, and whether the vapours can catch light "in normal air conditions".
Full Fact pointed out that flammable ingredients in hand sanitiser would need to reach much higher temperatures – over 350°C – to combust without a spark. "Vapours given off by antibacterial hand gel can ignite, with a spark, at temperatures as low as 22°C – but only with some sort of spark," it said.
NHS Property and Services, which circulated the document, told Full Fact it was advised by representatives from the trade union Unison, which raised media reports from US Fire Authorities that hand sanitisers were catching fire in vehicles, and that it will issue a formal alert to its frontline teams to clarify that the risks associated with hand sanitisers in vehicles only become apparent when in contact with a spark.
However, experts at CE Safety, which runs occupational health and safety courses throughout the UK, said it is worth staying careful during the heatwave.
"With the weather getting warmer, rising temperatures can cause the alcohol in the sanitiser to evaporate, and this can result in flammable vapours being released," CE safety said in a press release.
"On a very hot day, significant pressure could also build up inside a bottle of hand sanitiser, causing it to rupture. There have been examples of hand sanitiser bottles which had been left in a hot car exploding."
When Brits open the cap of the bottle, it could explode and shower the public with high proof alcohol gel. A spokesperson from CE Safety added: "Our advice is to remove alcohol-based hand sanitisers when the British public leave their cars."
• This story was edited on June 25 to include the response from Full Fact.