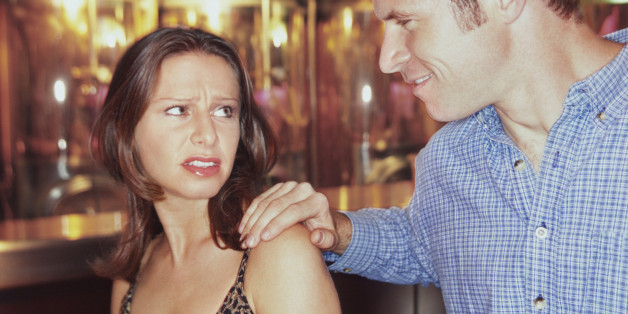 Fuse via Getty Images
Nothing ends an otherwise good date faster than saying something stupid.
Constantly updating your dream wedding Pinterest board? Don't reveal that. Have very strong feelings about your ex-wife? If you want a second date, it's best to keep that information to yourself.
We're just scratching the surface here. Below, HuffPost Divorce readers share the one sentence that would kill the mood instantly if said on a first date. Read them but please don't repeat them.
1. "Wow, you have a good appetite."
2. "It's just ridiculous, the wage gap isn't even REAL."
3. "'I don't like kids'... when I have kids."
4.You remind me so much of my dad!"
5. 'I Googled you.' Even if you totally did, don't say it. It's creepy."
6. "Unless we're having a discussion about biology, any use of the word 'females' to describe women and girls is a no-no."
7. "Can we talk about the Lord?"
8. "'I don't like dogs...' Is that so? This isn't going to work -- and by the way, you have no soul."
9. "Him: 'I'm really into true murder mystery books' (said creepily while browsing at a bookstore) Me: 'I need to go.' True story."
10. "'My marriage ended because of my ex. I was a great spouse and parent and she was just bad at both.' Blame is not sexy."
11. "'Our kids are going to be really good looking.' True story."
12. "So yeah, my apartment has two bedrooms. My mother lives in the second bedroom, but she won't mind hearing us."
13. "'My favorite restaurants are McDonalds and Subway.' After he told me that, I blinked slowly and said '...Okayyyy.'"
14. "Like to see some pics of my taxidermy collection?"
15. "'I don't usually date black women...' Oh, really? Well, I'm not about to be your experiment."
16. "'We're going Dutch tonight!' #DateKiller."
17. "Then my parole officer says..."
18. "Let's take a selfie!"
19. "I don't find you sexually attractive in any way."
20. "No, I don't have a gun... I always carry a knife."
21. "My husband will be home shortly."
22. "Don't tell me 'I'm not attracted to women with short hair' when I have short hair. Why in the $&@# did you ask me out in the first place?!"
23. "So how much do you earn?"
24. "So this is just not working out."
Keep in touch! Check out HuffPost Divorce on Facebook and Twitter. Sign up for our newsletter here.