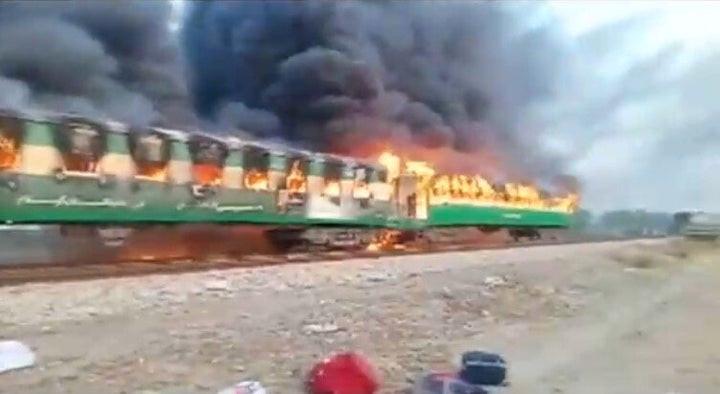 At least 65 people have been killed after a huge blaze was sparked by a gas stove used by passengers on a train in Pakistan, officials have confirmed.
Flames could be seen roaring through three of the train's carriages as it approached the town of Liaquatpur in Punjab. It is believe many on board were travelling to a religious conference at the time of the incident.
"Two stoves blew up when people were cooking breakfast, the presence of kerosene with the passengers in the moving train further spread the fire," Minister for Railways Sheikh Rashid Ahmed told Geo television.
But several survivors questioned whether the fire was sparked by a cooking accident, telling media they believed the cause was a short-circuit in the train's electrical system.
It is thought that several victims had jumped from the train in desperation, many to their deaths, after the fire broke out.
"People were jumping off, some of them were on fire," a witness told Geo.
Pakistan's colonial-era railway network has fallen into disrepair in recent decades due to chronic under-investment and poor maintenance, and accidents are common.
The incident is the latest tragedy to hit the country's poorly maintained rail system, after more than 10 people were killed and dozens injured in July when two trains collided near Sadiqabad.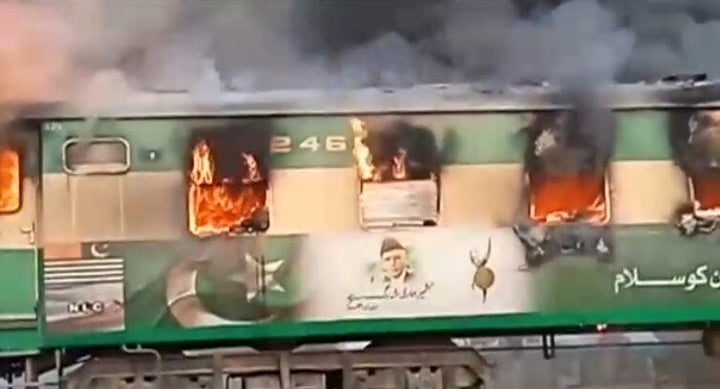 Around 130 people were killed in 2005 when a train rammed into another at a station in Sindh province, and a third train hit the wreckage.
Deputy commissioner Jamil Ahmed said the death toll had risen steadily since early on Thursday morning.
He explained that the fire broke out when a small gas cooking stove exploded ad breakfast was being prepared on board.
Poor passengers often bring their own stoves onto trains in order to cook their meals, despite rules to the contrary, railways minister Sheikh Rashid Ahmed said.
Through the morning hours, rescue workers and inspectors sifted through the charred wreckage, looking for survivors and helping the injured.
Local TV footage from the scene showed a huge blaze raging as firefighters struggled to get it under control.
Prime Minister Imran Khan said he was deeply saddened.
"I have ordered an immediate inquiry to be completed on an urgent basis," Khan said in a post on Twitter.