Considering most of her career has revolved around being on stage in clubs and theatres around the UK, you'd be forgiven for thinking Drag Race UK winner The Vivienne might be climbing the walls while the country is on lockdown.
"It's been bloody lovely," she tells us over the phone from her home. "I got to grow a beard, I got to grow my eyebrows back!
"I've just been having fun in the house and spending time with David [her husband]. I'm always on a train, or a plane, or a hotel room, or a stage, so it's been nice to be able to re-centre and use the time to realise the important things in life.
"Everything that was such an issue three weeks ago has suddenly just disappeared into thin air. And now we've got bigger issues, but at least we can concentrate on getting through it and staying positive."
Five months after being crowned the UK's first ever Drag Race superstar, the reigning champion is now stepping out (in killer heels, no less) on her own, with the launch of her new BBC Three series The Vivienne Takes On Hollywood.
In the lead-up to the show's debut, HuffPost UK caught up with The Vivienne, who revealed how her fellow queens are coping during lockdown, and why drag is perfect to help us through these dark times...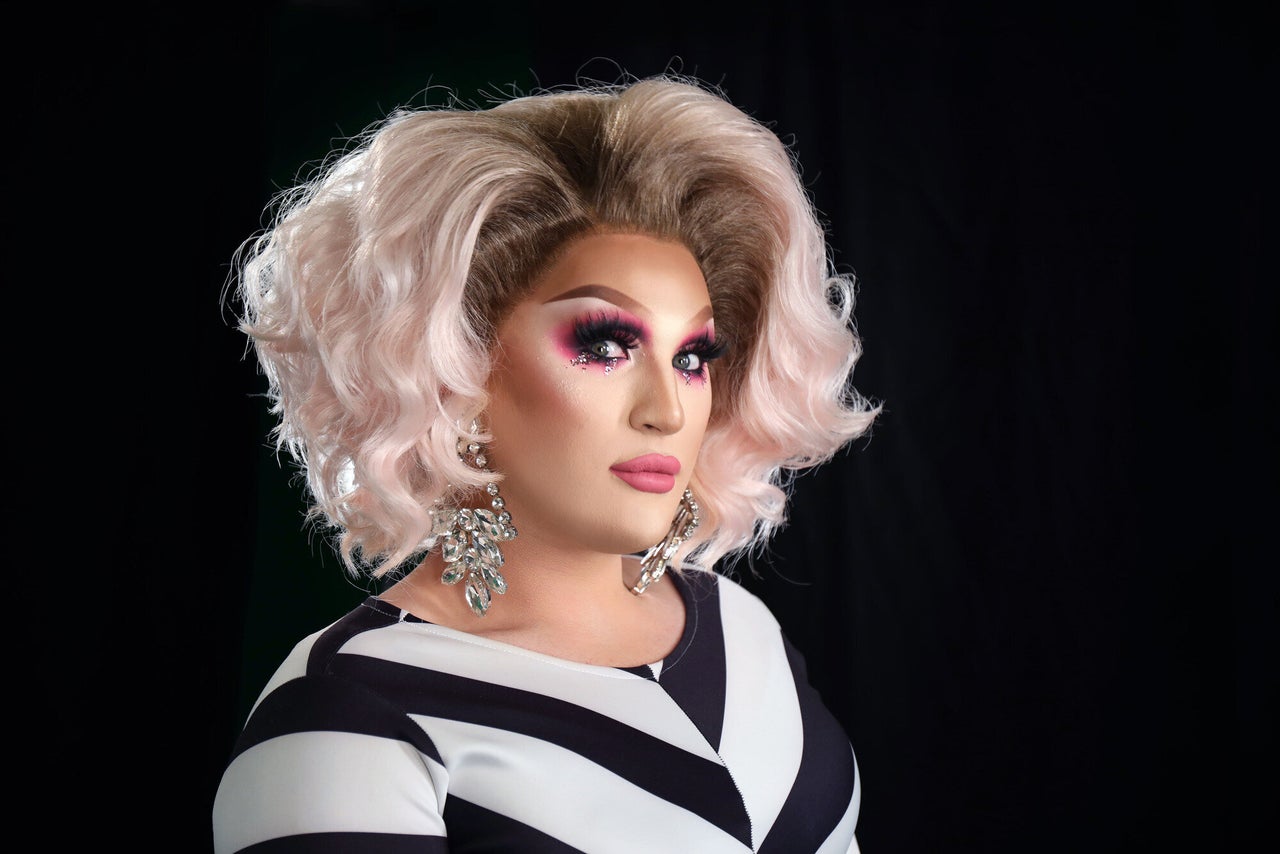 Congratulations on The Vivienne Takes On Hollywood. Would you have imagined this time a year ago that you'd have been the new poster girl for the BBC?
Oh my god, no. The prize for winning RuPaul's Drag Race was filming your own web series with World Of Wonder [the production company behind Drag Race, who also do shows with a number of other queens], but the fact that the BBC got to see it before me, loved it and picked it up is just absolutely mind-blowing to me.
That was never on the cards, it was never spoken about. I just got a phone call one day saying "oh by the way, the BBC has picked the show up", and I was like, "...what?" It's just the best thing that could have happened.
What does it say that the BBC is so ready to put a drag queen in the spotlight, particularly at a time when so many people are stuck inside and turning to TV for entertainment?
It's so amazing, and I'm so grateful that I'm in a position, when everyone's stuck at home, scared about money, scared about their jobs, where I can say "here's something for free that you can enjoy, that I've put my heart and soul into" and just put a smile on people's faces. And we've got the BBC to thank for that.
I think that's what people need more at this time than anything, to smile and just get through this.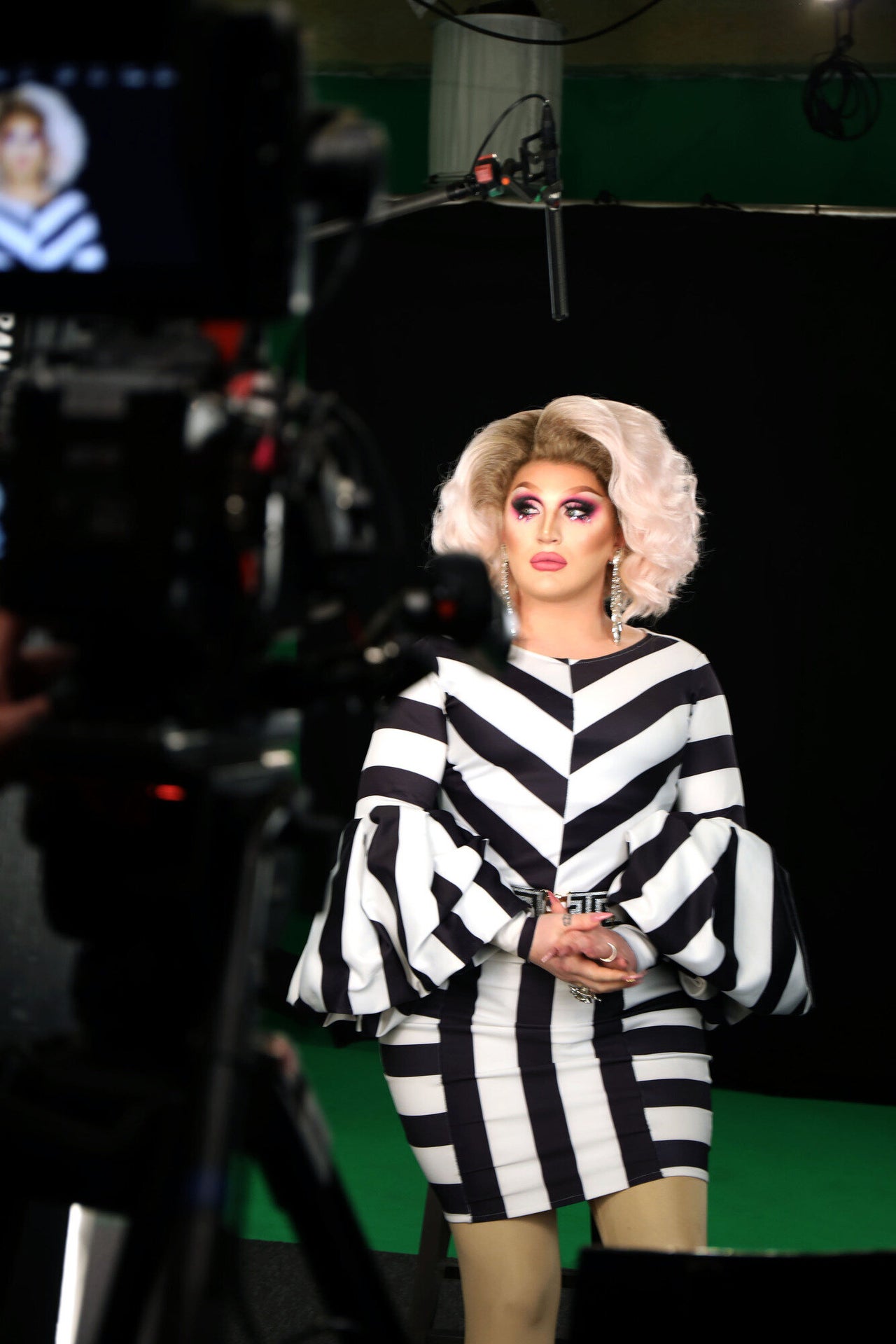 A lot of industries have been impacted by the coronavirus outbreak, and that includes the drag scene, while all of the bars, clubs and theatres have closed. That must have affected you and people close to you?
Well, I've been saying to people online "forget me at this time"... well don't forget me, but people are offering to send me money, and fans who were supposed to be coming to my shows that have been cancelled or rescheduled are saying "can I give you the money that I would have spent on merchandise?". So I'm saying, I'm financially stable at the minute, I'm in a lucky position where I came off Drag Race and have been working solidly for the last few months. I've been able to save money.
It's so heartwarming and such a lovely gesture, but I've kind of said the only thing people need to worry about now is putting food in the fridge. And maybe think of the smaller, local queens. You know, my friends in Liverpool have gone from working seven nights a week to completely nothing, with no kind of financial stability or safety net to fall on from the government. Maybe ask them if they want a tip, even if it's a pound.
I've been jumping on live streams with local queens to try and bring my following over to them to show them the local kings and queens who are really struggling at the minute.
As you've just said, there have been a lot of drag queens around the world putting on live performances online and Instagram tutorials, and it's been great to see so many still working and entertaining people. Do you think that drag can be a comfort to people through these dark times?
Oh my god, definitely. I mean, I think drag is always a comfort at any time, it's always something you can turn to for a laugh and to lift people's spirits. So the fact that you can do it from your home, and people can go on Facebook and you can watch drag queens from any corner of the country at the minute is amazing.
It's just amazing that these queens are given a platform to soldier on through. Even if they're not making money from it, I think drag is therapy for us as performers as well, as much as it is for you guys watching. Me being able to go on Facebook Live the other night, I was having a bloody ball as well, you know? I had a big gin, I was loving it. So as much as people at home were having a laugh, I was having a laugh as well. It's therapy for everyone.
And also, because I am an out gay male, and I've been that way for 13 or 14 years, I can forget that people are at home and they may be stuck with family who aren't accepting. Some of them could be in a really horrible situation where if they did come out at that time, they'd be stuck there. So it's important for those kids, at this time, to have an outlet.
What do you think it says about drag that people are turning to it?
I always say that British drag is a form of entertainment... we're not trying to sell a lifestyle, we're not trying to push things down people's throats… when I'm on stage, I've probably got a pint in my hand, singing songs and telling dirty jokes. And that's always what drag has been to me.
Drag means different things to different people, but to me, the best thing I get out of it is just having good old-fashioned entertainment, and that speaks volumes.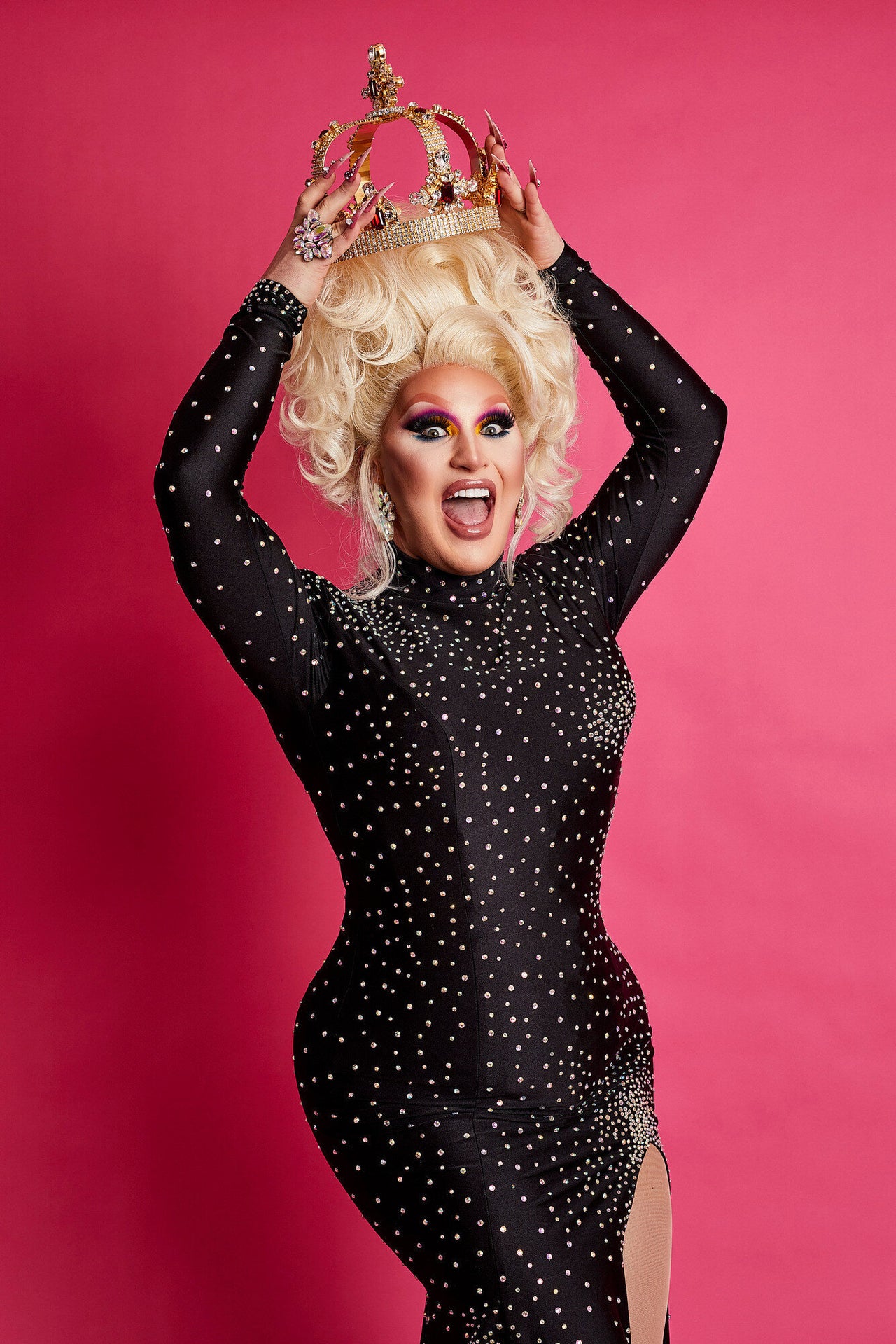 Let's talk about Drag Race. What's the biggest way that winning the show has changed your life?
Well it's been able to put me on bigger stages and open doors that probably wouldn't have been opened to me had I not been on Drag Race. You know, it's the TV machine, being on Drag Race doesn't make you any better of a queen than anyone else. I always say that in my shows, because I'll have local queens that open for me in each city, and I'll always say at the end, I'll bring them on for a bow and say, "just because I was on Drag Race doesn't make me any better than these queens, so please always go out and support your local queens".
But in the same breath, it has completely changed my life. You know, I've been to bloody Hollywood with my own show for god's sake. I've got to pinch myself every few minutes, when I'm sitting on the panel of Celebrity Juice or filming stuff for Netflix, you're just like "what the hell is going on?". I was just like any other drag queen this time last year, so it is completely life-changing.
Has living in the spotlight been a big adjustment?
Well, I've always been… I don't want to say "in the spotlight", but I've always been kind of doing crazy stuff for the past few years [The Vivienne was previously picked as RuPaul's Drag Race ambassador for the UK back in 2015 and briefly appeared in the film version of Absolutely Fabulous], but Drag Race is a whole other monster.
Drag Race kind of shoots you into the mainstream, where you're walking around Asda and someone's like "oh we loved you on the show!" and you're like "what?". Or people will be staring on the train, and I'll say to David "what the fuck are they looking at?", and then you have to remember you're on TV.
Drag Race fans are famously quite full-on, and have opinions about absolutely everything – how have you found that?
It comes with everything, there's always going to be the online trolls. The biggest thing to remember is not everyone is going to like you, and that's fine. But it's hard, because as soon as you put a post online of a new project you've done, you're stuck to your phone looking at the comments and refreshing.
For 1,000 compliments you can get that one dickhead who is just dying for a response off you – and the worst thing you can ever do is give them that response, because all they want to do is put in their Twitter bio "I was blocked by The Vivienne on the 12th of Julember". They want that notoriety, but you've got to remember a lot of people love what you do. If four people don't like it, let them not like it. Block them, and move on. But you know, we're all human beings, so it's always going to affect us.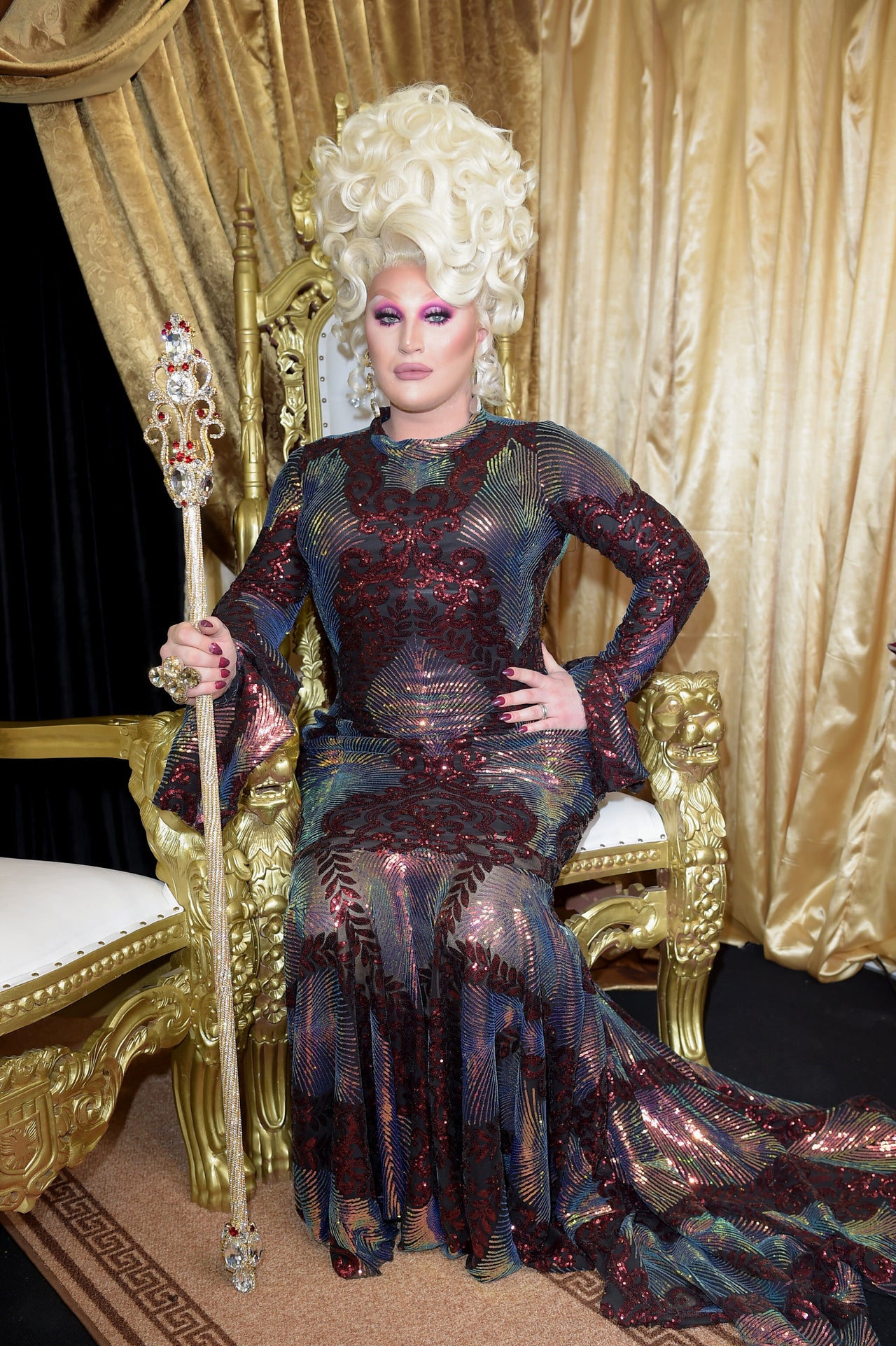 How do you deal with that side of things?
You've always got to remember, just look at your collection of Louis Vuitton that you've bought in the past couple of months *laughs* No, I'm joking. I always try and look back and think "what have I done in the past six months? I've been to Hollywood and filmed a show, I'm filming different items with the BBC, ITV, Netflix" and just think how proud you are of yourself.
Again, going back to the bad comments, just think "you know what, you must be having a really hard time", so maybe let people off a bit as well. If you feel that you've got to comment on my Instagram and attack me, I kind of feel a bit sorry for you.
I tweeted out the other day, imagine going online and trolling someone right now when the world is in crisis. How do you put that into perspective? You just can't. People are dying, people are losing their jobs, and you're going online to claw someone's wig out? Do you know what I mean? Grow up.
And you've got to remember as well, these people, fans of this show could be 14 years old, sat in a woodshed in Mississippi somewhere, and they don't understand yet how much words can hurt people. You've got to let them get on with it, let them grow, and realise in a few years time that what they did was stupid. Get on with your own life, just try and be happy in what you're doing.
Have you found that having the platform you do makes you second-guess before you tweet something out?
Oh 100%. And don't get me wrong, I'm not perfect, I've said things online that maybe I didn't realise I was saying at the time, maybe I wasn't as educated as I am now, but you've got to constantly realise you've got a platform and a lot of people are looking up to you.
So maybe if you see an argument, get it out of your system, but don't actually press "post". That works for me. Because you've got to sit back and in a week's time think "was that tweet worth it?"And usually it's not.
The Vivienne Takes On Hollywood will debut on BBC Three on 9 April, with new episodes every Thursday.
This interview has been condensed for clarity and length.