Dulma Clark is director at Soul of Africa, an online footwear retailer and social enterprise that makes shoes in Africa and helps to equip young people with the skills they need. She talks to us about how essential a sustainable business model is, the women who inspire her and how she's hoping to bring some hidden-but-remarkable shoemaking skills from small communities across the globe to an international market
"I wasn't born in the UK. I was born in a Siberian village in the middle of nowhere. The chances of me getting out were super low. I remember a lady from Hawaii came through a teaching programme and I was so inspired by her because she was the first person who started teaching me proper English.
"I worked hard, got scholarships and moved to Moscow, and then I went to a really good university in London. I believe that when you are proactive you can do things, especially now, with an internet connection.
"It's about taking opportunities, and I feel more opportunities exist through education.
"Soul of Africa was initially founded by my father-in-law (Lance Clark, who passed away in February 2018) in South Africa. In 2014, he was looking at how to move it forward and I was just graduating from the LSE, thinking about what my next steps would be. I had accidentally found a course on social business innovation that I was super-inspired by, had done some charity and UN work, and my father-in-law asked if I wanted to get involved with the company.
"We faced a lot of challenges with the supply chain in South Africa. I started looking at sourcing and making the shoes in Ethiopia: it's growing well economically and there are lots of raw materials there. I partnered with a British tannery from Somerset and after applying for grants we opened the factory in Ethiopia in 2017. Opening that factory is my proudest moment so far. We've had our first full year of production and there are now over 100 people employed there and we've produced 50,000 pairs of shoes.
"We work with a lot of women in the supply chain: the majority in the factory are female and young, aged between 20 and 25. The factory is led by an Ethiopian lady who is really inspirational and rose from a humble background to get an education in the UK. Our quality control team is all-women; our finance department is led by a woman.
"I also work with charities that empower women in Ethiopia. I set up a micro-crediting programme with the female guardians at Brave Hearts, which helps orphaned children. We've given some seed funding, and these women now have a side business selling bread, earning extra money to contribute to their incomes.
"We also support Girls Gotta Run, a charity which helps to provide kits and nutritional support and scholarships for school to Ethiopian girls who are using long-distance running to empower themselves. In the future, I also want to set up a fund to give startup money to people we work with who want to go out and set up their own businesses.
"I believe sustainability should be embedded in every business. A big reason for moving to Ethiopia and starting from zero was because of that: we recycle water in the factory and use our materials efficiently. We don't throw anything away - we reuse materials to make footballs and wallets. It's a very clean set up.
"As soon as you get into the social business space, there are so many inspiring people and lots of them are women, like Bonnie Chiu of Lensational, which empowers women through photography.
"My aunt, who runs kids shoes at VIVOBAREFOOT, is very inspirational. I hadn't didn't know about shoes before and it was very difficult to suddenly learn about it – she's tough and strict, in a good way.
"Alice Clark is another inspiration for me. She also went to the LSE, even though at that time it was rare for a woman to go to university. She was a director at Clarks at the turn of the century and her mum was an active suffragette. Alice was a feminist who advocated for a public pool for women. She even wrote a book on 17th century women in England, a survey on women and work from that time.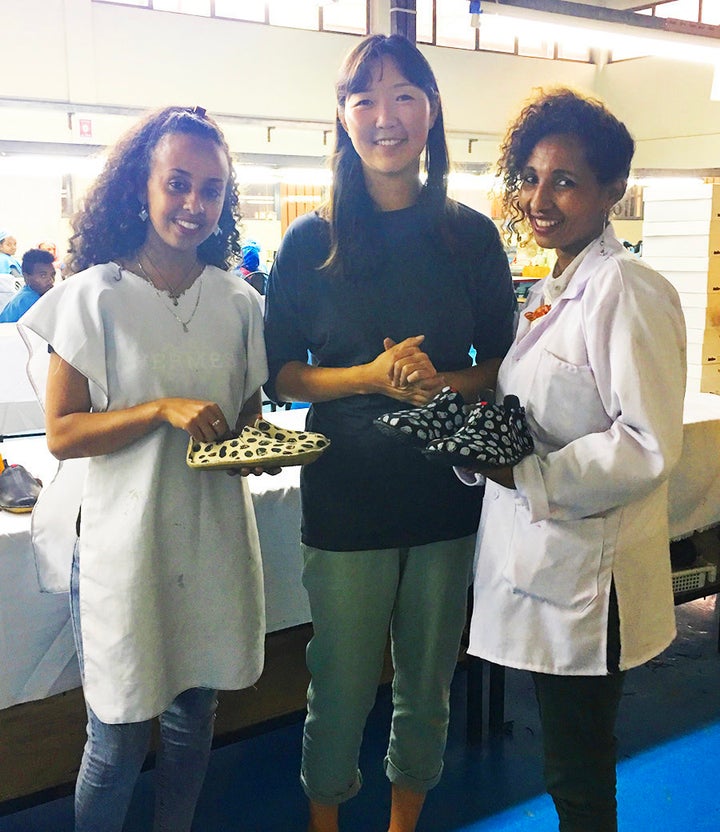 "People thought it was crazy when we were looking at Ethiopia. I had £50k in the account and thought, 'let's just try it.' It's all about seeing different opportunities and being inspired.
"I want to create artistic value and tell the story of the amazing people in Africa as well. This season, we partnered with a Belgian brand called Akaso: we worked with them to replicate a traditional Ethiopian tribal body painting technique on the shoes. We're also launching kid's shoes for spring.
"Our next step is creating jobs, training and value on the supply chain, improving it and bringing more people in. We've made a deal with local canvas suppliers and are sourcing materials from women's cooperative groups.
"We've partnered with the inspirational Somalian Waris Dirie, former UN special ambassador for the abolition of FGM and author of Desert Flower. She designed the' Born Nomad, Born Free' print, with proceeds going to the Desert Flower Foundation, which supports girls' education in Africa.
"I am looking beyond Africa and want to start a similar programme in Mongolia. They create a handmade, innovative product with amazing materials like cashmere and yak fibre. We're looking to set up a collaboration with the Mongolian artist, Dashi Namdakov.
"We also did a project in Namibia – the Original San-dal by VIVOBAREFOOT – working with bushmen in Namibia to help preserve their traditional sandal-making technique. Only the elders know how to make them; the younger generation is completely disinterested. We raised nearly £100,000 to set up workshops and train the younger generation to try to bring them to the international market.
"I want to create more of these centres around the world. There are so many amazing cobblers, typically working in bad conditions and lacking support.
"For anyone starting out in social enterprise, I'd say, don't be scared. If you don't make any mistakes, you don't make anything."
Related