Between explosions, baby swaps, illicit affairs, grisly murders and spinning bow ties, there isn't much the residents of Walford haven't seen in the 35 years EastEnders has been on air.
And yet somehow, the producers keep thrilling and exciting us, as evidenced during its milestone anniversary episodes this week, which have seen a Titanic-style disaster hit as some Albert Square favourites enjoy a booze cruise on the Thames.
As we celebrate 35 glorious years of the BBC soap, we're looking back on some of the most iconic storylines ever. Is your favourite in there?
Stacey and Max's affair is revealed
There's nothing quite like a Christmas Day revelation to shake things up is there? This classic clip is still tough to watch as Stacey Slater and Max Branning's affair is revealed to the whole family.
"You ain't my muvva!"
From the classic Slater family row to Zoe' priceless reaction, everything about this clip screams "legendary TV moment".
Dirty Den's divorce papers
Angie was dealt a blow when Den handed her divorce papers for Christmas. While it certainly wasn't the gift she had been hoping for, the moment is still the UK's most watched TV episode ever.
Steve Owen goes out with a bang
Martin Kemp's character certainly made an exit, blowing up in a car fire after a high-speed chase with Phil Mitchell.
Sonia's surprise baby
With Big Mo's guidance, Sonia Jackson gave birth in her living room, just minutes after the Slaters worked out that she had been pregnant for the last nine months but knew nothing about it.
Tiffany Mitchell's death
This New Year's Eve death scene stunned fans as Frank Butcher mowed down Tiff in one of his dodgy motors, just as she was finally ready to escape her abusive relationship with Grant Mitchell.
The Queen Vic goes up in flames
Peggy Mitchell was left distraught when her beloved pub went up in flames after Phil set it alight whilst in the grips of alcoholism, leading to her first exit from the soap. Her wailing "Let it burn!" is up there with some of her most iconic lines.
Matthew's guilty verdict
Matthew Rose was wrongly convicted of manslaughter, after helping Steve Owen cover up his own crime when he hit lover Saskia over the head with an ashtray in the e20.
Who shot Phil?
This storyline is still arguably the biggest "whodunnit?" in soap history with the nation on absolute tenterhooks to discover the identity of Phil's shooter back in 2001.
Colin and Barry's relationship
Their romance was not only a major event in soap, but a milestone moment for LGBTQ visibility on screen. The moment Colin shared a forehead kiss with Barry was the first gay kiss to be screened on prime time British TV in 1987.
Christian & Syed's affair
Nearly two decades on from Colin and Barry, EastEnders broke new ground once again with a storyline that saw Syed embark on an affair with Christian. It marked the first same-sex relationship involving a Muslim character in soap.
Linda Carter's rape
In harrowing scenes, Linda Carter was raped by her nephew Dean Wicks. The long-running storyline took a twist when it was revealed that Shirley wasn't Mick's sister but his mother, making Dean his brother.
Mel leaves Ian
Mel walked out on her Ian Beale just hours after getting hitched on Millennium eve, when she found out that he'd lied about daughter Lucy having cancer.
Mark tells his parents he's HIV positive
The Fowlers were left stunned when their son Mark revealed his diagnosis, in what was a landmark storyline for the soap aiming to tackle the stigma around the condition.
Who killed Archie?
This plot not only saw off one of the best baddies the show has ever seen, but it also was the catalyst for some other huge moments, including Bradley Branning's death in the 25th anniversary live episode.
Dot helps Ethel to die
Once again, the show kicked up a huge debate on a topical issue with this storyline, as Ethel begged best friend and devout Christian Dot to help her die.
Little Mo's revenge
After months of torture and abuse at the hands of her husband Trevor, Little Mo fought back and attacked her husband with an iron in Pauline Fowler's kitchen.
Sharongate
When Grant discovered Sharon's affair with Phil his reaction was, well.. see for yourself.
Dirty Den's death #1
There's not many soap characters who can say they had two on screen deaths, but Dirty Den is one of them. For his exit in 1989, "the Firm" killed him off by shooting him through a bunch of daffs, causing his body to fall into a canal.
Dirty Den dies: The sequel
After his return from his watery grave, Den was bumped off once again (for good this time) when his wife Chrissy whacked him over the head with Pauline Fowler's doggy door stop in the Vic before burying his body in the cellar. Camp does not cover it.
Arthur Fowler's breakdown
After stealing money from Walford residents' Christmas Club savings scheme, Arthur suffered a breakdown as he tried to cover his tracks, before eventually being sent to prison.
Pat and Frank's affair
There were many moments we will never forget during former couple Frank and Pat's affair behind the backs of their spouses Peggy and Roy, but the image of a naked Frank wearing nothing but a spinning bow-tie has stayed with us years on.
Who killed Lucy?
EastEnders really does love a whodunnit, but when they do them this well (especially with the killer being revealed in a fully-live episode), who are we to argue?
Ronnie's baby swap
One of the most controversial storylines EastEnders has ever aired saw Ronnie Mitchell swap her son James with Kat Moon's baby Tommy after he died of cot death.
Janine pushes Barry off a cliff
We have nothing to say except, "If only he'd worn slip on shoes."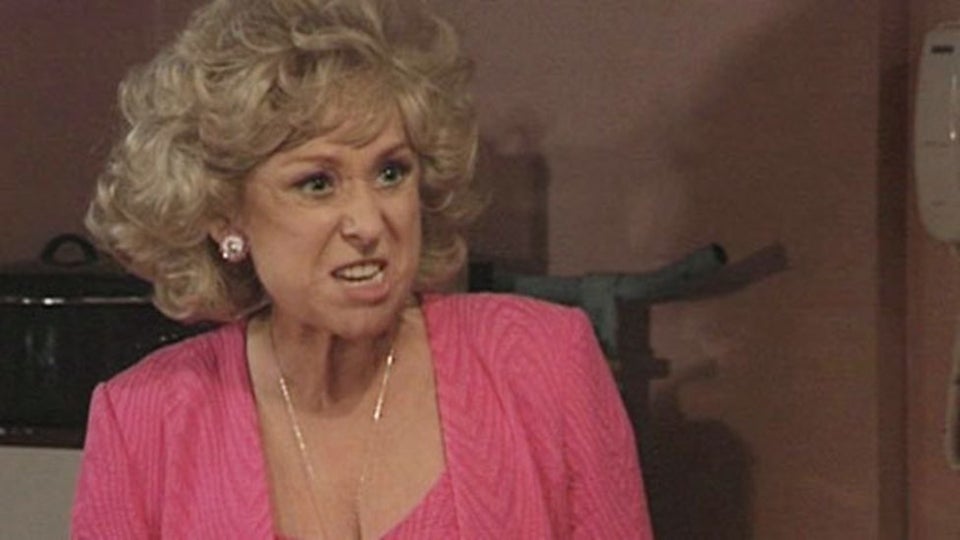 'EastEnders': Peggy Mitchell's Most Memorable Run-Ins