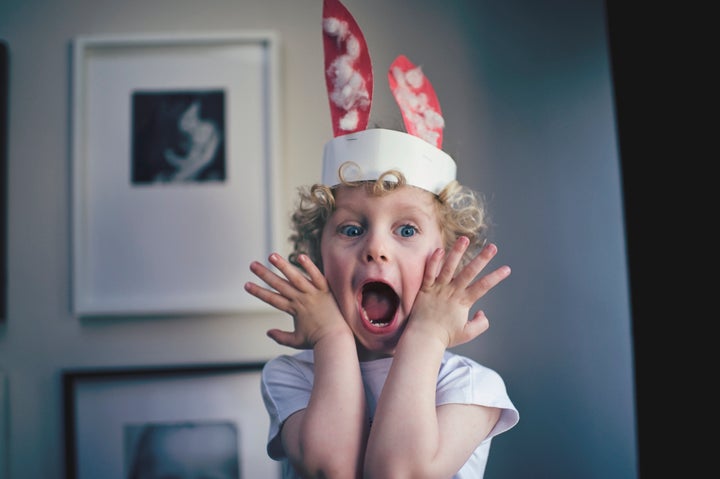 Easter weekend on lockdown: now that's something no parent has experienced before. But don't worry, we're here to make sure it's still special for the little ones – yep, even in a pandemic.
We've already had confirmation from New Zealand prime minister Jacinda Ardern that the Easter bunny – as per the tooth fairy – is an "essential worker", so you might want to let your kids know this is true here in the UK, too. That way, they won't worry they'll miss out on chocolate eggs.
Still, making Easter special without leaving your home can be a little tricky. Here are 14 ideas you might want to try over the long weekend.
1. Run an Easter egg hunt
This is a classic and so easy to carry out. If you've got a garden, great. But if you haven't, no matter, because hiding little chocolate eggs around the house will be just as fun. All you need is eggs and a makeshift basket – any bag or container will do. Set a timer, put on some fun music. Get set, go!
2. Make some crafty Easter masks
Why not bring the Easter bunny right into your home by making some cute face masks? Just get your child to draw out some ears and the top half of a bunny face (or, put your own artistic skills to the test), cut it out and attach some elastic. You might even be able to trick them into eating carrots. Or, save time by downloading and printing free printable masks online – easy!
3. Do some Easter egg baking
Yes, you heard right. Cadbury unveiled its Creme Egg Cookbook back in March, and we scoured the book to find our top three recipes. Sure, baking can be a little tricky with younger kids, but the end result is worth it. Creme Egg chocolate-y goodness. It's lockdown, you deserve it.
4. Try make these salt dough nests
"Kids love seeing things being made out of everyday stuff around the house," said mum Jo Murricane, from Leeds, who crafts with her six-year-old daughter Emilia. She previously told us how to make simple salt dough Easter nests, using ingredients you probably already have: salt, flour and water. So easy, even toddlers can get involved.
5. Or eat these easy Easter nests
Chocolate nests are everything and you can find really easy recipes online. All you need is 200g chocolate, 85g Shredded Wheat or Cornflakes and a couple of bags of Mini Eggs. Oh, and some cupcake cases. Simples.
6. Coo at cute animals
Speaking of "simples", how about using Easter as an excuse to gaze and coo at cute animals, online? Find out how Knowsley Safari's resident meerkats are keeping themselves entertained over Easter via these two videos – one even shows a meerkat playing with an egg.
7. Play a bunny hop sack race
Take a brown burlap sack (or pillowcase) and a little white tail (cotton wool, anyone?) and then challenge each other to the finish line. Video the race to send to friends and families for extra laughs – or turn it into a tournament.
8. Paint real eggs
Give your egg tray some personality... by drawing faces on them. Note: you might have to hard-boil them first, or risk having a very runny incident.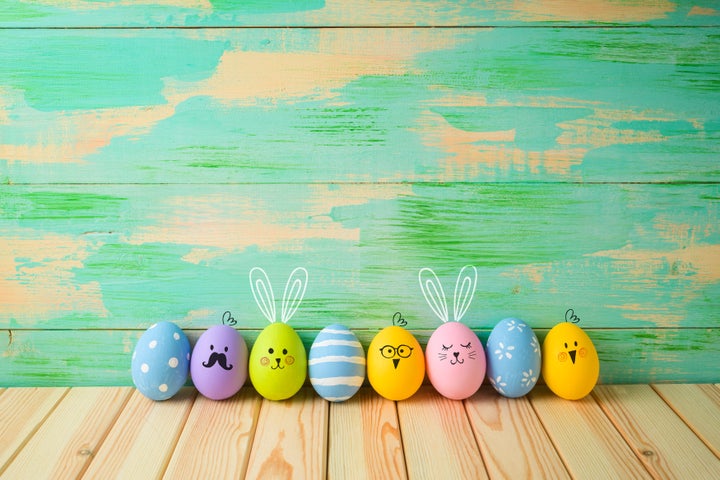 9. Create egg carton bunnies
Cut out the individual compartments from an egg carton, turn them upside down, stick little cardboard cut-out (or pipe cleaner) ears on top, draw eyes and goofy teeth and – hey presto. Your very own warren.
10. Or challenge yourself to a bunny piñata
Fancy trying something a little more challenging? This piñata is made using fine crepe paper – and we love the idea. Try filling with sweets, tiny toys or mini chocolate eggs.
11. Run your own egg and spoon race
This will bring memories of school sports' days flooding back – like that time I almost got to the finish line, only to drop it and lose spectacularly (it still hurts). Try grabbing some wooden spoons, hard-boiled eggs – or plastic ones – and pretend you're a fair loser.
12. Play 'sleeping bunnies'
My three-year-old loves a game of 'sleeping bunnies' – and my eight-year-old might pretend she doesn't... but she does, really. Plus, you can sit back and relax for a moment while they're doing the pretending-to-be-quiet, 'sleeping bunnies' bit of the song. Maybe extend the game. Sing really slowly. You can play a tune from YouTube. Then watch them bounce around, hopping madly, in the chorus. Cute.
13. Spend hours doing a trampoline bunny bounce
Make like bunnies and bounce on the trampoline, if you have one. Bonus points if you have ears they can wear. If you're really lucky, they'll do it for hours.
14. Take part in a stay-at-home Easter sleepover
If you need a bit of a break, Camp Bestival is running a 'Stay At Home Easter Sleepover', packed with a busy line-up. Campsite Bogies from Dick 'n' Dom, storytime with Kate Winslet and a DJ set from Nelly Cook (with a little help from her Dad, Fatboy Slim!).