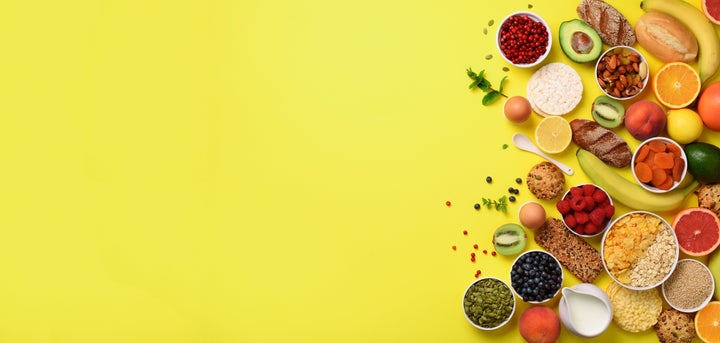 Salt and vinegar crisps, a chocolate bar and a slightly bruised apple – snacks can be boring, but they don't have to be.
In the midst of the coronavirus pandemic, we're all at home a lot more. And with pubs and restaurants shut, we're cooking a lot more, too. So why not use this time to brush up on your skills in the kitchen?
If there's one thing that may help boost your mood throughout the day right now, it's delicious food. Forget the unmemorable packet of mid-afternoon crisps and turn your hand to one of these recipes, instead. You can stave off hunger in the lunch-dinner limbo, while also having that satisfied feeling of making something yourself.
Here are three of our favourite new snack staples.
Apple nachos
A sweet version of a classic starter or snack – and it includes one of your five-a-day. Bonus.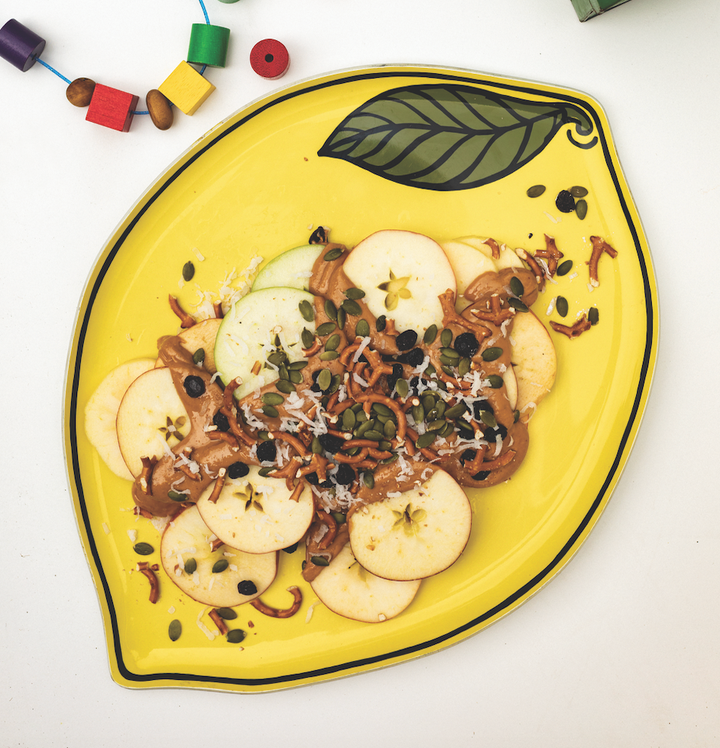 Serves: 2-4 (depending on how hungry you are)
2 tablespoons peanut butter
Small handful of raw pumpkin seeds
Small handful of flaked unsweetened coconut
Small handful of pretzels, crushed
1. Lay each apple on its side and slice it into rounds right through the core. You should have about eight slices per apple.
2. Make your slices thin like chips but thick enough to hold the toppings. Squeeze the lemon over the slices so they don't brown. Pluck out the seeds, revealing the pretty star/flower-shaped centre of each apple slice.
3. Stir one tablespoon of water into your peanut butter until it's thin enough to drizzle. Pile your apple 'chips' on a plate. Drizzle the peanut butter over the top. Sprinkle on raisins, pumpkin seeds, coconut flakes, and crushed pretzels.
Katsu Chicken Scotch Eggs
These scotch eggs sound like a match made in heaven, served with katsu dipping sauce. Add a decent side salad to make this a hearty lunch if you'd prefer.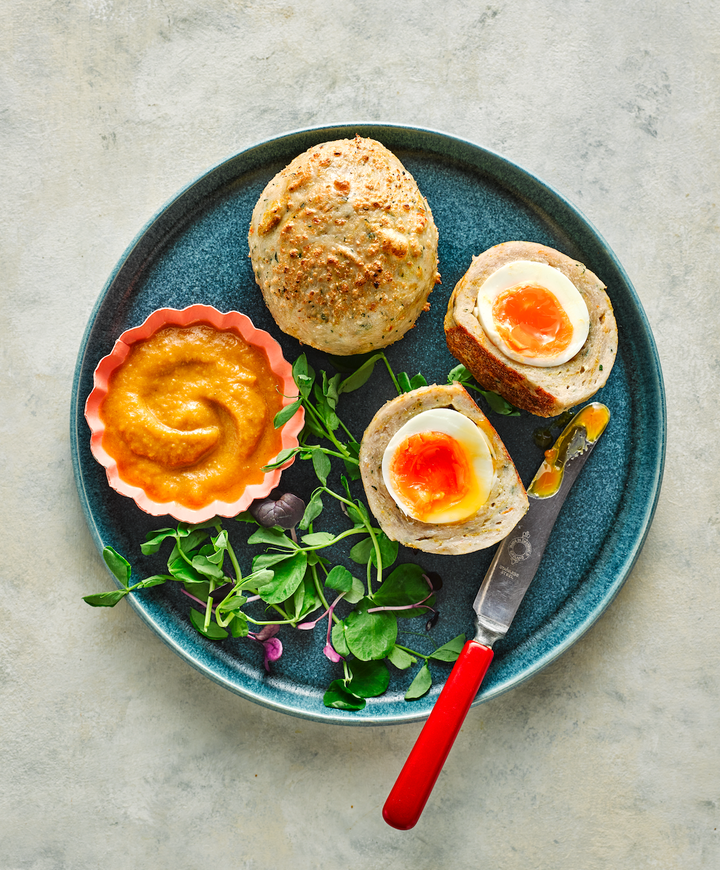 3 large chicken sausages or 4-6 chipolata-style sausages
50g peeled potatoes, diced
1 garlic clove, peeled and chopped
1. Preheat the oven to 200 (fan 180/gas mark 6). Place all of the ingredients for the sauce in a saucepan, bring to the boil, reduce the heat and simmer until the veg is cooked. This should take around 30 minutes or so.
2. While the sauce is cooking, place the eggs in a pan of boiling water and simmer for 6 mins. When they are cooked, take them out and put them in a bowl of ice water. Leave to cool.
3. Remove the skins from the sausages and place the sausage meat in a bowl. Add the half teaspoon of curry powder and mix well. Set aside.
4. Peel the eggs carefully. Wet your hands to prevent the mixture sticking to your fingers, then use your hands to enclose an egg in half of the sausage meat, making a smooth ball. Repeat with the other egg, place them on a baking tray and cook in the oven for 15 minutes.
5. Once the veg for the sauce has cooked through, use a stick blender to blitz the contents of the saucepan until the sauce is smooth. If it's a little thick, you can add some more water until it reaches the desired consistency. Serve the eggs and sauce hot or cold. The sauce can be frozen once cooled – defrost fully before reheat or serving cold.
Vegan butternut baked beans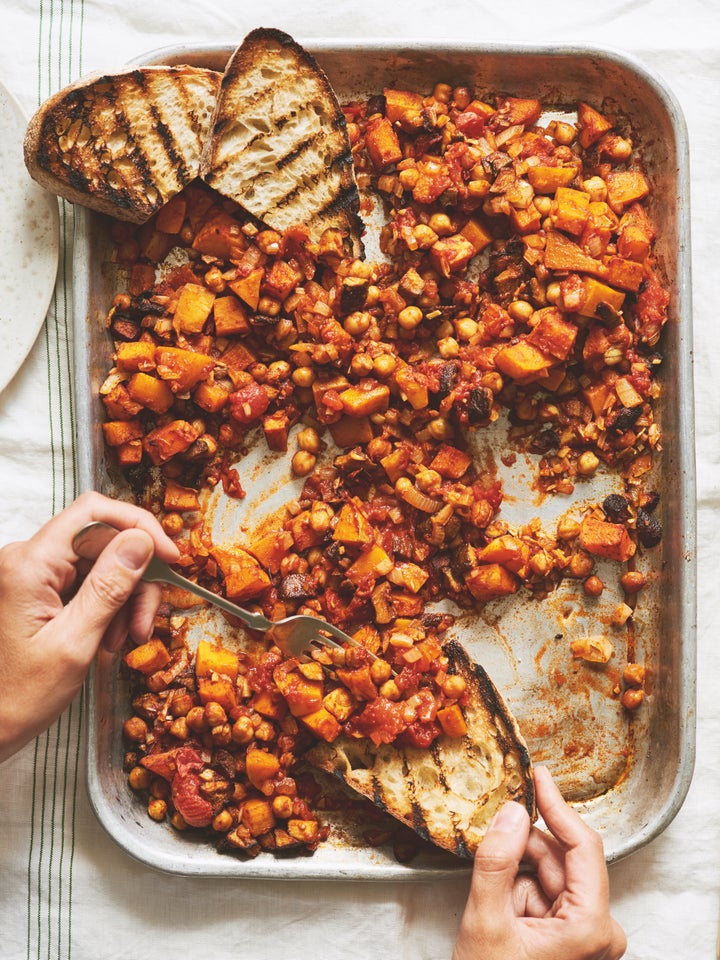 This recipe makes a large quantity, and it keeps well in the fridge for two to three days, so you can enjoy it over the week. If you don't want to make such large portion, halve the amounts of butternut squash, onion and mushrooms.
1 butternut squash, peeled and cut into 1cm cubes
2 medium onions, peeled and diced
2 cloves of garlic, crushed
200g mushrooms, roughly diced
1 x 400g tin of chickpeas, drained and rinsed
3 tablespoons smoked paprika
1 x 400g tin of chopped tomatoes
Sea salt and freshly ground black pepper
1. Preheat the oven to 200/180 fan. Put the squash, onions, garlic and mushrooms into a large roasting tray, along with the chickpeas. Drizzle with a little olive oil and sprinkle over the smoked paprika. Use a large spoon to mix everything well, ensuring that the vegetables and chickpeas are evenly covered with the paprika oil.
2. Bake for 30 minutes, stirring halfway through if you get the chance, until everything starts to soften and caramelise at the edges. Add the tined tomatoes and stir through. Then return the tray to the oven for another 10 minutes.
3. Season with salt and pepper to taste before serving.