Facebook's algorithm has a problem with Scunthorpe in Lincolnshire.
Look closely enough and you'll find an offensive word hidden in the town's name.
As a result of the platform's anti-profanity filters, users are unable to promote events in the area and a band known as October Drift found this out the hard way while trying to plug a gig in Scunthorpe.
Writing on Twitter, they said: "Our relationship with social media is a very strained and delicate one at the best of times. Issues like this..."
Guitarist Dan Young told The Independent: "As a band we like to promote our shows via Facebook.
"But Facebook has none of it when trying to boost the posts."
The filter appears to work on paid-for promotional posts and the issue has been highlighted to Facebook before.
Four months ago local businessman, Jon Jarman, told Facebook:
"My ad not approved because of the word Scunthorpe. Seriously Facebook are your algorithms written by 5 year olds?"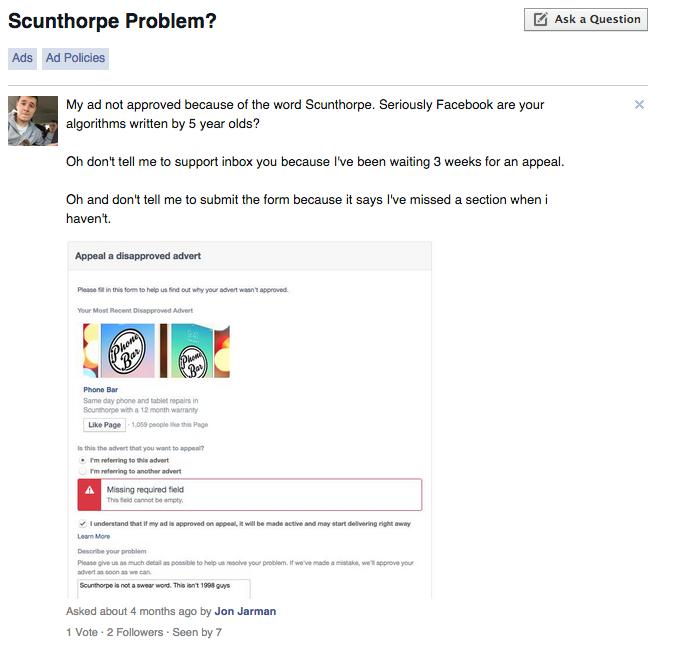 A member of the Facebook Help Team later responded with the generic article on what to do when ads are not approved.
Unappeased, Jarman wrote back:
"I don't need to see what is and isn't approved - there's nothing wrong with the advert it's just the fact that word Scunthorpe is in it.
"As soon as I type the word 'Scunthorpe' I get an immediate warning that my ad contains inappropriate language."
The Huffington Post UK have reached out to Facebook for comment.
Related